National
Feds Recognize Same-Sex Marriage In Michigan
US Attorney General Eric Holder said the federal government will recognize the 300 same-sex marriages performed in Michigan on Saturday, March 22, 2014.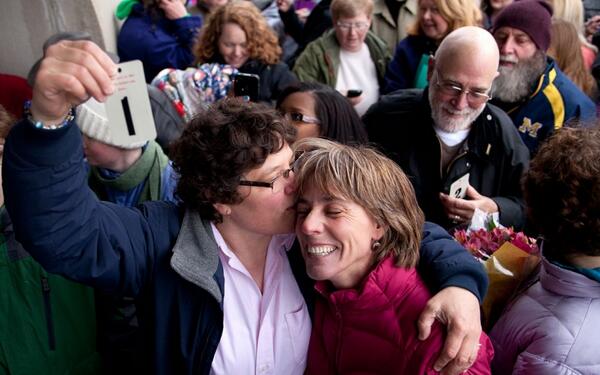 Republican Governor Rick Synder said Michigan would not recognize those marriages that took place after the court order striking down the state's marriage law passed, according to The Daily Beast.
In a statement issued by the Department of Justice, Holder said, "I have determined that the same-sex marriages performed last Saturday in Michigan will be recognized by the federal government. These families will be eligible for all relevant federal benefits on the same terms as other same-sex marriages."
The couples that married in the four Michigan counties, Ingham, Muskegon, Oakland and Washtenaw, will have the same standing regarding federal income and estate tax benefits, acceding to USA Today.
Gov. Synder recognizes that the marriages are legal, but he does not plan to extend states rights and benefits to same-sex couples. He is waiting until the legalities of same-sex marriages are worked out in court.
US District judge Bernard Friedman ruled the ban on same-sex marriage is unconstitutional. However, his ruling was appealed by Michigan Attorney General Bill Schuette and now the US 6th Circuit Court of Appeals stayed the ruling, says USA Today.
READ MORE: Michigan Gay Marriage Ban Overturned
Holder is doing all he can to give the same-sex couples and their families their federal right. "The Department of Justice continues to work with its federal partners to implement this decision across the government. And we will remain steadfast in our commitment to realizing our country's founding ideals of equality, opportunity and justice for all."

Reach Executive Producer Kristy Plaza here. Follow her on Twitter here.