Sports
Doug McDermott And The Father-Son, Coach-Player Relationship
What was it that I found so fascinating about Doug McDermott? Was it that the Creighton Bluejays senior regularly racked up 30 points per game? Was it the absurd rate at which he jacked up shots from behind the arc?
McDermott exited his final NCAA Tournament Sunday night as the NCAA's fifth highest all-time scorer. He led a mid-major team from Omaha, Neb. to second round wins in the tournament three years in a row. The only thing he didn't do: take his dad's team to the Final Four.

I know that feeling. I was a high school soccer player from a small Vermont town where everybody knew each other. In Windsor, your coaches are frequently prominent individuals in the town and your teachers are often family friends.
As for me, my dad was both my high school history teacher and my varsity soccer coach.
My dad had always been there to offer advice in my younger playing years, but he never wanted to be that parent who yelled from the sidelines. It wasn't until high school that he became my official coach.
McDermott wasn't originally going to play for his father. Greg McDermott was the head coach of Iowa State University, and his son had already signed a letter of intent to play at Northern Iowa. Then in a quick turn of events, the elder McDermott left Iowa State to take the Creighton position. His son was released from his commitment at Northern Iowa and instead became a freshman starter on the Creighton squad.
Because of a small team, junior-varsity and varsity squads practiced together frequently my freshman year of high school. I occasionally traveled with the varsity team to play a couple minutes at the end of the game, but was essentially a non-factor on my dad's team freshman year.
That changed dramatically sophomore year. I went from huddling with the other bench players to escape the Vermont cold to playing every minute of every game as a varsity starter. This persisted over the next two years of my high school career.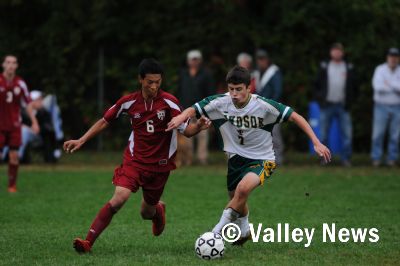 My senior year, our team had talent. We had size. We were poised for a championship run.
My dad had told our team, perhaps in jest, that if we won a championship my senior year, he would retire then and there at the pinnacle of his coaching career.
I always had visions of winning a state championship with my dad. That scene is permanently etched in my mind: the final whistle blowing; the cheers from the crowd; sprinting to the sideline to hug my dad, soaking from a Gatorade bath, yet ecstatic and elated. But it never came to be.
I heard the whistle blow and the cheer of the crowd. But it wasn't for us. It wasn't a sprint to the sideline. It was a slow walk, every step emphasizing that this 1-0 semi-finals defeat was the end of not only a high school career, but marked the last time my dad would be the one giving the post-game talk. My teammates were quick to pick up their cleats and bags. They scurried across the field to see their parents and girlfriends before hopping on the bus, eager to go home.
I remained. I slowly slid off my cleats and stared at the field. My dad stood behind the bench, answering reporters' questions and gathering up his things. I waited till all the other players and reporters were gone and it was just my dad and myself.
I had been silent up until then. I walked up to my Dad, but found it difficult to look him in the face. I buried my head in his shoulder and hugged him. At that point I couldn't hold back tears. I didn't try. Words were hard to come by, but through a choked voice I told him, "I'm sorry. I wanted this for you."
We walked together across the chewed-up turf back to the bus. I paused around the middle of the field, and I can still remember the feeling: what the breeze felt like, with the late-afternoon sun still shining on the field.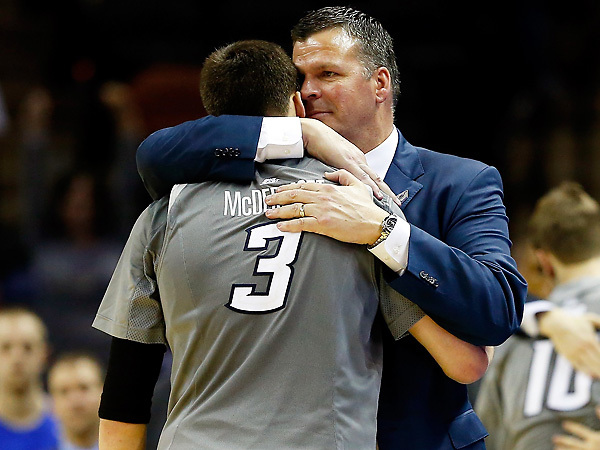 Like me, McDermott was met with a hug from his father as he was subbed out for the last time. He buried his face in a towel on the sideline as the final minutes ticked away on his college career. But after the game McDermott showed his maturity. It's not always where you finish, but how you got there. As he walked off the court his mind wasn't on the score or the tournament at all.
"I was just thinking…this would be the last time I'll be able to walk off the floor and give my dad a hug," said McDermott.
Whenever I think of my final moment with my dad as a coach, the same pressure in my head and catch in my throat comes back to me, even two and a half years later. I don't know if that's something that will change over time or be a permanent staple in my memory. But my perspective on that moment changed the minute I saw Greg McDermott embrace his son as he walked off the court for the final time. There was no sadness; nothing bitter in the way he hugged his son. It was an acknowledgment of an amazing run.
"It's been an incredible journey, and I really wish every parent could experience what I've had the opportunity to experience," said Coach McDermott. "I've had a front-row seat to history, and it was my son that was doing it."
As a leader on defense, I felt personally responsible for my team's loss. And despite friends and family insisting that I didn't disappoint anyone, my greatest concern was that I let my dad down.
A couple days after that final game, the parents of the team asked us players to write a small message for a book they would present to my dad at the end of the year banquet:
"I know this season didn't end the way either of us wanted it to. I really wanted to win this all for you. I wish we had been able to get that one game further, but I wouldn't have it any other way with a different coach. I hope we didn't disappoint, but above all, I hope I made you proud."
Now I realize it's not about what we accomplished as a father-son duo. It's not about leaving a legacy or getting that story book ending. Parents are always proud. Just having the experience playing for my dad was a dream come true in itself.
"We say someday we'll realize how special this is, like 10 years from now," Doug McDermott said. "I already realize how special it is…Every kid wants to play for his father. Every father wants to coach his son."