International
Crimea Voters Support Joining Russia In Landslide Referendum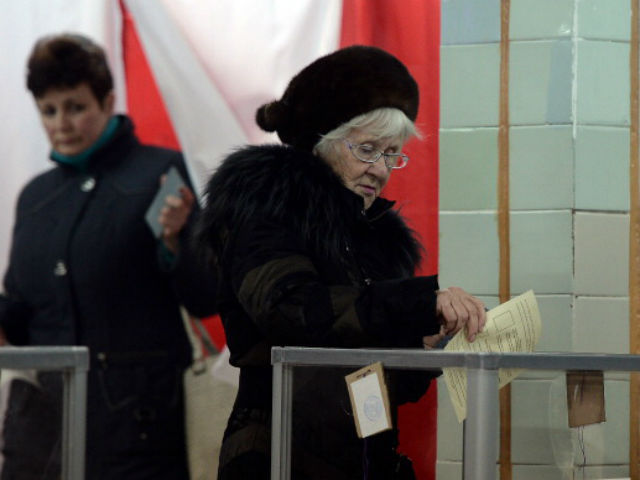 CNN reports that with 50 percent of votes counted, approximately 95 percent of voters in Crimea want to break from Ukraine and become part of Russia. The vote has been denounced by the United States and the European Union.
Mikhail Malyshev, head of the Crimean Electoral Commission, said that more than 80 percent of voters in the region had voted in the election. News of the results was met with great celebration, as thousands of people celebrated in the streets waving Russian flags and Russian folk tunes were played near voting areas. But while the vote was expected to be heavily in favor of leaving Ukraine because the overwhelming majority of Crimeans are of Russian descent, it is also believed that many citizens in support of staying in Ukraine boycotted the election in protest of its perceived illegality.
"We're just not going to play these separatist games," one protestor told the Associated Press. "Putin is the fascist. The Russian government is fascist."
The U.S. and E.U. share this sentiment, as both have released statements accusing Russia of supporting an unconstitutional referendum and promised increased sanctions against Russia if Crimea defects. The White House also said that the vote was "administered under threats of violence and intimidation from a Russian military intervention that violates international law." Time Magazine reports that the day before the referendum, a group of commandos stormed into a hotel where dozens of journalists were staying. The gunmen wore no insignia and destroyed the cameras of several reporters who were trying to photograph them. The Crimean police, defense ministry, and separatist faction all gave conflicting explanations for their presence.
SEE ALSO | More On The Crisis In Crimea
The Crimean parliament is expected to formally ask Moscow for annexation on Monday. Ukrainian Prime Minister Arseniy Yatsenyuk said on Sunday that the West would not recognize the vote.
"Under the stage direction of the Russian Federation, a circus performance is underway: the so-called referendum," he said. "Also taking part in the performance are 21,000 Russian troops, who with their guns are trying to prove the legality of the referendum."
Russian President Vladimir Putin said the referendum was conducted in "full accordance with international law and the U.N. charter."
Reach Executive Producer Jeremy Fuster on Twitter