Food
Chocolate Chip Cookie-Stuffed Cinnamon Rolls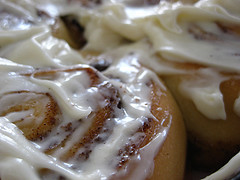 Another genius baked food creation has hit the oven racks. Nick from
Dude Foods
combined cinnamon rolls and cookie dough together to make the chocolate chip cookie-stuffed cinnamon roll, a mouth-watering dessert that is everything right now.
This creation is perfect for the indecisive individual that can't decide between a cinnamon roll or cookies for dessert. Now, you can have them both - at the same time!
For those of you who don't know what Dude Foods is, it's a blog that centers around Nick, a food enthusiast who loves exploring everything crazy and equally loves surpassing all food boundaries. It's only him, his cell phone and his "ridiculous appetite."
Not only is the cookie dough cinnamon roll delicious, but it's also cheap. Nick states that he only spent $6 on the ingredients. Simple, cheap and scrumptious - what more could you want?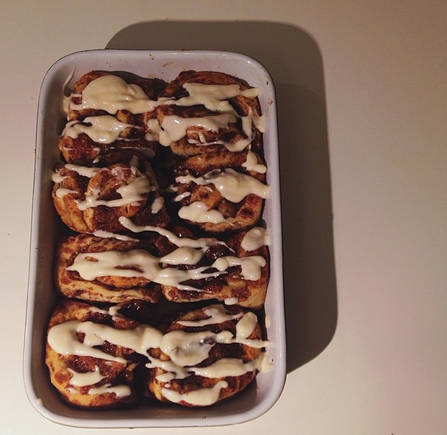 Here's what you'll need:
Cinnamon roll dough
Chocolate Chip Cookie Dough
Frosting
Oven
Here's how to make the yummy goodies:
1) Unroll some cinnamon roll dough.
2) Use a rolling pin to roll out sheets of chocolate chip cookie dough, and then cut the pieces into the exact same length and width as the cinnamon rolls.
3) Place the cookie dough strips onto the cinnamon roll strips, roll them up like you would a normal cinnamon roll, and place them on a cooking sheet.
4) Bake at 350 degrees, and bake for 13 minutes.
5) Let them cool down for as long as you want.
6) Frost them to your desire.
Like the smell of cookies baking in the oven? Well, imagine smelling both cinnamon rolls and cookies baking together! That's way before you even get to devour each one.
Reach Staff Reporter Beatrice Verhoeven here. Follow her on Twitter.