Food
Celebrate 'National Pancake Day' With L.A.'s Best Pancakes
This year,
IHOP
is celebrating its annual "
National Pancake Day
" on March 4.
For the eighth consecutive year (the first "National Pancake Day" celebration began in 2006), IHOP is raising funds to support charities in local communities. On March 4 only, diners can go to IHOP to receive a free short stack of the restaurant's signature "Buttermilk Pancakes." In return for the free meals, guests will be encouraged to donate to the Children's Miracle Network Hospitals and other local charities. The eatery's goal for this year is to raise $3 million for these various charities.
This year, you can celebrate "National Pancake Day" on a local level and indulge in some of L.A.'s best pancakes. Here are some cafes and eateries where pancakes take center stage.
THE GRIDDLE CAFÉ
Breakfast is all the rage at The Griddle Café. There's pancakes in seemingly every flavor under the sun at this Hollywood eatery. Some of the best sellers include "Banana Nana"—featuring brown sugar-baked bananas cooked inside of the restaurant's signature buttermilk batter—"Black Magic," consisting of soft, melt-in-your-mouth, Oreo-filled pancakes that are topped with whipped cream and pieces of Oreo cookies—and the restaurant's signature "Red Velvet" pancakes, featuring delicious red velvet batter and swirls of cream cheese icing. Some of the other popular pancakes included on the menu are "BLUESberry"—featuring blueberry-filled flapjacks, complete with blueberry sour cream and powdered sugar—and "Hear Me Roar," comprising Frosted Flake and strawberry pancakes.
JOHN O'GROATS GRILLE & PUB
John O'Groats Grille & Pub—known for its breakfast fare and comfortable yet exquisite dining ambience—features a variety of special pancakes on its breakfast menu. Some of these decadent delights include: "Applesauce Pancakes," "Mango Macadamia Nut Pancakes"—topped with fresh coconut sprinkles and homemade whipped cream—and "Lemon Pancakes." Pancakes are also available in short stacks upon request.
FRED 62
This retro diner, located in the heart of Los Feliz, boasts an eclectic breakfast menu. Along with eggs, breakfast sandwiches and burritos are a variety of pancakes for the customer's selection. Some traditional favorites include "Buttermilk Flapjacks," "Billion Dollar Pancakes"—the eatery's twist on silver dollar pancakes—and "Strawberry Beret," comprising strawberries, whipped cream, and the customer's choice of French toast, pancakes or waffles.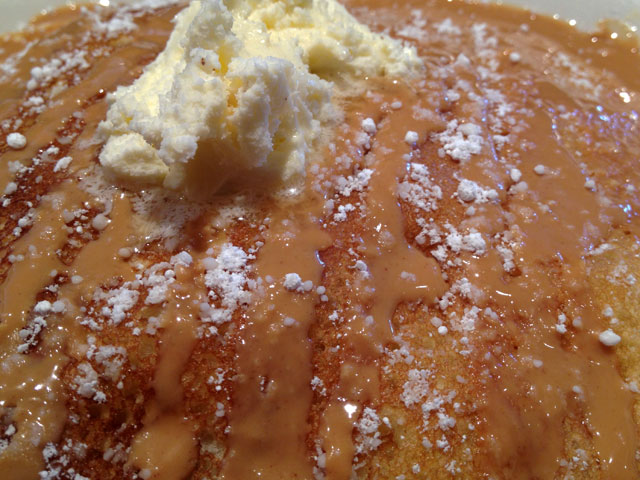 JACKS N JOE
This eatery located just a few blocks from The University of Southern California is known for two items in particular: its flapJACKs and freshly brewed JOE. Customers can find an array of unique pancakes on the restaurant menu, including: "Roo's Favorite," comprising three chocolate chip pancakes topped with whipped cream and powdered sugar; "Hula Girl," featuring three pancakes with pineapple puree topped with powdered sugar and toasted coconut; "Tree Huggers," a medley of three buckwheat pancakes with granola, fresh fruit, sweet orange butter and powdered sugar; and "Pudgie Elvis," composed of three pancakes with peanut butter and bananas and topped off with powdered sugar. The latter specifically features a creamy, delicious peanut butter spread on top of the melt-in-your-mouth pancakes with chunks of fresh bananas (if you don't like mixing your foods, you can opt for the peanut butter pancakes without bananas). This is a just a small sampling of the pancake entrees offered at Jacks N Joe. Combos with some of the eatery's other best sellers—like "JNJ potatoes," bacon, and sausage—are also popular customer orders.
DU-PAR'S RESTAURANT AND BAKERY
The "Buttermilk Hotcakes" on the menu at Du-Par's Restaurant and Bakery are just one of the many breakfast selections the eatery offers. These hotcakes are served with melted butter and boysenberry or maple pancake syrup. These signature pancakes are also available in a stack (five pancakes) or short stack (three pancakes).
MORE THAN WAFFLES
A vast array of waffles are available at More than Waffles, but the niche eatery definitely offers more than waffles. Some of the delicious pancakes available at the restaurant include "Bacon and Cheddar"—a savory breakfast choice—"Nutella" pancakes, which are served topped with bananas; "Grainy Day," comprising healthy pancakes made with a variety of grains (gluten-free buckwheat and granola) served with a fresh fruit cup; "Almond Joy," composed of coconut, almonds and Nutella; and the "Ultima," a decadent combo featuring a topping made with strawberries, kiwi, nuts and blueberries.
NICKEL DINER
The historic Nickel Diner is known for its breakfast, lunch and dinner entrees served at reasonable prices. Though the pancake selection is not huge at this restaurant, there are still delicious options for customers, including the famed "Dutch Baby"—a baked pancake with caramelized apples served with powdered sugar and butter—and "Cameron's Puppy Pie," comprising three buttermilk pancakes and a chicken-apple sausage topped with a fresh egg.
THE BUTTERMILK TRUCK
The fare at The Buttermilk Truck is specialized—the truck feature's breakfast food—and the "Red Velvet Chocolate Chip Pancakes" are one of the company's crowning glories. These treats—served up silver dollar-style—comprise soft, rich velvet pancakes topped with chocolate chips and come with butter and syrup. If you like how the pancakes taste, you can even purchase your own "Red Velvet Pancake" mix.
BLD RESTAURANT
BLD Restaurant—standing for Breakfast, Lunch and Dinner—features breakfast cuisine that's served until 3 p.m. The upscale breakfast menu features egg entrees, frittatas and classy Eggs Benedicts, and while there's only one pancake entrée on the menu, it's one you won't want to pass up. This entrée features fluffy, soft, melt-in-your-mouth ricotta blueberry pancakes served with Berkshire maple syrup.
DOUGHBOYS CAFÉ AND BAKERY
Doughboys Café and Bakery, known for their delicious and fresh cuisine—as well as their delicious bakery items—provide pancakes that are refreshingly unique to the eatery. Take the "Rice Krispy Pancakes," for example, which are malted pancakes made with lots of Rice Krispies and topped with a thick, sweet marshmallow cream. Or the decadent "Black and Whites," comprising pancakes loaded with white chocolate and dark chocolate chunks (a twist on the classic chocolate chip pancake). Or, if you're down to try something savory, opt for "Pigs in a Blanket," featuring a large malted corn pancake topped with bacon, sausage and a fried egg … before being rolled up and served alongside a corn-and-potato hash. Some of the other pancake items include "Pineapple, Coconut and Macadamia Nut Pancakes"—a tropical medley served with a creamy caramel sauce—and "Banana Pecan Butterscotch Pancakes," topped with sliced bananas, hot butterscotch syrup and, of course, lots of pecans.
GRUB
Pancakes are definitely on the menu for Grub's weekend brunch, which takes place on Saturdays and Sundays from 9 a.m. to 3 p.m. The "Berry Berry Good Pancakes"—which are almond granola and blueberry pancakes topped with maple syrup, candied ginger and raspberry butter. The various ingredients included in this fresh batch make them simply irresistible and unique.
THE FARM OF BEVERLY HILLS
The Farm of Beverly Hills features both breakfast and brunch menus, and the "Buttermilk Pancakes" are a staple on both. This classic breakfast choice is served with sweet butter and Vermont Maple syrup.
IHOP
Delicious, melt-in-your-mouth pancakes abound at IHOP, everyone's favorite family breakfast place. Some of the pancakes available at IHOP include fruity options—"Double Blueberry," "Rooty Tooty Fresh 'N Fruity" and "Strawberry Banana"—simple and healthy choices, like "Harvest Grain 'N Nut" and "Original," and, of course, sweet indulgences, like "Chocolate Chocolate Chip" and "New York Cheesecake."
COCO'S BAKERY AND RESTAURANT
There are many "Hot Off the Griddle" options at Coco's Bakery and Restaurant. Popular combos included on this menu include the "Banana Walnut Pancakes with Brown Sugar," featuring freshly made buttermilk pancakes topped with walnuts, bananas, fresh whipped cream, brown sugar crumbles and warm syrup, and "Denver Potato Pancakes," featuring delightfully savory pancakes made with ham, bell peppers, onions, shredded potato and Cheddar cheese and finished with diced green onions and sour cream. All of these griddle combos are served with bacon or sausage and two eggs.
JACK N' JILL'S TOO
This eatery, which specializes in Louisiana-inspired crepes, sandwiches, breakfast and more—serves up breakfast all day. Some of the featured pancakes on the breakfast menu include the popular "Fried Chicken n Hot Cake"—a delicious buttermilk pancake served with an egg and fried chicken—as well as "Strawberry Oatmeal Pancakes," comprising fluffy pancakes topped with fresh strawberries, and "Very Blueberry Pancakes," featuring three fluffy buttermilk pancakes made with fresh blueberries and topped with more blueberries and syrup.
THE ORIGINAL PANCAKE HOUSE
With a name like "The Original Pancake House," it's no surprise that pancakes made with a variety of flavors and ingredients are the reigning specialty at this restaurant. This eatery includes ag grandiose variety of pancakes, ranging from the sweet and simple—"Potato Pancakes," served with cinnamon applesauce or sour cream, or "Banana Pancakes," featuring buttermilk pancakes filled with diced bananas and lightly dusted with powdered sugar—to the more unique, like "Bacon Pancakes"—bacon bit-filled buttermilk pancakes served with whipped butter and hot syrup and "Hawaiian Pancakes," featuring fresh buttermilk pancakes filled with crushed pineapple, sprinkled with powdered sugar and served with hot tropical syrup and whipped butter. Some of the notable pancakes on this menu include "Swedish Pancakes"—authentic, lacy and served with lingonberries from Sweden and whipped butter—"Georgia Pecan Pancakes," which are filled and topped with toasted pecans and lightly dusted with powdered sugar.
THE PAN RESTAURANT
The Pan Restaurant, which specializes in pizza, breakfast and brunch, features a variety of pizza options as well as delicious breakfast cuisine. The pancakes included on The Pan Restaurant's menu are unique delicacies like "The 'Best Ever' Banana Pancakes"—comprising three buttermilk pancakes filled with a sweet banana-cinnamon puree topped with walnuts, bananas, whipped butter and powdered sugar—and "Cinnamon Roll Pancakes," a sweet explosion of three buttermilk pancakes filled with a cinnamon-brown sugar puree and pecans and topped with orange sugar glaze, powdered sugar and sweetened cream cheese. The hint of orange definitely adds a unique flavor to this cinnamon-laden wonder.
RUBY'S DINER
The breakfast menu at Ruby's Diner features combos galore. The griddle combos available at Ruby's are served with the customer's choice of breakfast meat (lean country ham, club sausage links, veggie sausage, lean turkey sausage or thick-cut bacon strips) and two jumbo eggs, served any style. There's a vast variety of pancakes for diners to choose from, including "Cinnamon Raisin Hot Cakes"—buttermilk pancakes topped with fresh, warm, slices of cinnamon apples, raisins, whipped cream and powdered sugar—"Pecan Buttermilk Hot Cakes," which features a mix of crunchy, candied pecans, and "Chocolate Chip Hot Cakes," made with decadent chocolate chips and finished with powdered sugar and whipped cream.
LARCHMONT BUNGALOW
Larchmont Bungalow specializes in breakfast all day. Among the delicious items on its breakfast menu is the famous "Red & Blue Velvet Pancakes," which are topped with a decadent cream cheese spread and homemade whipped cream and finished with maple syrup and candied walnuts. Other notable pancakes include "Quinoa Blueberry Pancakes"—featuring organic white and red quinoa pancakes, blueberries and candied walnuts, served with pure maple syrup—and "Best of Both Worlds," comprising layered fresh berry pancakes and berry brioche French toast topped with fresh berries and served with sweet, warm, berry maple syrup.
LAZY DOG CAFÉ
Spending a lazy morning at this café is no crime. The weekend brunch menu at Lazy Dog Café features "Wild Blueberry Pancakes & Maple Bacon Butter"—a delicious dish made with three, generously sized blueberry pancakes topped with blueberry compote, syrup and housemade maple bacon butter—and kid-sized "Buttermilk Bone-Cakes," a cute spin on buttermilk pancakes, which features dog bone-shaped, fluffy pancakes served with whipped butter and syrup.