International
Blurring Lines In Bombay Politics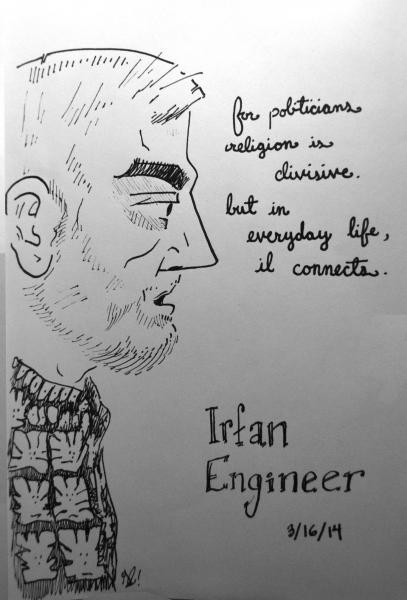 Irfan Engineer was born into a balancing act. He straddles the line between self-interest and altruism for a living, speaking personally as an Indian Muslim while simultaneously working to abolish such divisive demographic boundaries.
Engineer serves as Director of Mumabi's
Center for Study of Society and Secularism
, an organization founded in 1993 by his late father Asghar. The group's stated goal is promoting interfaith civics, reversing decades of discrimination and violence carried out in the city.
On the evening of March 19, from behind his knee-length patterned thobe and fluffy white beard, Engineer discussed his political charter with personality and as much levity as he could muster. He conducted a Q&A with Neon Tommy in a private meeting at the
Elphinstone Cricket Club
, covering his origins, the political issues that matter to Mumbai's Muslims, and the social role of spirituality.
Neon Tommy: How did you become an advocate of secular politics?Engineer:
In 1992 there was a series of communal violence in quite a few cities in India, and that's what got me into this, working for peace and communal harmony.
The Muslim community has been stigmatized a lot.
Bal Thackery [founder of the Shiv Sena Party]
would openly say in his election meetings, 'If there are any Muslims in my meeting, please leave, you won't be able to bear my discourse against the community.' He would openly say that: 'I do not want Muslim votes.'
So countering those stigmas, trying to promote better understanding between communities—for that we are particularly targeting religious leaders and having an interfaith dialogue.
NT: How do religious lines divide modern India?
E: Muslims are even more stigmatized now. It is very stupid. Regarding their political involvement, they are underrepresented at every stage. They form about 14 percent of India, but in Parliament the highest representation they've ever got to is about six percent, in the best of times. Most of the times they are three percent to four percent. So they are grossly represented.
ALSO SEE: USC Film Student Explores India's Partition In Personal Documentary
NT: What issues currently concern Muslims in India?
E: Basic, basic, basic security and existence. Since 1947 to today, 40,000 people have been killed in communal violence, communally targeted violence. 40,000 people. That's a huge number. And 80 percent of those killed are Muslims. Security is the basic issue. Many communities would say, 'we want nothing else, just give us basic security.'
NT: What role do you expect religion to play in the future of Indian society?
E: What interests me is the spirituality of religion, and moral values of religion. Social expressions are changing. Religion is not getting deeper into consciousness, in the sense of moral values or spirituality, in the sense of defining wellness of human life, or how to live with others. Forms are changing, but the ideology remains the same.
In that sense it's not deepening moral consciousness, the religious values are not deepening. The spirituality of religion is not deepening. But the practice is, the rituals.
Hindus and Muslims: they connect in everyday life. They participate in festivals and rituals, and they support each other. And those are the traditions. So in everyday life people connect.