California
'Blackfish' Documentary Leads To Proposed Legislation
SeaWorld's P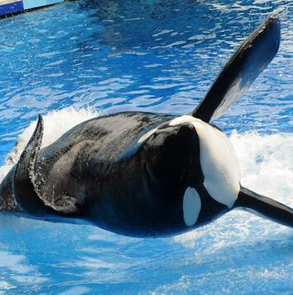 R team is encountering yet another obstacle after California lawmakers took steps to ban the use of orcas in performances at the theme park. This action was sparked after rising controversy created by the CNN documentary "Blackfish," which details SeaWorld's alleged maltreatment of its orcas.
Assemblyman Richard Bloom, a Democrat from Santa Monica, proposed the Orca Welfare and Safety Act (AB 2140) on March 7. The legislation would end orca captivity in California by disallowing the killer whales from participating in performance-based entertainment and captive breeding.
Bloom's office released a fact sheet for the bill, stating "we have realized that orcas are more complex than most other marine mammals and require more space, have a more complex social structure and most importantly need their family network (pod) for a happy and healthy life."
The fact sheet also cites the death of trainer Dawn Brancheau, a SeaWorld trainer who was killed by SeaWorld's 12,000-pound killer whale, Tilikum, as a reason for the bill's creation.
Controversy surrounding the cause of Brancheau's death was reinvigorated after "Blackfish" detailed the events leading up to the trainer's death. The "Free Tilly" movement emerged as protestors fought for Tilikum's freedom, believing his captivity contributed to his actions toward Brancheau.
The movement hits close to home for some students at the University of Central Florida, in Orlando. Callye Foster, 23, is president of Intellectual Decisions on Environmental Awareness Solutions (IDEAS) for UCF, an environmental group working to promote the film's message.
"Our proximity to SeaWorld has allowed us to spread our views about "Blackfish" in a faster manner because everyone in the area … has most likely been there and experienced the killer whale exhibit firsthand," said Foster.
Kenneth Montville, college campaign coordinator for People for the Ethical Treatment of Animals (PETA), said student involvement has "grown exponentially" since the film's release.
"We've had a campaign against SeaWorld for years now. What I've noticed related to 'Blackfish' is that more and more students are becoming aware...it's really thrusted into the light and now students want to know what they can do," Montville said.
From ordering orca costumes for protests, to hosting viewings of "Blackfish," students are continuing to get behind the "Free Tilly" movement.
A poll in The Orlando Business Journal asked readers if their views of the park had changed because of "Blackfish." After the poll was posted for just one day, about 99 percent of voters said the film didn't change their views of SeaWorld.
This sparked the interest of some of the Orlando Business Journal's reporters, who decided to investigate the results. They discovered that 54 percent of the votes came from just one IP address.
The IP address belongs to SeaWorld.
SeaWorld executives said the poll was not altered by SeaWorld in any way, rather that employees of the park, who share the same IP address, were simply supporting SeaWorld through their votes.
Currently, there are no laws banning the display of orcas in a performance setting, making Bloom's proposed legislation the first of its kind.
Reach Contributing Reporter Madison Mills here.