Nation and World
Anti-Homosexuality Laws: Is Our Society Really That Progressive?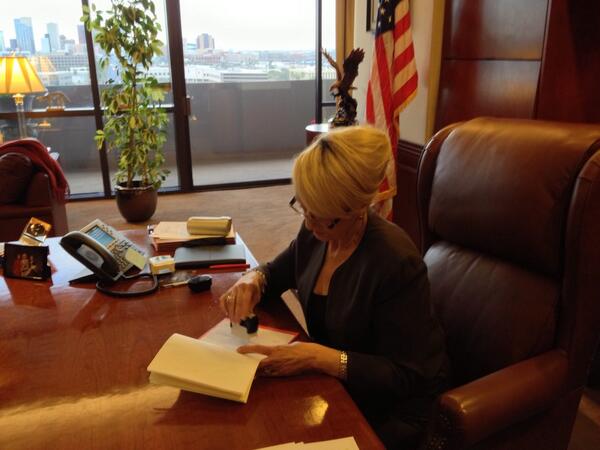 Last Wednesday, Arizona Governor Jan Brewer vetoed SB1062, a bill that would allow individuals and legal entities to refuse service if it burdened their exercise of religion. The intention of the bill was to reinforce the first amendment's free exercise of religion; however, many LGBT activist groups and popular businesses were outraged because the bill was in line with homophobic legislation.
After the bill passed in the House of Representatives with a 33-27 vote, Governor Jan Brewer had to decide whether to veto the bill or put it into practice. Not only did political giants like Mitt Romney, John Kerry and John McCain encourage her to veto the bill, but four of the representatives who originally passed the bill in the House told her to veto it as well.
Arizona's only gay House member, Demion Clinco, responded to Governor Brewer's veto in the following video.
READ MORE: 200 Publicly Outed After Ugandan Anti-Gay Law
Popular companies like Apple, American Airlines, Marriot and Delta Airlines publically protested the bill, criticizing the discrimination brought forth by SB1062. All these companies said, "the law, if enacted, would run counter to their internal policies aimed at ensuring an equal workplace."
These companies also indicated that the law could incentivize companies to move out of Arizona, which would negatively affect Arizona's already struggling economy.
In the following speech, Apple CEO Tim Cook talks about the discrimination that he has seen and personally faced. His values are deeply rooted in Apple's commitment to humanitarian causes.
The Hispanic Bar Association threatened to move its 40th annual convention in Phoenix to another location because of the anti-homosexuality bill. President Miguel Alexander Pozo said that the group's board of governors voted unanimously to move the convention out of Arizona because "laws that return us to a darker time in the nation's history simply cannot be tolerated."
"Senate Bill 1062 does not address a specific and present concern related to religious liberty in Arizona," said Governor Brewer in a public statement on Wednesday, explaining why she decided to veto the bill. "I have not heard of one example in Arizona where a business owner's religious liberty has been violated."
She addressed proponents of the bill as well, saying she understands "that long-held norms about marriage and family are being challenged as never before." Governor Brewer believes that the bill would hurt and divide Arizona greatly and urges everyone to look past the bill and move forward, "turn[ning] the ugliness of the debate over Senate Bill 1062 into a renewed search for greater respect and understanding among ALL Arizonans and Americans."
READ MORE: Uganda Bans Homosexuality
This is not the first time Arizona has faced public and media scrutiny for a discriminatory law. In 2010, Arizona lawmakers introduced a bill that allowed police officers to arrest someone and determine their immigration status when there is reasonable suspicion that they are not in the United States legally.
These discriminatory bills have put Arizona in a tough position in a society that preaches progressive reform; however, bills like these cause people to question whether the United States really is pioneering a more tolerant future and setting a positive example for other developing countries.
Not only are these anti-homosexuality laws being contested in the United States; Uganda has been dealing with similar issues.
Last Monday, Ugandan president Yoweri Museveni signed a harsh anti-homosexuality law which puts extreme amounts of pressure on LGBT individuals in the country. A day after the law was passed, the Red Pepper, Uganda's popular tabloid, exposed 200 of the "top homos" in the country in order to incite fear into these individuals. If found, these homosexual individuals can face lifelong jail sentences. Groups that promote homosexuality in the country will face at least seven years in jail.
Many international humanitarian organizations contested this law and have been urging the Ugandan Government to revoke the bill. The Human Rights Watch has been outspoken about the issue in Uganda and aims to bring global awareness to this humanitarian cause.
READ MORE: India Criminalizes Homosexuality

Graeme Reid, director of the LGBT rights program at Human Rights Watch, said that the anti-homosexuality law in Uganda "is very vague and far reaching. The punishments are extreme…I think we need to understand this law is a parcel of a series of laws that have been passed recently in an attempt to clamp down on civil societies."
"We have a researcher [in Uganda] who is working with the local groups to come up with a strategy and approach as a way of opposing this unjust law," said Reid. Since the bill is relatively new, there is still more time needed to determine how to deal with this unjust law in Uganda.
The World Bank decided to withhold a 90 million dollar loan intended to help Uganda's healthcare system because of the law's unjust nature. David Theis, senior communications officer of the World Bank, gave a brief statement regarding the issue: "We have postponed the project for further review to ensure that the development objectives would not be adversely affected by the enactment of this new law." He declined to comment any further.
Ugandan officials responded to this loan withdrawal by accusing the World Bank of blackmail. Ofwono Opondo, spokesman of the government of Uganda said in a tweet that the bank's "so-called cut is attempted blackmail to set Ugandans against their government." The World Bank has not indicated that it will supply the loan any time soon.
The United States has always considered itself to be a model nation to developing countries around the world. Although the anti-homosexuality bill was vetoed by Governor Brewer, it forces critics to question whether or not the United States is in fact the guide that it perceives itself to be.
Reid said that the anti-discrimination laws in both Arizona and the United States are "tainted to legalize discrimination which is outrageous."
Reach Staff Reporter Niki Hashemi here and follow her on Twitter.