MLB
8 Potential Breakout Players To Watch In 2014
It is time to once again lace up the cleats and break in the glove. Major League Baseball is upon us once again! Accompanying the anticipation is, as usual, a heavy dose of speculation: Will the Red Sox defend their World Series title? Can Mike
Trout become one of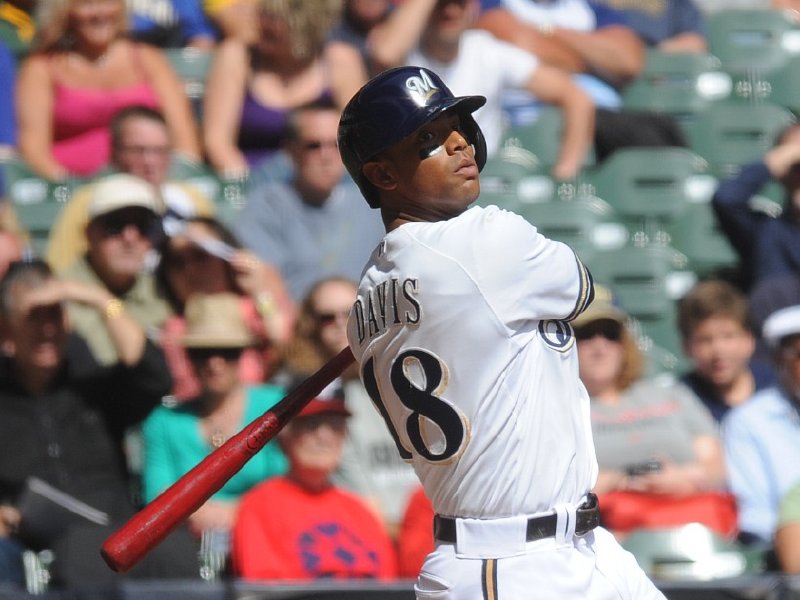 the youngest players ever to win the MVP award? Will Derek Jeter get one last chance to play postseason baseball? How will big free agent signees like Robinson Cano, Shin Soo-Choo and Jacoby Ellisbury fare in their new homes? What about Japanese import Masahiro Tanaka? Can Clayton Kershaw and the Dodgers improve upon last year's playoff appearance and make a deep postseason run? Fortunately, Opening Day is here, and we will be able to find the answers to our questions. However, part of the beauty of baseball is its unpredictability. Every season, there are a handful of relatively unknown players who make unexpected, but significant, contributions to their teams (Example A: Yasiel Puig). Sometimes, these players are touted prospects that have finally developed. Other times, they seemingly come from nowhere and catch fire. Or, they can be players who have been on the cusp of success at the major league level, but have been held back by certain aspects of their game or playing time. While it can be difficult to predict who these players will be, here are eight players who certainly seem to fit the breakout bill.
Sonny Gray, SP, Oakland Athletics
Gray had an outstanding 10-start stint at the end of last season for the A's, capped off by two fairly promising playoff starts for Oakland. Gray finished the regular season at 5-3 with a 2.67 ERA and 67 strikeouts in 64 innings pitched; great numbers for a July call-up. In the playoffs, his record was 0-1 in two starts. However, he compiled just a 2.08 ERA and a .217 batting average against, including an 8-inning shutout performance in which he received a no-decision. Gray will have a full year to pitch this year having locked up a rotation spot, and the 24-year-old should produce at a high level, especially considering that he will be taking the mound in a pitcher-friendly ballpark. Look for him to be a legitimate starter for many years to come.
Khris Davis, LF, Milwaukee Brewers
Much like Sonny Gray, Davis played a partial season last year, totaling a .279 batting average, 11 home runs, and 27 RBI's in 136 at-bats for the Brewers. However, the Brewers took notice of his promise, and have cleared a path for him to start in left field this year. His bat (although he does strike out a fair amount) likely won't be the problem: for Davis to remain in the good graces of the team, he will also have to show consistency in the field. He will also need to stay healthy, as his numbers last year may have suffered some due to multiple nagging injuries he had at the end of the season. Assuming his fielding and health both remain consistent, Davis should be poised to make a positive impact in Milwaukee's lineup.
Brandon Belt, 1B, San Francisco Giants
Despite playing in 150 games and hitting .289 with 17 HR and 67 RBI for the Giants last season, the 25-year-old, 6'5", 220-pound lefty should post even bigger numbers this year, and throw his hat in the ring of power-hitting first basemen. His post-All-Star break batting average last year was .326, and he cut his strikeout rate by nearly 20 percent, a sign that he is starting to figure things out. Couple that with the fact that (after signing a one-year deal this offseason) Belt will be playing for a contract next year, and signs seem to be pointing in a positive direction for this young man.
Oscar Taveras, RF, St. Louis Cardinals
An ankle injury may have cut short his 2013 campaign in Triple-A last season after just 46 games, but make no mistake: Oscar Taveras is the real deal. Considered to be one of the top offensive prospects in the game, Taveras (21) was supposed to be a late season call-up last year, and was expected to make an impact at the Major League level, until the injury derailed his season. Although he injured his ankle, Taveras has entered Spring Training at full health and will be competing for a spot in the St. Louis outfield on Opening Day. Although it may take a little while for Taveras to be given significant time at the pro level, his three seasons of minor league ball would indicate that he'll be up to the challenge when the opportunity arrives. Taveras hit .386 in Single-A at age 19, .321 in Double-A at age 20, and .306 at Triple-A last season before his injury, with good power and contact, as well as using good judgment at the plate.
Alexander Guerrero, 2B, Los Angeles Dodgers
He was signed to a four-year, $28 million contract despite never playing a baseball game in the United States. The 27-year-old Cuban defector will look to switch from his natural position of shortstop to second base, to help fill a hole for the Dodgers following the exit of Mark Ellis. Although Guerrero is no sure-fire breakout player, he certainly has some good things going for him. For one thing, he has the work ethic and drive to succeed, especially coming off of an injury-riddled 2013. He also has Yasiel Puig, a fellow Cuban-turned-Dodger, to help guide him through the difficulties of both playing Major League Baseball and adjusting to being a new country. Finally, Guerrero is known to have some power, something that, if it translates to the MLB level, will help him stand out among fellow second basemen, a position not particularly loaded with power hitters.
Xander Bogaerts, SS, Boston Red Sox
Last year, at just 21 years old, Xander Bogaerts played his way into a starting role at third base on the World Series champion Red Sox. Despite just 44 at-bats and a .250 batting average during the regular season, Bogaerts was given the opportunity to play significantly during October. He responded by raising his average to .296, with a .412 on-base-percentage during the postseason. Fast-forward to Opening Day, and—partially thanks to Stephen Drew's decision to become a free agent—Bogaerts appears set to return to his natural position and be the everyday shortstop for the defending champs. Touted as a refined hitter throughout his minor-league career, Bogaerts will likely improve upon his past success and become a steady bat in the Red Sox lineup.
Anthony Rizzo, 1B, Chicago Cubs
Rizzo, standing at 6'3", 240 lbs, has likely been on "breakout players" lists for the last couple of years. However, the highly lauded prospect has not seen the progression that both he and the Cubs had hoped for. Rizzo, just 24, was hoping to improve in 2013 upon his solid 87 game campaign in 2012, in which he hit .285 with 15 home runs and 48 RBI's. Instead, Rizzo took a step backwards in his first full major league season, hitting just .233 with 23 home runs and 80 RBI's in 606 at-bats. However, the star-hitting potential that Rizzo possesses would suggest that he's about to turn things around this year. Rizzo did draw 76 walks in 2013, a good number; however, he also struck out 127 times, something that must improve. Rizzo has supposedly been working hard this offseason, and is eager to forget last year's disappointing performance. If he can gain some confidence back, he may begin to show signs of being the hitter he has long been claimed to be.
Oswaldo Arcia, OF, Minnesota Twins
The 22-year-old Venezuelan showed signs of being a true power hitter in his first major-league action last year, hitting 14 home runs in a pitcher-friendly park, to go along with 43 RBI's and a .251 batting average in 97 games played. However, despite showing promise for the rather bleak Minnesota lineup, Arcia also established that he is nowhere near a polished product: he struck out 117 times in 351 at-bats while only walking 23 times. Although he is said to be a more patient hitter than he displayed last season, Arcia's statistics suggest that he was not producing quality at-bats. If he can exercise more control at the plate, however, look for Arcia to improve his numbers in most statistical categories, especially his on-base percentage and walks, while decreasing his strikeout total. The at-bats will certainly be there this season, as the Twins are desparate to develop some young hitting talent following an off-season more focused on shoring up their horrendous 2013 starting pitching.
These players are merely candidates to have breakout seasons in 2014, and almost certainly, other players will emerge during the season that are not listed here. We can speculate all we would like, but the only way to truly determine which predictions are right or wrong is to watch the season unfold. So put on your baseball caps and adjust your jockstraps, because the 2014 Major League Baseball season is upon us!
You can follow Ben Albert on twitter at @hermthegerm13