Sports
Women of Troy Take Hard Loss Against Washington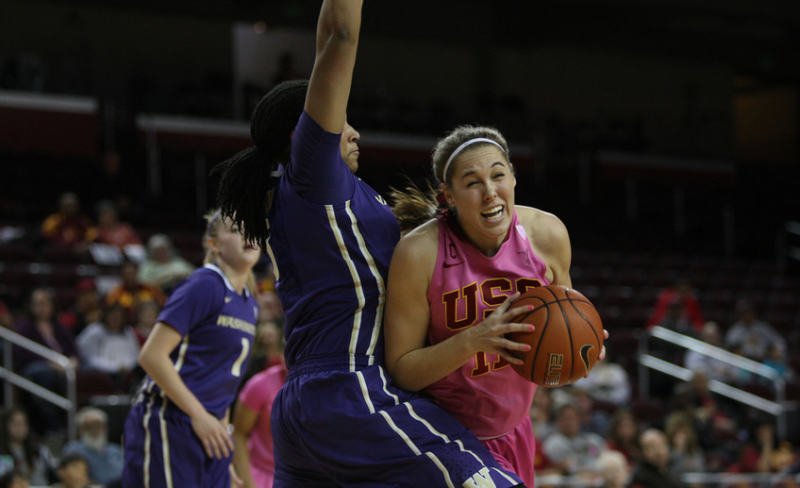 After a 63-55 loss to Washington Sunday morning, the USC Women's Basketball team has yet again landed themselves in another losing streak. These past three straight losses put USC into third place in the Pac-12 and gives their NCAA Tournament hopes a significant hit.
Out of the gate, Washington opened up with an explosive 10-point lead thanks to three 3-pointers and an impenetrable defense. Despite getting a couple buckets in the paint, USC could not find that familiar offensive spark and scored a season-low 17 points during the first half on 7-of-30 shooting.
However, after what probably was a hard-hitting pep talk from Coach Cynthia Cooper-Dyke, USC began to find their groove again during the second half. Within three minutes, the Trojans found themselves within a single-digit reach thanks to senior forward Cassie Harberts' aggressiveness in the paint and junior guard Ariya Crook's three-point play.
Both Harberts and Crook finished with double-digit points. Harberts recorded her second straight double-double with 22 points and 11 rebounds. Washington's junior guard Jazmine Davis led all scorers with 25 points.
With just a minute left to go, the Trojans were within two points of the Huskies until Davis nailed a dagger three to extend the score to 57-52. With a handful of forced fouls that went back and forth a couple times during the final seconds, USC was never able to catch up.
The Trojans look to regroup this week for Saturday, when they host their L.A. rivals at the Galen Center. During their first matchup this season back in December, USC beat UCLA 56-54. The Bruins are sure to return looking for revenge while the Trojans seek a clean sweep.
Reach staff writer Nicole Kim here.