Style
Why J. Crew Womenswear Flopped At Fashion Week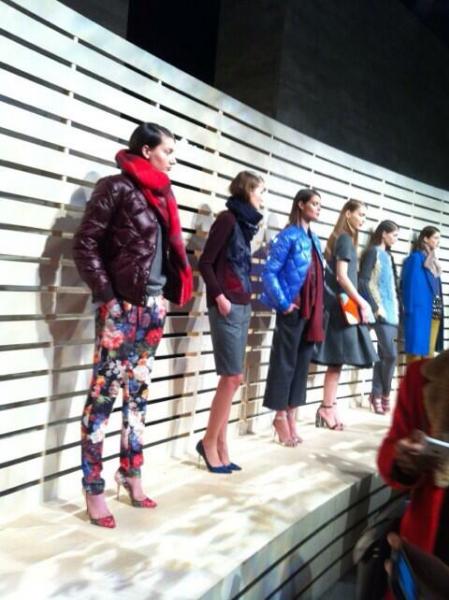 J. Crew started off as a blasé mall brand for the prep school set, best known for its cardigans and khakis. However, in the past ten years, Millard "Mickey" Drexler took over as J. Crew's CEO and started giving current J. Crew Creative Director Jenna Lyons more influence in the brand's design. Now, J. Crew is moving steadily upward in the regard of mall consumers and fashion industry experts alike.
Thanks to smart marketing and design led by Lyons, the perception of the "J. Crew aesthetic" has evolved into something truly impressive. What used to be a stodgy, conservative catalog brand is now known as a hip, preppy, quirky outlet for modern Jackie-O's, most notably Michelle Obama.
J. Crew actually sets trends now in the fashion world—we have Lyons to thank in large part for today's prevalence of matte red lips, thick-framed glasses and shift dresses.
The brand's impressive leap from store to runway made it a major player in ready-to-wear fashion. When J. Crew debuted its first Fashion Week collection in 2010, critics celebrated the design team's skillful interpretation of favorite J. Crew staples with a high-fashion bent. "There was ample opportunity to deconstruct the looks and find plenty of gotta-have-them, affordable basics…all pieces with that 'Oh, is that J.Crew?' potential," Style.com reported after the show.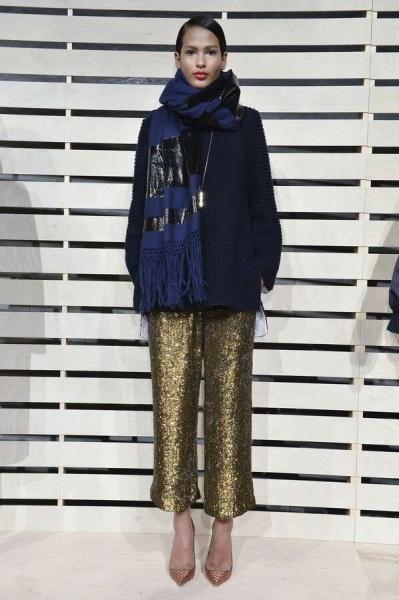 But J. Crew has lost their magic touch with today's collection. The looks were preppy, quirky, and identifiably J. Crew, but each outfit had a certain element of dissonance that came from trying to blend an increasingly avant-garde runway aesthetic with the cool-school staples J. Crew actually produces and sells on a large scale.
Head womenswear designer Tom Mora dressed one model in a leather shirt and chino pants combination. The pairing seems innocuous enough, as J. Crew has produced both leather blouses and chino pants to great success before; but in an effort to make them more "runway," Mora rendered his classics in ever-so-slightly off, clashing shades of red, in cuts that would be extremely unflattering on actual J. Crew customers. The boot-cut capris, repeated in several looks, were especially distressing.
The word "dissonance" comes to mind again and again as I scroll through the looks. A screen-printed hoodie paired with silk pajama pants and tweed pumps, a tasseled blouse with mustard-colored cropped pants and a fur scarf—retail staples reimagined in a supposedly "high-fashion" way, which apparently means unflattering cuts and clashing combinations.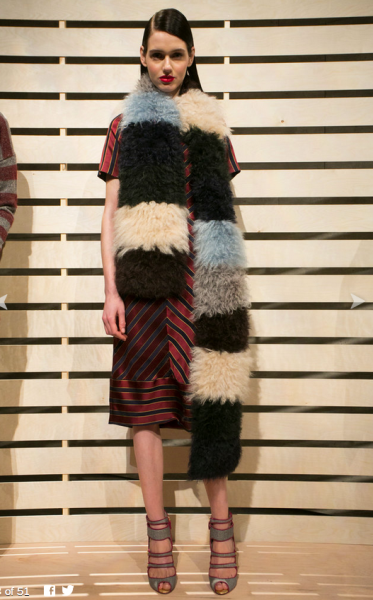 Mora and his team struggled today to present a fresh iteration of the high-low blend that initially made their Ready-to-Wear collections successful. Their efforts felt contrived—the collection was neither fully runway quality nor wearable, nor was it a smart blend of the two as it has been in past seasons. Mora would have had a more coherent presentation if he had stayed closer to one sphere. He could have bumped his avant-garde tendencies to the next level and produced a more progressive set of looks as distant complements to the J. Crew in-store styles. The look that comes closest to this in my mind is the pajama-striped dress with oversized fur scarf, which is avant-garde but coherent.
Conversely, he could have refined his aesthetic and presented a very wearable collection more aligned with J. Crew's retail sensibilities, similar to the way Alexander Wang and Tory Burch seamlessly integrate their retail and runway creations.
J. Crew is at a crossroads. To keep moving forward, the design team needs to take a step back and decide what the purpose of J. Crew having a Fashion Week presentation really is. Do they want to influence runway fashion with a more avant-garde collection, or do they want to use their presentations as marketing for their retail presence? Who is the collection intended to please, the high-fashion fiend or the shoppers at home?
Next time, Mora and his team need to either amp it up or tone it down, rather than leave us with a confused mess of pieces.
See all the looks here.
Gigi Gastevich is a Staff Reporter who usually likes J. Crew a lot. Reach her here.