Health
Valentine's Day Dates For The Active Couple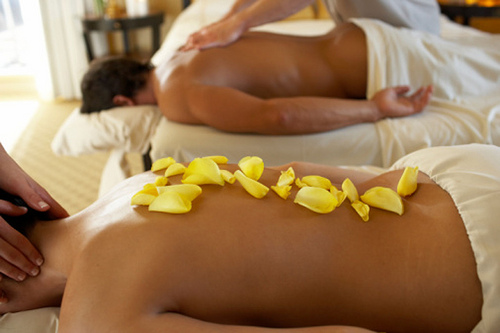 Valentine's Day is just around the corner, and it means something different for everyone. For most girls, it is a day that reminds them that true love exists. For boys, it can be a dreaded day which involves impressing their women and possibly spending large sums of money.
There's good news for the person that wants to make their significant other happy but is a little low on cash. If you are tired of doing dinner-and-flowers on Feb. 14, try one of these active couples ideas that will get your heart beating in more ways than one.
1) Hiking
Nothing sounds more perfect than a hike through beautiful scenery on Valentine's Day. Instead of sitting in a restaurant, indulge in some fresh air and movement with your loved one. Check out some hiking trails in Los Angeles here.
Fun fact: A 160-pound person will burn between 430 and 440 calories in one hour of hiking.
2) Rock-Climbing
Yes, this is more of an extreme Valentine's Day date, but it's too fun not to consider. You'll burn more than 470 calories, depending on your weight and intensity while rock-climbing. A big part of rock-climbing is trust - what better way to see if your S.O. has what it takes to catch you when you fall?
3) Partner Yoga
For those of us that have done yoga, we've all thought at one point or another, "I can't put my body in this awkward position!" Why not do the exact same thing on Valentine's Day and laugh off the unlikely poses with your partner? Yoga will also form a bond of intimacy that is guaranteed to bring you closer and make your relationship stronger. Hot yoga will burn about 477 calories, and a Vinyasa flow class will burn roughly 594.
4) Dance Lessons
Taking a dance lesson, such as salsa or swing, can be very intimate and personal: the routine forces you to maintain eye and body contact with your partner. Your heart beats fast, and the music makes your body take up a leader/follower position that you might not experience on a day-to-day basis. Average price for a class is around $15, so it won't even break the bank. Dancing is an entire body workout, and a 140-pound person will burn roughly 405 calories per 60-minute session.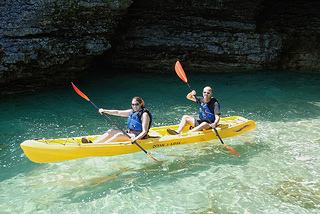 5) Kayaking
Just you, your significant other, and a kayak. If you want to spend this day away from the city noise but don't have the money to whisk him/her away for the weekend, try this active date idea. Enjoy a sport that you need each other for, and embrace the beautiful scenery that you are bound to see while kayaking.
If you aren't that into kayaking, try renting a rowboat, and take some champagne with you to really celebrate the love you have for each other. It is also a great workout for your arms and core, and a 150-pound woman will burn around 340 calories in one hour.
6) Couples Massage/Spa Day
Girls LOVE spa days, so men - this Valentine's Day date is the perfect crowd-pleaser. Indulge in a couples massage and chat while you get pampered. The massage will relax you both and make the day of love so much more special.
7) Work it out
If you are one of those people that has no motivation to go to the gym, have your partner go with you. It's always easier going with someone, and if it happens to be your girlfriend/boyfriend, it's valuable time spent together. To make it even more intimate, help each other with crunches, push them to run that extra half-mile, and just be that person they can complain to while on the elliptical.
8) Sunset walk
Yes, girls are suckers for sunsets. Even better, we love sunset walks on the beach. Spend the eve of Valentine's Day watching the sky turn flaming red while you cuddle with your significant other. Bring some appetizers for after the walk, and voilà! You have the perfect sunset picnic that you are bound to never forget.
9) Ice skating
Ice skating is all about holding hands, snuggling up to fight the cold and helping each other stay up on the skates. This is why it's the perfect activity for Feb. 14. Also, it'll get your buns in shape!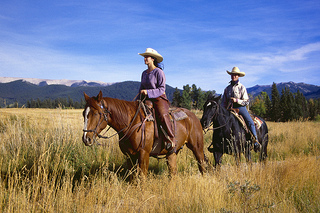 10) Horseback riding
Not only will your thighs and core get a fantastic workout while horseback riding, but you will get to spend an intimate day with your loved one, watching the scenery go by and being isolated from the rest of the world. If anything is romantic, it's horseback riding into the sunset.
11) Go swimming together
It might be a little cold right now, but if you and your boyfriend/girlfriend can muster up the courage to take a dip ---skinny or not --- that's about as romantic as it gets. Take a nice stroll down the beach after to make it that more special.
13) Golf
Okay, it doesn't have to be a competition, but doing this sport together is really cute and you can help each other out when the ball isn't going far, or nowhere at all. It's a great activity that burns a surprising amount of calories!
14) Tennis
The same applies for tennis: have some fun with it, and make it more exciting by placing bets, such as who is going to cook for whom that night, etc.
15) Arcade
If you aren't that into sports but still want to try something active and fun this year, take your loved one to the arcade! A game of Air Hockey or Dance Dance Revolution will be enough to make this one of your best Valentine's Day dates yet.
If you want to combine an active date with a romantic dinner, check out Neon Tommy's article on affordable restaurants in Los Angeles here.
Reach Staff Reporter Beatrice Verhoeven here. Follow her on Twitter.