Los Angeles
USC Halloween Shooting Suspect Found Guilty Of Attempted Murder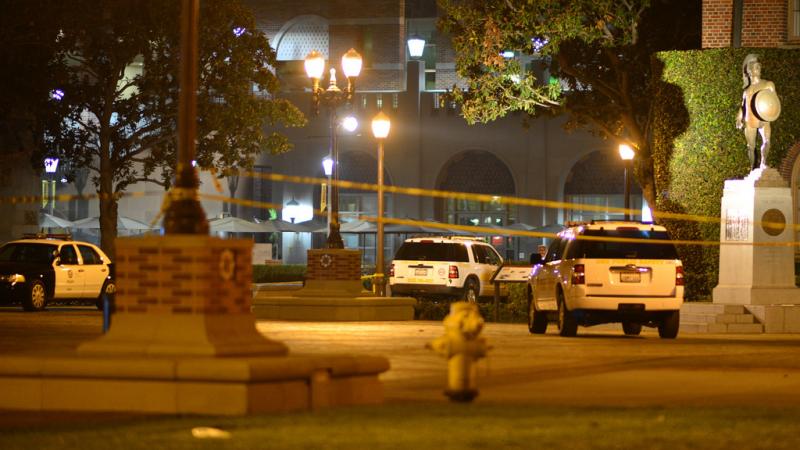 The man charged with shooting four people at a Halloween party on USC campus in October 2012 was found guilty of attempted murder by a jury on Monday.
21-year-old Brandon Spencer was charged with four counts of attempted murder after opening fire at a Halloween party held at Tutor Campus Center. Four people were wounded in what the prosecution alleged was a retaliatory, gang-related incident.
SEE ALSO: Victims Deny Seeing USC Halloween Shooting Suspect At Party
As the clerk read the verdict aloud, Spencer shook his head and yelled, "A life in prison for what?" Spencer then jumped out of his seat and had to be restrained by three officers. Two other officers joined and pressed him against the floor.
"I love you, baby," Spencer said, after officers handcuffed him on the table.
Spencer's defense attorney remains unsatisfied and says Spencer plans to appeal. "It seems frustrating to me that only one witness identified Brandon by clothing," he said, "Three other witnessess, including a USC security guard, have a completely different description of the shooting in a different direction."
"There was no DNA evidence, and yet they came back so quickly and said he was guilty," said Spencer's father, James Spencer. "We are going to appeal this because this is racist."
Spencer's sentencing is scheduled for February 21.
More coverage of the USC Halloween campus shooting:
Trial Opens For USC Halloween Shooting
USC Shooting Suspect Pleads Not Guilty To Four Counts Of Attempted Murder
USC Halloween Party Planner Critical Of Campus Police
USC Shooting: Officials Acknowledge Gaps In Monitoring Halloween Party
Four Injured In Halloween USC Shooting
Reach Staff Reporter Olga Grigoryants here.
Reach Executive Producer Cassie Paton here. Follow her on Twitter here.