Los Angeles and Region
Urban Beekeepers Win Sweet Victory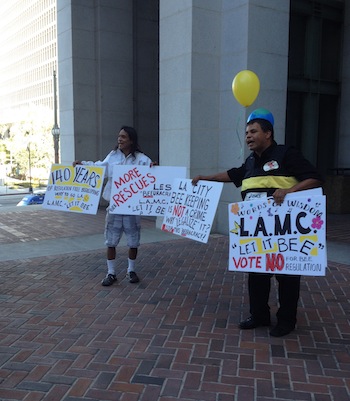 On Wednesday, the Los Angeles City Council unanimously voted for city officials to conduct a study exploring whether urban beekeeping should be allowed in the city's residential neighborhoods—a measure which beekeepers say would help save the diminishing honeybee population.
Urban beekeepers in Los Angeles are hopeful that the city will join New York, San Francisco, Santa Monica and other major cities in allowing beehives to be kept at homes.
During a news conference before yesterday's city council meeting, councilman Mitch O'Farrell said that city code doesn't allow beekeeping in residential neighborhoods. After the recent vote, however, a study conducted by the city's planning department will reveal what effects backyard beekeeping would actually have on neighborhoods and the fate of the honeybee population.
Urban beekeeper Rob McFarland believes that a set of rules and regulations would help alleviate any "gray areas." Currently, there are no fines or penalties for keeping beehives, but if they become problematic, the hives are removed, he said.
Not everyone agrees with establishing a set of rules for beekeepers, however. Southern California beekeeper and owner of The Natural Honey Company, Dael Wilcox said he wants to keep "honey flowing" in the city without regulations and restrictions.
"Beekeeping is not illegal, so let it be," Wilcox said.
READ MORE : Mural Ban Tentatively Lifted Throughout Los Angeles
These steps toward legalizing urban beekeeping in Los Angeles come as worries continue to grow about colony collapse disorder, or CCD, which is when the worker bees fail to return to the hive and the bees die-off. Last year, nearly half of the honeybees brought into California for pollination died because of CCD, O'Farrell said.
"All we need is a healthy ecosystem and [the bees] will pollinate the food to feed all of us," councilman Paul Koretz said. "What we, as human beings, are failing to do is to provide that healthy ecosystem. The climate crisis is creating unpredictable weather and bees can't adapt fast enough."
In Los Angeles, the bee population is thriving because there is no large-scale agriculture in the city, and therefore, not a lot of pesticides are being used, Koretz said.
He told the council that bees pollinate more than a third of what people eat. If honeybees disappeared, humans would follow a few years after, Koretz said.
Councilman Mike Bonin agreed that the issue is about our food.
"If you care about blueberries, then you care about this. If you care about apples, then you care about this. If you care about cucumbers or almonds, then you care about this. It isn't so much about the bees as it is about the food that we eat," Bonin said.
READ MORE: Bridge Reconstruction Forces L.A. Businesses To Relocate
David King, head of the Seed Library in Los Angeles, said the city and its residents need bees to get almonds, oranges and apples. Without bees, farmers would be forced to hand-pollinate their crops, causing prices to go up exponentially, he said.
Councilman Bernard Parks spoke to a few concerns he wanted to see addressed in the upcoming report. He asked if the beekeeping would be a commercial or individual venture and whether permits or signs on homes would be required. Parks said he also wanted to see in the study how any possible health issues, such as allergies, would be dealt with.
A study endorsed by the neighborhood council in Mar Vista found that there are about 9 to 11 bee colonies living in every square mile of Los Angeles. Urban beekeepers are a resource to manage these colonies, according to McFarland, who argued that "managed colonies" are much less of an issue and danger to people than unattended bees.
The biggest myth is that bees are going to attack people, and that isn't true, McFarland said. People think anything that is yellow and black is a bee, but we are careful to differentiate between bees and wasps, he said.
"Chances are if you've been stung by something at your picnic table it was a wasp," McFarland said.
The council also voted to support a federal bill that will end the use of certain pesticides, and for the city to look at alternative ways instead of termination in an effort to relocate beehives that have received complaints.
Before the council voted, councilman Mitchell Englander thanked Koretz for "swarming around this issue."
"If we don't vote on this, it will be a buzz kill," Englander said.
Contact Staff Reporter Jen Nowell here.