Food
A Taste Of Beverly Hills Brownie Company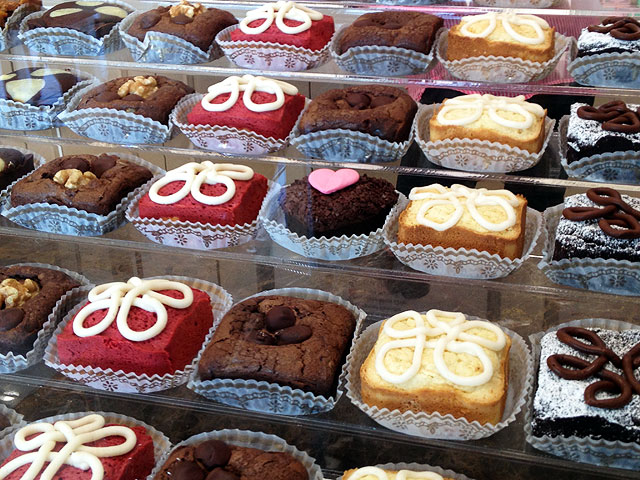 Although they're located in the 90210, the
Beverly Hills Brownie Company
prides itself on not attaching a "mansion-sized price tag" on its products. Just ask friendly and personable
Bobbie Greenfield
, the founder of the company.
"One of the nicest write-ups I ever saw about our company was when People magazine wrote about our $25 gift box," she recalls. "They said it was 'the best hostess gift ever' and it doesn't come with a 'mansion-sized price tag.'
"People ask my why we aren't in a bunch of high-end retailers," she adds, thoughtfully, "and I say it's because we're every man's treat. A brownie for $3.50 isn't outrageous; it's right there with any other sweet treat you can go buy. It was important to me to have something that had broad appeal to a lot of people, but it was still special and different."
Baking was always a hobby Greenfield loved, but with an avid career in marketing, the thought of owning her own baking company never dawned on her.
"I spent a career helping other companies build and develop their brands," she says. "I had a pretty profitable and large company that was a marketing consulting firm … all of a sudden, that came to a halt in the recession."
At night, Greenfield would seek solace in her kitchen. One night, she started fiddling around with one of her grandmother's brownie recipes. Inspired, she continued to bake up different variations.
"Ten months later and 10 flavors later, I had neat stuff going on," Greenfield says. "But there was something missing from them. They were great tasting but they weren't very great-looking. It was kind of nagging at me, but this [baking] was not my career."
Greenfield remembers when the idea and concept of "Beverly Hills Brownie Company" came to her. It was during the day, and because she "thinks in terms of marketing," Greenfield immediately called her husband about it.
"My husband's a corporate attorney, and I called him in the middle of an afternoon," Greenfield recalls. "I said, 'I want to own the name Beverly Hills Brownie Company. Can you please trademark it for me?'"
She laughs, recalling her husband's response.
"There was this long pause, because I think he thought, 'My wife has gone crazy,'" Greenfield says.
Thus, Beverly Hills Beverly Company was born in May 2012, though Greenfield was selling her brownies prior to the storefront opening for three years. By that time, she had discovered the art and technique to creating a uniform and elegant looking brownie. Believe it or not, the idea stemmed from a childhood experience.
"I hearkened back to when my sister would get home ahead of me after school and get to the plate of brownies my grandmother would make," Greenfield says. "She would take all the edges and I would get home later and there would be this pile of goop in the middle. I don't want anyone to have that; I think people should have whatever they want — a little of the middle, a little of the edge. So I engineered some pans so that every brownie would be hand formed and have an edge on every side, as well as a gooey center. When I did that, then they started to get really pretty."
Even the frosting that adorns each brownie has a backstory.
"How do you get it so that people get frosting in every bite, but so the frosting doesn't overpower the brownie?" Greenfield says. "That was where the idea for using our icon [as the frosting] came about. It's not just about looking pretty — it's so when you bite into a brownie, you'll get a bite of frosting each time, but not too much."
When the bakery first opened, there were 12 flavors; today, there are 24, one of which is a gluten-free brownie. While Greenfield invented all the flavors, she says she constantly gets ideas from others.
"It's not from people recommending flavors so much; it's just listening to people talk about what they're doing and where they're going," she states.
For example, the company's current "Cookies & Cream" brownie—featuring a "Simply Classic" brownie with a layer of Oreo cream cheese frosting—was the result of Greenfield listening to a story about what someone ate at a county fair (fried Oreos). Similarly, the ever-popular "S'Mores" resulted from last year's sweltering summer months, during which Greenfield was thinking about the beach, barbecues, toasting marshmallows and other summer activities.
"Suddenly, the lights went off and I thought, 'We have to do a 'S'Mores' brownie!" she recalls.
"S'Mores" features a brown sugar-based, Tollhouse cookie-like flavored brownie with chunks of milk chocolate, a graham cracker crust, toasted marshmallows on top and is finished with a square of Hershey's chocolate. The flavor has jumped up to the "number three most popular spot" since its creation, according to Greenfield.
"You can look at ways for production to make things more efficient," she acknowledges. "Certain things would be faster, like smearing a bunch of marshmallow cream on top instead of arranging marshmallows by hand so that they will melt and toast the right way. But there's a difference between marshmallow cream and toasted marshmallows; it's a different product. There aren't any shortcuts [in our process]."
The two most popular brownie flavors include "Simply Classic"—a rich blend of dark chocolate, See's Candies semi-sweet chocolate and Ghirardelli's bittersweet chocolate chips—and "Red Velvet," which is made with Guittard cocoa, filled with vanilla cream and topped with butter-cream-cheese frosting. These two flavors—plus "S'Mores"—are offered daily, as are the other "core" flavors, which include "Classic Walnut," "Pure Platinum"—a creamy and chewy vanilla brownie made with Guittard vanilla chips and Madagascar-style vanilla extract and finished with vanilla glaze—and "No Gluten Classic Buttercream."
"Our no-gluten brownie is amazing; it's just made with no flour," Greenfield says. "Instead of using other flour substitutes, I decided to eliminate the flour. We've got a classic chocolate brownie with bittersweet and semisweet chunks and a chocolate buttercream frosting that tastes almost like a truffle. It's so rich."
Besides those six, the bakery offers a rotating variety of featured flavors. These include unique flavors like "Peanut Brittle"—a dark chocolate, peanut butter-laced brownie topped with See's Candies Peanut Brittle—and the ever-popular "Salted Caramel," made with a decadent dark chocolate brownie filled and topped with salted caramel and sprinkled with sea salt. However, not every one of these "featured" flavors is available every day.
"Every time we make our 'Salted Caramel' brownie, it's gone by noon," Greenfield says. "If people know that there's something they want, they should just call us."
The bakery even features seasonal flavors. The phrase immediately brings the "Pumpkin Cream Cheese" and "Pumpkin Chocolate Chip" to the forefront of Greenfield's mind.
"We used to only do them around Thanksgiving, for the month of November," Greenfield shares. "This past year, we expanded to do them in October also cause they're that popular."
She laughs. "We might just celebrate Halloween in March."
Though her brownie flavors are unique and different from each other, Greenfield remains consistent with her baking principles and philosophy. For example, she makes sure to support local businesses and includes all-American ingredients in her company's products.
"The origins of the brownie are uniquely American," she explains. "They were founded in the late 1800s, as the story goes, in Chicago. I've stayed very true to the American tradition of the brownie; I primarily use all ingredients that are made in the United States. French and Belgian chocolates are wonderful for sure, but I think about what's in America. For example, we use See's semisweet chips and their Peanut Brittle. Most of our brownies use Guittard chocolate as the base; Guittard is a family owned company in the Bay area and they're about 60 years old."
And Greenfield doesn't just limit her niche to traditional brownies. She also features the brownie texture in "Brownie Ice Cream Sandwiches," "Brownie Biscotti" and "Brownie Cookies."
"Our 'Brownie Ice Cream Sandwiches' feature the 'Simply Classic' brownie cut up diagonally like a bagel, and we put a thick slab of McConnell's creamy, dreamy 'Golden State Vanilla' ice cream in the middle," Greenfield says. "We also have 'Brownie Biscotti'—they're not as hard and crunchy as regular biscotti because they're made from brownies and they're great for dipping into coffee—and we have 'Brownie Cookies,' made from our 'Simply Classic' and 'Classic Walnut' brownies."
For Valentine's Day, a variety of gift options are available at Beverly Hills Brownie Company. Customers can order packs and gift sets, but also individually wrapped brownies. Some of the classic flavors are even getting a Valentine's Day makeover.
"Our 'Black and White' Brownie has gone pink, so it's pink, white and black," Greenfield says. "That's our tribute to the 'Black and White' New York cookie; it has a similar icing, only, for Valentine's Day, it's a pink icing. We always sell tons of 'Red Velvet' for Valentine's Day; in fact, Bobby Flay has tried it and blessed it. We're featuring 'Precious Metals' brownies. We take a pure gold leaf that's actually 22-karat gold—it's completely edible—and we hand apply it to our brownies. We also have a brownie shaped like a heart; it's the 'Simply Classic' with a milk chocolate ganache on top, teeny chocolate mosaics and an edible heart embellishment. All these embellishments are handmade locally from local businesses."
Greenfield encourages customers interested in placing Valentine's Day orders to plan ahead and order early.
"Our Valentine's Day products are available anytime now and we ship all over the country," she confirms. "Feb. 11 is the last day that we'll ship at regular [prices]. We'll be shipping right until the day before Valentine's Day, but then it gets expensive if you're doing overnight. It's a good idea to order early."
Besides coming up with ideas for special holiday or themed brownies—Valentine's Day, Super Bowl, St. Patrick's Day, Easter—Greenfield says that customers can look forward to "some real exciting new things coming" to the company. Whether this means new flavors, products or locations, though, one thing is certain — Greenfield will remain true to her company's roots.
"Something about a brownie makes people smile," she says. "To me, we sell smiles that come in the form of a brownie. It's so gratifying to see somebody bite into something and their face lights up."
"There are very few people doing only brownies in the United States," Greenfield adds. "I didn't set out to do that, but there was something that started to happen when people would try our brownies and say, 'These are delicious.' Americans love their sweets, that's for sure, and there is a large, large following of people that are looking for and loving a new take on a very old American tradition. I wanted our brownies to look pretty, not intimidating. They're brownies … they're fun."
For more about Beverly Hills Brownie Company, check out this Flickr slideshow: