Arts+Culture
Shia LaBeouf Says He's Sorry, Nobody Hears
Shia LaBeouf has something new to apologize for. When I'd heard that the former Even Stevens and Transformers star was marketing his recent mental breakdown as performance art, I was instantly intrigued. I'd been exposed to snippets of his gradual public demise via social media, including his frenzied Tweets, a plagiarized short film, and his infamous paper bag appearance at the Nymphomaniac Volume I premiere in Berlin.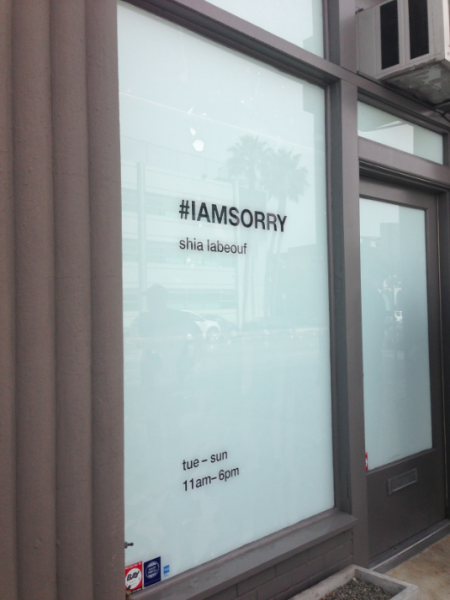 In an L.A. exhibit entitled #IAMSORRY, LaBeouf sat in seven hour increments in a dimly lit room sporting the trademark paper bag over his head with words scrawled across the face that read "I am not famous anymore." Viewers were asked to proceed into the gallery one by one and were encouraged to remain inside for as long as they pleased. Attendees proceeded to observe Shia's presence as the actor sat at a table, silent and rigid.
10 a.m., Saturday, February 15. I eagerly arrived at the Cohen Gallery on Beverly Boulevard (ironically situated directly across the street from Buzzfeed's headquarters, the website that published a series of articles concerning LaBeouf's alleged plagiarism). The exhibit was meant to open at 11 a.m., and the relatively short line left me feeling hopeful about my encounter with Shia. I proceeded to converse with the equally excited young people surrounding me in line, and I soon became aware of just how many hours fans had dedicated to their excursion. Those at the front of the line had arrived on the street corner between 11 p.m. and 1 a.m. the previous night, and had set up camp on the small patch of grass in front of the gallery.
12 p.m. I surveyed the front of the line, and became confused and slightly anxious to see that the same crowd who had been perched on the pavement all night still stood before the door. When I asked the security guard shielding the entrance, he promptly informed me that the first person to view the gallery enjoyed the limitless freedom of time that the artist had granted him, and sat in silence with Shia for 45 minutes.
1 p.m. Upon another quick journey to the front of the line (I had become well acquainted with the small square of cement in my original arrival spot), I noticed a crowd gathering on the corner. Jonathan Bernthal, of AMC's The Walking Dead, was experiencing little luck entering the gallery as well. However, because the guard was not swooning over Bernthal as were a large selection of women in line, the actor was not granted special admission. Only 6 people had entered the gallery in two hours, and Bernthal soon calculated that waiting longer was evidently impractical.
6 p.m. After a long day of a mostly-stagnant-but-occasionally-inching-line, I glanced at my new space on the pavement, approximately five meters up the street from where I began (I chalk up three of those meters to denser crowd packing). I inquired again with the guard whether I would have greater success if I returned early the following morning. I received a prompt and honest response: "These people will sleep here tonight. More will come around 12. They will all be here in the morning."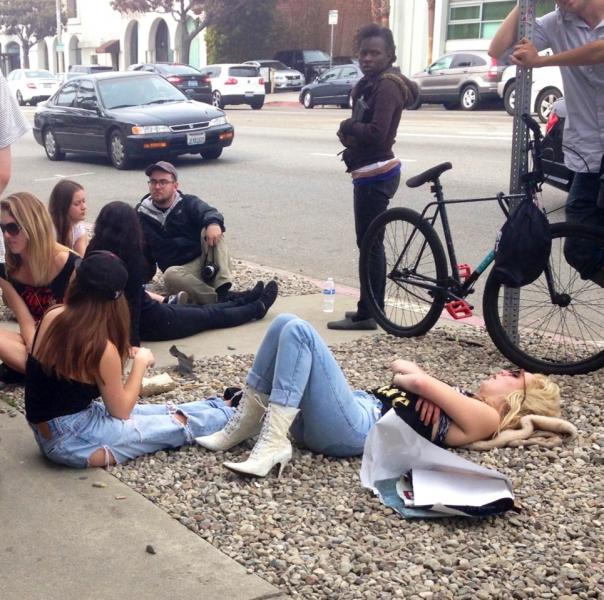 Although I was never able to personally experience Shia's tearful silent performance, identical video reels of his "revelatory" facial reveal have graced my Twitter newsfeed a number of times. Standing in line awaiting a meeting with Shia illuminated the greater consequences of his exhibit. He sat in a room for five days, claiming raw emotion and authenticity with a sensational paper-bag-and-bawling combo. His sensational performance begs the question: is he sorry? Or are Shia and his publicists simply utilizing the artistic outcry as a publicity stunt. LaBeouf situated the ordeal like a zoo animal display; he carried out nearly identical, repeat performances while onlookers poked and prodded him to their heart's delight.
By permitting viewers to spend an unlimited amount of time with him, LaBeouf seems to have drained the experience of any sincerity it might have possessed. The performance certainly achieved its goal of garnering a great deal of attention, but who is he really apologizing to, if only a handful of viewers each day? I don't know if Shia LaBeouf is sorry for anything - except maybe the fact that he isn't famous anymore - but he did manage to shift the public's attention toward the apologetic declaration itself, and away from that which he was supposedly "sorry" for. The overwhelming attention seems painfully ironic, especially considering the actor's recent announcement stating his intention to retire from "public life."
Reach Staff Reporter Emily Mae Czachor here.