Food
Restaurant Employee Health Insurance Surcharge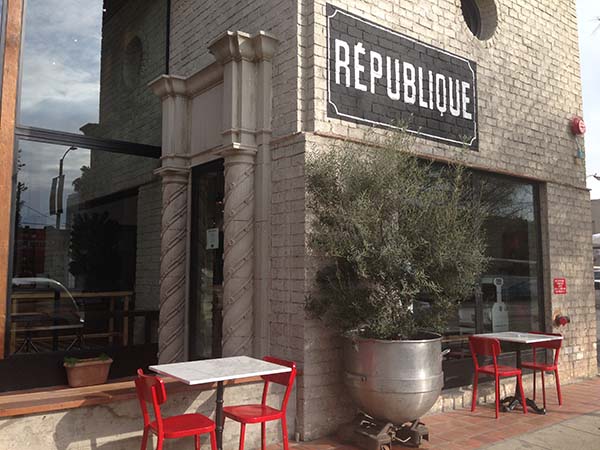 République, a new restaurant located on La Brea Avenue, is serving its consumers more than just food and beverages, but also an additional fee on their checks.
There is a three percent surcharge for employee health insurance that benefits the entire staff on every bill.
Chef Walter and Margarita McKenzie and Restaurateur Bill Chait own République. The restaurant had its grand opening Nov. 2013.
In restaurants, tips are generally shared by the front of the house staff that interact with the customers, which leaves the chefs, cooks and others without.
"The 3% charge at République is a small fraction of a typical gratuity, and if deducted from the gratuity it provides something for all the people who have worked to provide the meal and the service," according to a statement from the restaurant.
"Consequently you have servers and bartenders and other front of the house people that make $30-60 per hour in tips while the kitchen staff makes a fraction of that," the restaurant added.
République is not the first restaurant to add this fee.
In 2009, the restaurant Chez Panisse in Berkeley added a 17 percent service charge to the bills, according to U.S. News website.
Other restaurants, such as One Market, are accused of not properly distributing their funds.
This restaurant in San Francisco added a four percent surcharge to provide health benefits for workers.
In 2010, One Market only paid $12,646 in health-car expenses and kept more than $100,000 according to the Wall Street Journal.
In a statement, République said they would be more than pleased to make available their use of funds on their website towards the end of the year.
The three percent charge can be taken out of the tip or removed upon request from the customers.
"If it were simply a blanket service charge, typical at many restaurants, we still would not be able to distribute the funds to our kitchen staff," République said.
"All the people in a restaurant such as République work incredibly hard to produce and serve the food and beverages," the restaurant added.
Reach reporter Shaleeka Powell here.