Opinion
Red Hot Chili Peppers: Unplugged But Still Awesome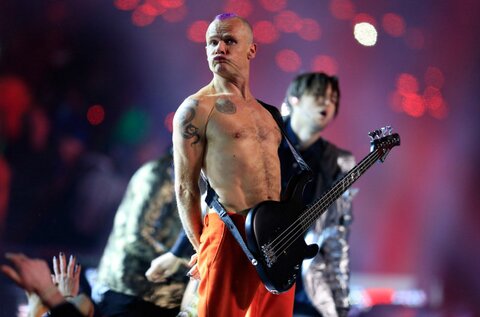 As Bruno Mars rocked MetLife Stadium with his gold jacket and snazzy jazzy backup performers, the legendary Red Hot Chili Peppers rose up onto the stage leading the crowd in a song true to their funk rock roots. With their front man Anthony Kiedis and bassist Flea topless, they jumped up and down, head-banged and just went berserk. When it came time for the guitar solo, electric guitarist Josh Klinghoffer spun around while swinging his guitar like a madman. This was a band unafraid to go crazy.
A day later, however, it was revealed that the band had not played live. Close-ups of the performance showed that their instruments were unplugged, and to the dismay of many fans, this was a sign that the Chili Peppers might have duped the world by performing over a prerecorded track.
To say that the Chili Peppers are outrageous would be an understatement. This legendary group has rocked shirtless, with neon hair, on rooftops and once performed wearing nothing but socks covering their unmentionables (the concert was aptly named "Sox on Cox") However, the most insane thing the Chilis have ever done came this past week.
No, it was not them performing unplugged at the Super Bowl, but rather the fact that bassist Flea had to explain why.
As Flea points out, the NFL has a strict policy against live instrumentation, due to the fact that a million things could go wrong in the short time they have to set up and that a half-time show has to be essentially flawless. He goes on to say that the Chili Peppers have a strict no-lip-syncing policy, but could not pass up this once-in-a-lifetime opportunity.
Some haters have said the band should have plugged in to save face, but it's obvious that they didn't want to fool their fans. As Flea tweeted:
"No trickery. No choice but no trickery."
No trickery has no doubt been a motto the band has stuck by, as they once had to lip-sync a performance on MTV and absolutely just messed with the producers. They stabbed holes in the drum kit and threw their guitars away all while the recorded track was playing in the background. The drummer and guitarist coming to the front of the stage to head-bang with no instruments while the song is still playing is a hilarious sight to see. Obviously the Chili Peppers respect their fans too much to lie to them, but they still came out to perform for their fans.
As Flea says:
"We thought it better to not pretend. It seemed like the realest thing to do in the circumstance. It was like making a music video in front of a gazillion people, except with live vocals, and only one chance to rock it. Our only thought was to bring the spirit of who we are to the people."
Too often, we as fans and critics place celebrities on a pedestal, expecting them to be both perfect and entertaining. Detractors simply reinforce the fact that the music industry is a business that demands absolute flawlessness and conformity to what we, the public, want but the Chili Peppers didn't care. They knew they weren't showing off their true talent by performing live or adhering to the norms of the music industry, but wanted to perform anyways, for the simple reason of giving their fans a true show, a legendary show to which people can dance like maniacs and head-bang for years to come.
Still, many people have lit up Twitter and the Red Hot Chili Peppers fan page calling them sell-outs. These so called "loyal" fans threatened to burn shirts, throw out CDs and never listen to them again.
Performing at the Super Bowl is an incredible opportunity for even the most legendary musicians. In fact, it's an opportunity that has never even been offered to most of the best musicians in the world. To put it into perspective, there are 295 current inductees in the Rock and Roll Hall of Fame, but there have only been 48 Super Bowls. Even if they're not comparable achievements, the math is simple; a Super Bowl halftime show is the holy grail of performances.
An appearance on the worlds most watched event, 112.2 million viewers this year, is so coveted that some of the world's biggest stars get paid nothing just for the exposure. Madonna, Bruno Mars and even Beyoncé have performed without pay. Why? Because the publicity in front of playing the largest televised event in the world is too much to pass up.
So who cares if the Chili Peppers had to follow regulations and play unplugged? Their 31 years of playing is a good enough resume of their talent for me and 112.2 million viewers is a hard opportunity to pass up. If any band has enough balls to go butt-naked on stage, who am I to doubt their performance ability? The band clearly showed their talent by recording a track of their song "Give it Away" to seamlessly transition from Bruno Mars' "Runaway Baby" specifically for the Super Bowl.
Seeing one of my favorite bands perform on the world's largest stage was a dream come true. Thankfully, many genuinely loyal fans have had the same mindset, supporting the band as one of the best of all time regardless of what haters want to say. True fans will continue to support this awesome band while haters... well haters will always find something new to hate, of course.
The Red Hot Chili Peppers are amazing, crazy and may have even, as a fellow legendary rock star and front man of Guns N' Roses Axl Rose has said, "set a new world record for the largest karaoke audience ever! Awesome!"
I wonder how many Rock and Roll Hall of famers hold that honor.
Reach Contributor Steven Lee here.