Style
Popular Retailers Deem Mental Illness Fashion-Forward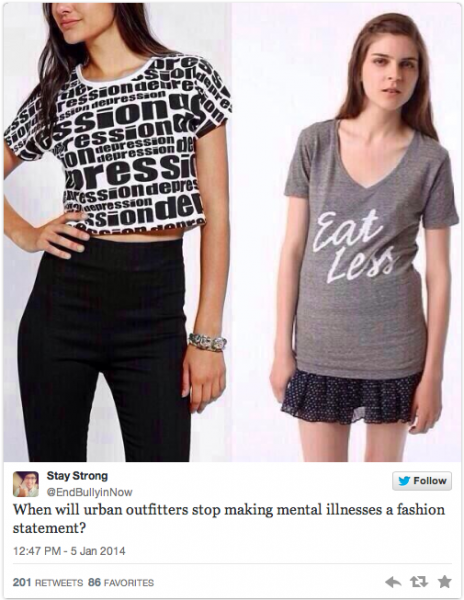 Companies are fashioning mental illness to fit style trends.
Urban Outfitters has been under fire since lining its shelves with another controversial article of clothing last December. The black-and-white printed crop top prominently featured the word "depression" scattered across its fabric in bold lettering, and was available for purchase not only in stores, but also online. This is not a unique incident in the trendy retailer's garment history. In 2010, social media attacked Urban Outfitters for its sale of a skimpy shirt with letters scrawled across the abdomen that read "Eat Less."
Twitter exploded after photos of the two shirts were tweeted alongside one another, accompanied by the caption, "When will urban outfitters stop making mental illness a fashion statement?" In a speedy response tweet, Urban stated, "We're sorry to those offended by the tee we bought from the @DEPRESSIONcomsg brand. We were trying to support a small brand, not glamorize mental illness in any way."
Although public backlash against Urban Outfitters did result in the ultimate retraction of both shirts from its line, the company does not appear to truly consider the weight of its actions. Earlier in 2013, the store profited from the production of shot glasses designed to resemble prescription pill bottles, as well as "Syringe Shot Shooters" (hospital syringe look-alikes meant to squirt alcohol). Despite this continuous pattern of pulling items from the shelves after public upsets, it seems that Urban Outfitters does not consider the implications of its paraphernalia.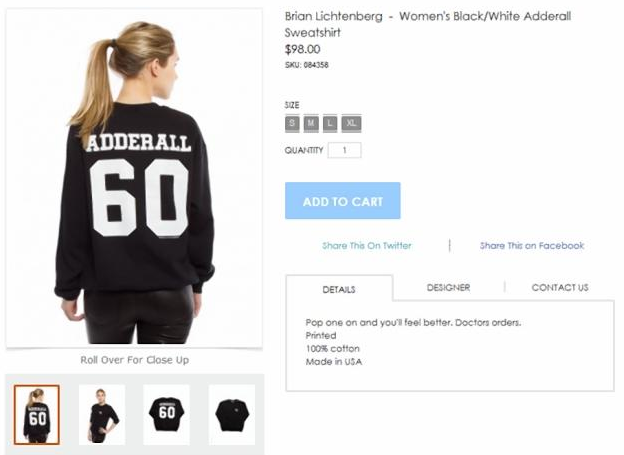 LA-based boutique Kitson has been in headlines for similar reasons after the release of its 2013 line, designed by Brian Lichtenberg, which trivialized prescription drug abuse. The collection exhibited a series of sweatshirts and jerseys with the words "Adderall," "Vicodin," and "Xanax" printed along the backs along with a two-digit number - as if to mimic a sports jersey. The headline that accompanied the collection's advertisement read, "Just what the doctor ordered." Until drug comapnies that produce Vicodin, Xanax, and Adderall threatened to sue for rights to their products, Kitson defended the clothing line.
The promotions featured in both Kitson and Urban Outfitters brands act in reckless disregard of the millions of people in the United States who do cope with the challenges of mental illness. According to a study conducted by the Substance Abuse and Mental Health Services Administration, approximately 1 in 5 Americans suffered from a form of mental illness in 2010. The same study found that this rate nearly doubles in young adults (people ages 18-25), retailers like Urban and Kitson's target age-bracket clientele.
It is possible that these retail companies did not advocate for these items of clothing to directly glamorize or minimize the severity of mental illness in young people. However indirectly, customers are viewing products that normalize depression and drug abuse, illnesses that they are susceptible to. The clothes are draped around models with inexplicably thin frames, luscious hair, and delicate facial features. The advertisements are alluring; as a result, the mental illness or drug abuse can become similarly enticing.
Many people feel that glamorizing these potentially fatal diseases is highly ignorant and inconsiderate. Facebook commentors expressed their outrage with comments such as, "You are totally irresponsible for selling these," as well as serious accounts. One highlighted the true effects of the illnesses that Urban and Kitson have nonchalantly sprawled across their fabrics. It said, "You obviously haven't had a son or daughter die in your home from an overdoese on prescription pills, as I have and thousands of other parents have."
Although these products are not currently sold by Urban Outfitters and Kitson, the subsequent installment of these garments may soon materialize in a store near you.
Reach Staff Reporter Emily Mae Czachor here.