Sports Podcasts
Pac-12 Hoops Power Rankings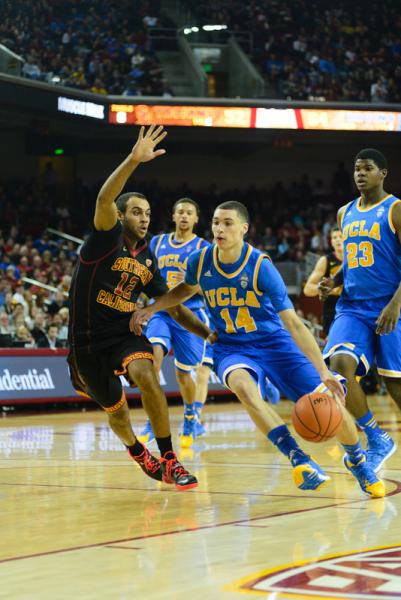 We're on the home stretch of the season, and the Pac-12 has several teams knocking on the door of the NCAA Tournament.
Here's how each team stacks up.
1. Arizona Wildcats (No. 2, 23-1, 10-1)
Can't argue with that record. 23 wins and only one loss puts the Arizona Wildcats at the top of the Pac-12 power rankings. That lone defeat came on a tough two-point loss on the road against a good Cal team. Although they barely squeaked out a victory at home against the Ducks, a win is a win. With signature wins against Duke in the NIT Tip Off and in Ann Arbor against a talented Michigan bunch, the Wildcats are a team to watch come tournament time.

2. UCLA Bruins (18-5, 7-3)
With an 18-5 record, it seems to be a surprise the historic UCLA Bruins aren't in the top 25. However, with no signature wins, losses to Utah at home and Missouri and struggling against a bad USC team, the Bruins haven't earned their spot. With four tough games coming up -- beginning tonight on the road against Cal and Stanford on Saturday, then home against Oregon and Oregon State thereafter -- the Bruins have a chance to prove they're worthy of a little more respect. It would be no surprise to see this team make a Sweet Sixteen or even Elite Eight run in the NCAA tournament.

3. Arizona State Sun Devils (18-6, 7-4)
After a 21-loss season in 2012 and a 12-loss season last year, the 18-6 Sun Devils have been one of the Pac-12's biggest surprise teams this season. A win against No. 25 Marquette early in the season earned ASU some respect early on, but losses against Miami (FL) and Washington moved them a step back. However, three consecutive wins against Utah, Colorado, and Cal, and then another pair of back-to-back wins against Oregon and Oregon State at home gave them a boost. With still a lot to prove, success in the remainder of their schedule (which includes No. 2 Arizona on Friday) could get them to the Tournament and the respect they're looking for.
4. Stanford Cardinal (15-7, 6-4)
Stanford is a team to keep an eye on in the Pac-12. With each of their seven losses coming from respectable teams, which included close three-point losses to Michigan and No. 1 Arizona, Stanford can be a very dangerous team if they can grab some signature wins. With upcoming games against UCLA at home and Arizona State and No. 2 Arizona on the road, Stanford can make a run at the end of the season and earn itself a tournament bid. However, that requires a very strong finish to the season against some talented teams.
5. Colorado Buffaloes (18-6, 7-4)
The Buffaloes found themselves ranked in the top 25 to start the year on the strength of a 14-2 record that featured a big home win over the No. 6 Kansas Jayhawks, with their only two losses coming from No. 25 Baylor and No. 7 Oklahoma State at neutral sites. However, after their star point guard Spencer Dinwiddie tore his ACL during a road loss at Washington, Colorado has dropped four of its last eight, and now find themselves unranked and searching for a way to their floor leader, who will miss the remainder of the season. With seven games left, five of them on the road, the Buffaloes' Tournament hopes are looking dim unless they find someone who can fill Dinwiddie's shoes.
6. California Golden Bears (15-8, 6-4)
After a solid 14-4 start that included wins over Creighton and No. 17 Oregon, the Golden Bears found themselves on a three-game losing streak starting with an embarrassing road loss at USC. Things began to look up after handing No. 1 Arizona their first loss of the season, but a home loss to Stanford immediately followed. The Bears have shown they can compete, and if they find away to end this drought and finish the season with wins against UCLA and at No. 2 Arizona, their Tournament hopes will stay alive. But that starts with securing a win in Pullman, WA against a bad Washington State team.

7. Utah Utes (16-7, 5-6)
Utah finished 2013 strong with an 11-1 record, but Pac-12 play has posed some problems for the Utes. They've dropped six of their first 11 conference tilts, including a three-game losing streak on the road at Arizona State, No. 1 Arizona, and Colorado. With no impressive wins, the Utes have a lot to prove as they look to finish the season. They have a chance to earn some respect if they can find a way to beat the likes of UCLA, No. 2 Arizona, ASU, Colorado, Cal, and Stanford, but they need to show they're worthy by handling USC on the road Thursday.
8. Oregon State Beavers (13-10, 5-6)
Oregon State finds themselves toward the bottom of the Pac-12 power rankings because their record is full of bad losses and only two respectable wins. Losses to Coppin State, Akron, and Hawaii are three games that show why they don't belong any higher. However, they have shown their potential with wins against Stanford, Oregon, and UCLA. With a 13-10 record, the Beavers are out of reach of the NCAA tournament, unless they find away to make a run in the Pac-12 Tournament and win the conference.
9. Oregon Ducks (15-8, 3-8)
Oregon began the season ranked No. 19 in the country, even cracking the top ten after an impressive 13-0 start. However, after dropping eight of their last ten games, the Ducks find themselves out of the top ten and searching for answers. Unless they find away to turn things around, Oregon is looking to finish the season with double-digit losses, and no big wins to show for.

10. Washington Huskies (13-11, 5-6)
The Huskies haven't done much worth talking about this season. Their first and only impressive win came against No. 15 Colorado, but that was only because the Buffaloes star point guard went out with a torn ACL. The Huskies play at home against Stanford Wednesday, and a win here could give them some momentum going forward. However, their Tournament hopes are dead in the water without surprising everyone and winning the Pac-12 tournament.

11. Washington State Cougars (9-14, 2-9)
With a 9-14 record, including a 2-9 mark in the Pac-12, the only positive the Cougars can take away from the season was their win against in-state rival Washington, something they failed to do last year. Overall, though, Wazzu looking at another dismal season with very little chance at any sort of postseason play.

12. USC Trojans (10-13, 1-9)
In Andy Enfield's first season as head coach, he led the team to their best start in the last few seasons with a 9-4 record, and an impressive 7-0 home record. But the Trojans are 1-9 in their last 10 games, with their one win coming at home against Cal. USC has flashed potential, playing No. 1 Arizona close for the first 35 minutes of the game before collapsing at the end, and leading UCLA at halftime, only to lose by only ten. The Trojans need to put this season behind them and focus on next year, where they have the No. 40 player in the country, Jordan McLaughlin, joining the team along with UNLV transfer Katin Reinhardt.