Los Angeles
It's Not Always About The 'Cool Factor' In The Arts District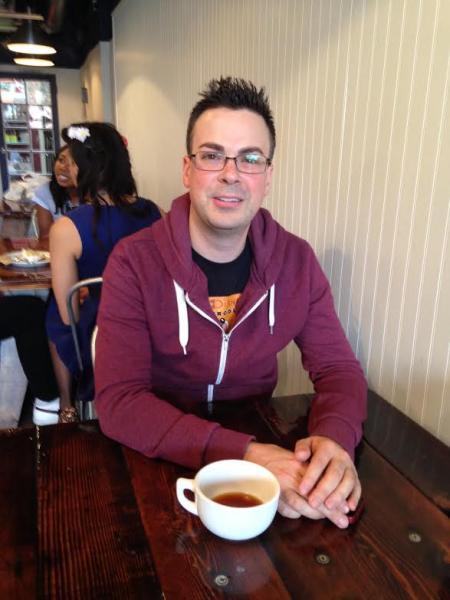 As people come in and out of the Arts District's
The Pie Hole
, Ryan Stern takes a seat at a table against the wall. He takes iPhone photos of his coffee while he waits for a slice of quiche.
Stern lives across the street from The Pie Hole, where he has breakfast every weekend. A Santa Monica native, Stern lived in Culver City before moving to the Arts District in 2008.
"Downtown is getting younger, and these people are taking over. Everything is changing to fit this new demographic," Stern said. "Downtown doesn't close down at 6 o'clock anymore."
The Arts District is an up-and-coming area of downtown Los Angeles (DTLA), and Stern recognizes that very clearly. He says, however, that a good number of people who have lived in the area before it became popular still appreciate the neighborhood's quiet atmosphere and hope it stays that way.
"There are artists who moved here before it was 'cool' and those who moved after," he said. "It's just next to the heart of DTLA, so you get the feeling of being an 'urbanite.' It's safe, and there's enough hustle to realize, 'I'm downtown.'"
As a sound engineer at Disney Studios, he knew he wanted to live in the city rather than suburban Culver City. He found the Metro line running through downtown to be a very convenient way of getting to his office in Burbank.
Stern doesn't see the Arts District as a "cool place," but he does see it as something special.
"There are hardcore artists here that want to prove their point, and there are the newest residents here that simply like the area," he said. "Being part of this swirl of people is what makes it so great."
Check out more Arts District stories here.
This story is part of a Neon Tommy special on the revitalization of downtown Los Angeles. Click #reviveDTLA for more.
Reach Staff Reporter Dale Chong here.