Sports
March Madness Primer: Bracket Busters Edition
Selection Sunday is only three weeks away and you haven't even begun to think about college basketball. Your recent sports consumption has been overwhelmed by around the clock curling coverage, Bob Costas' pink eye and the CBS Sports airing of the latest Professional Bull Riders event.
Perhaps this does not concern you because, come tournament time, you go with the schools with the best mascots. (Otto the Orange and Syracuse don't stand a chance against the IPFW Mastodons!) Maybe you just pick straight chalk. (You have to have someone in the Final Four then, right?)
But maybe, you're the kind of person actually trying to win - the kind of person who knows that from March 18 to April 7, no amount of office work, class or re-runs of 'Friends' will stand in the way of your live stream of college basketball greatness. If that's the case, here's some information to take to heart: the mid-majors who will make (or break) your bracket.
Minnesota Golden Gophers:
The Golden Gophers were one of last year's popular upset picks, and they came through, knocking off 11-seed UCLA. This season they've been causing turnovers in bunches, averaging 7.57 steals per game. They've hit a rough patch as of late, and were dismantled Saturday against No. 24 Ohio State. However, this Minnesota squad handled a mid-January four-game stretch against No. 5 Michigan State, No. 11 Ohio State, No. 14 Iowa and No. 9 Wisconsin as well as you could have asked. After losing in overtime to the Spartans, the Golden Gophers stole a win from the Buckeyes before losing to the Hawkeyes. Yet, they bounced back again with a huge win over the Badgers three days later.
March Madness is a one-and-done deal, but that kind of resiliency deserves merit. The Golden Gophers have proved in multiple close games against ranked opponents that they won't back down, even when they get down early. That's unusual in mid-majors and could pay off in March. Toss in a very respectable .343 three-point percentage and the son of a title winning coach (coach Richard Pitino, son of Louisville's Rick Pitino) and there's a very good chance Minnesota could come up with an upset for the second year in a row.
Belmont Bruins:
A win over UNC on Nov. 17 is the only win the Bruins have over a ranked opponent, but if they beat out Murray State for the Ohio Valley title, this team has a the potential to cause an upper-seed some serious trouble. Belmont shoots a cool .500 field goal percentage, good for fourth in the nation, and regularly posts scores in the eighties.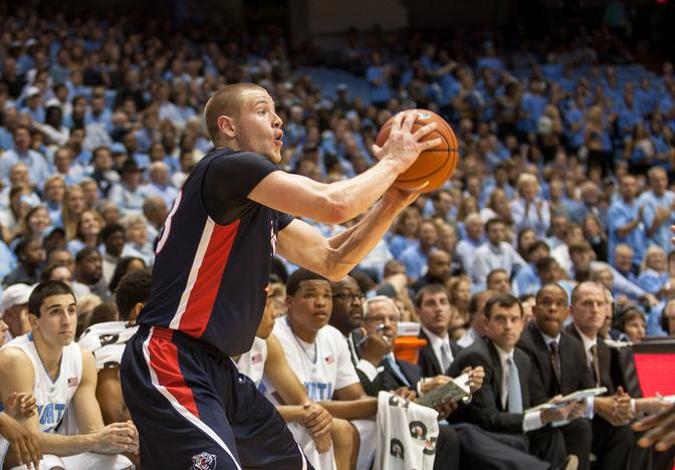 Much of that field goal percentage can be credited to the way the Bruins knock shots down from behind the arc. Belmont buries the long ball with remarkable consistency, shooting threes at a ridiculous .398 percentage. The barrage from behind the arc is led by senior Drew Windler, who sinks a mind-boggling .474 percent of his three attempts. If Windler gets hot, even the best offensive powerhouses will have trouble keeping pace with Belmont.
Southern Methodist Mustangs:
The Mustangs sit at third in the American Athletic Conference sandwiched between two ranked teams to either side. While they are not currently ranked, the experience and strength of schedule should help significantly in the tournament and could earn them a 9- or 10-seed. Impressive conference wins against No. 22 Memphis, No. 21 UConn (twice) and No. 7 Cincinatti show SMU is built to handle top-tier talent. Virginia nearly added to that list, but escaped in a 76-73 win over the Mustangs in late November.
From a numbers perspective, SMU can certainly generate turnovers, averaging over seven steals per game. In addition, the Mustangs make excellent use of the shots they take, converting a .493 field goal percentage, good for twelfth in the country. This team is technically sound and has a resume that should give it confidence in the tournament.
Vermont Catamounts:
The America East is almost always virtually nonexistent in the tournament, making the the first round on an automatic conference bid and earning only 15- or 16-seeds. Vermont was the first to change that back in 2005 with a shocking upset over No. 4 Syracuse. Though a long shot - and with no guarantee to make the tournament - the Catamounts have the makings of a team that could create a lot of chaos in the tournament. Similar to Belmont, UVM shoots an absurd .392 (26th in the nation) percentage on shots from behind the arc, led by senior guards Candon Rusin and Sandro Carissimo. The Catamounts also boast the 11th least points allowed per game in the nation and a near top-50 free throw percentage.
It's a stretch; first Vermont will have to win the America East, and even then the team's chances weigh heavily on seeding. A 16-seed winning would be unprecedented. But three 15-seeds have won in the past two years. A 14-seed might even garner them as popular upset pick. UVM is generally unknown to those who don't follow the America East, but they made a name for themselves when they marched into Cameron on Nov. 24 and came within one point of upsetting No. 6 Duke. Could a rematch with the Blue Devils be in store?
Other notable mid-majors to watch to watch:
North Dakota State Bison:
They are the best shooting team in the nation with .505 field goal percentage. You can't waste opportunities with this team.
Winners of 11-straight and owners of the eighth best three-point shooting percentage and the fifth most points per game, you can forget about defense. Any game Iona is in is going to be a shootout.
Their only win against a ranked opponent came against No. 12 Creighton, but this team has lost by seven or less to Syracuse, Villanova (twice) and Creighton. The Red Storm know how to stick around.