Style
L.A. Fashion Blogs' Trend Of The Week: Boyfriend Jeans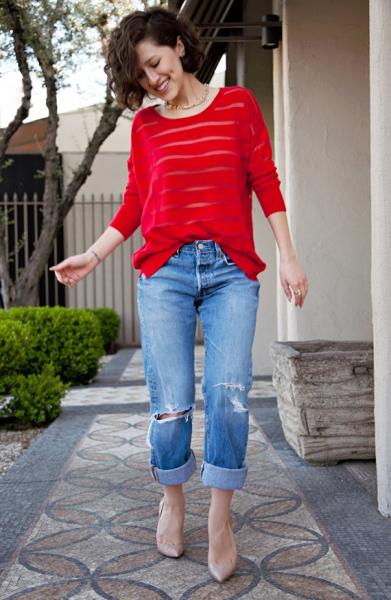 Jeans- these days we find ourselves wearing them tight and skinny. However, there is a fashion-forward alternative that makes you feel just as comfortable as you are in your favorite pair of sweats: the boyfriend jean.
Think of that comfortable pair of too-big jeans you stole from your boyfriend, but fitted for a female body. That is what Los Angeles fashion bloggers are currently promoting.
The boyfriend jean is a popular bottom that can be seen on runways and retailers alike. The loose yet feminine feel of the jean allows them to be combined with a myriad of tops. Depending on which shirt you choose, you can transform your look from sporty to girly.
The structure is much like a pair of men's jeans, but it is more structured at the waist. The leg opening is less baggy as well, in order to be tailored to the curvier shape of a woman. The jeans are perfect for spring, as they look best rolled up. Think of them as a more chic version of the capri pant!
Karla Deras, of L.A. fashion blog, "Karla's Closet" wears her boyfriend jeans distressed at the knee. The jeans are a light wash, which she pairs with a red burn-out quarter sleeve sweater that she tucks in halfway into the front of the jeans. This look is casual but fun, paired with a nude pair of kitten-heels and a golden choker.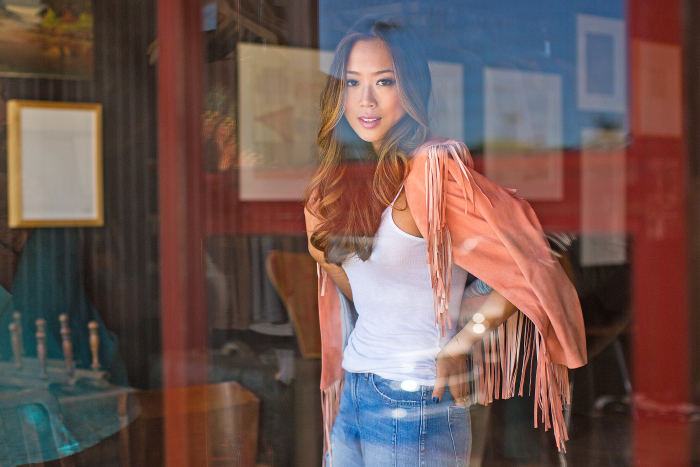 Aimee Song, blogger at Los Angeles-based fashion blog "Song of Style", highlights the boyfriend jean this week as an effortlessly chic outfit alternative. Song wears a light pair of boyfriend jeans as well, that also happen to be distressed in the knee.
The jeans, which have a higher waist, however are not quite high-waisted, are paired with a plain white tank and a fringed coral cardigan. A pair of strappy beige sandals with chain detailing completes the look.
Song's outfit has a casual feel, but at the same time goes beyond your regular t-shirt and jeans combo. The details in the jeans as well as the bling in the heels brings an element of intrigue. The resulting look is put-together without trying too hard.
Chriselle Lim, blogger for "The Chriselle Factor" also wore boyfriend jeans this week. Lim, however, she highlighted a more "skinny" option.
This skinny boyfriend jean has a smaller leg opening and is more structured throughout, but still has the loose, relaxed feel you look for in that must-have pair. Lim pairs the lighter-wash pair with a loose-fitting, heather-grey top and a tweed blazer.
This look has a more mature, upscale feel. It brings both elements of work and play, keeping it classy up top, and casual on the bottom.
The boyfriend jeans are again rolled up on the bottom to just above the ankle, but the skinnier pair lends a sleeker silhouette.
The takeaway is that boyfriend jeans can be paired with anything. It all depends on the look you are trying to achieve. While they may be intimidating to skinny-jean lovers, they provide a more comfortable, but still fashion-forward alternative.
Before you go cutting up a pair of your boyfriend's jeans, try a pair of boyfriend jeans made for fashion, fun, and most importantly, the female body. The boyfriend jean is almost always found at retailers like American Eagle Outfitters and department stores like Nordstrom's. Try a pair of boyfriend jeans today!
Reach Staff Reporter, Mona Khalifeh here.