Religion
Modern Jainism: One Of The Fastest Growing Religions Is Changing Tradition
This story is part of a collaboration between Neon Tommy and USC Anneberg's Knight Program on Media and Religion showcasing short stories on Indian culture, religion and politics in Southern California.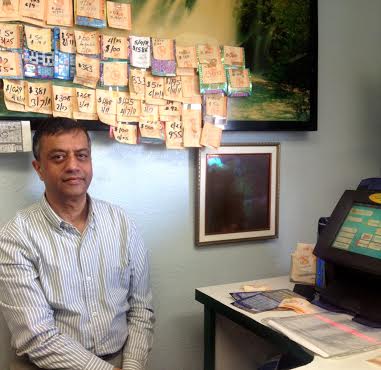 In a modest purified water store nestled in a rundown trip mall in Artesia, Calif., I met Scunil Shah, 54, who has lived in the Southland since 1981 after leaving his small village in the Indian state of Gujarat.
He has been selling purified water to a steady stream of customers for a few years. But what I found most fascinating about Shah, besides the fact that he sells lottery tickets at a water store (hey, he's a businessman), is his religion. He is a Jain, India's second-oldest religion, and I had never heard of it.
Followers of Jainism make up one of the fastest-growing religious communities in the United States, with 150,000 Jains spread across the country. In Southern California, the Jain Center of Southern California in Buena Park is the second largest in the world next to India.
Shah's connection to his homeland has withered after more than 30 years in America, but interestingly, his religion, which has mostly flown under the radar in America, has been rapidly transforming.
But U.S. adherents like Shah — many of whom are doctors, lawyers, scientists and businessmen — are struggling to follow the religion's strict rules in a Western society, and younger followers are tweaking centuries-old rules for a new generation.
North America has about 100 temples, some in remote places such as Arvada, Colo.; Martinez, Ga.; and Harvey, La. And the reason the religion is growing is because the first generation of Jains raised in the U.S. are mixing things up.
Shah used to worship in a small house in Cerritos with the 30 other Jain families in the area. Now he prays alongside 2,000 others at the Jain Center of Southern California. The $20-million, 7,500-square foot ornate temple in Buena Park just celebrated its 25th anniversary with a four-day celebration and 2,000 attendees.
"When I came here, the Indian [and Jain] community was almost nothing. But now we have spread to Riverside, Corona, Diamond Bar and Fullerton," said Shah.
Jainism represent only 0.4 percent of India's population, and its followers are the nation's newest minority group. The religion focuses on nonviolence and respecting the soul — but many rules are difficult to follow:
• You aren't supposed to drive.
• You have to meditate at least 48 minutes a day.
• You shouldn't kill an insect — bad karma.
• You shouldn't use a cell phone, since it wastes energy — also bad karma.
But Shah and 150,000 other Jains in the U.S. have found that strict adherence to these tenets would make it difficult to succeed.
So they have evolved, tweaking centuries-old rules and blossoming, thanks to new perceptions, youth groups, social media and other online meet-up sites. The first generation of Jains raised in the U.S. — like Shah's two children — are mixing things up.
Take Shah's cousin. He is a Jainist who married a Punjab-Sikh woman, and his family didn't bat an eye — which would still be a rare thing in many parts of India.
Shah explains that India's religious caste system isn't followed as rigorously in Indian-American communities such as Artesia's.
Of course, Shah prefers that his two children marry within their Jain religion. He raised them to. But if they don't? Shah shrugs his shoulders. Families adapt.
"See that guy," said Shah, pointing to an elderly Indian man buying his third Lotto ticket. "He believes in a different God, and I believe in a different God, and that's how it is. But it doesn't matter here like it does back there and that's why we are growing."
Reach Editor-in-Chief Brianna Sacks here