Arts+Culture
How To Celebrate Mardi Gras In Los Angeles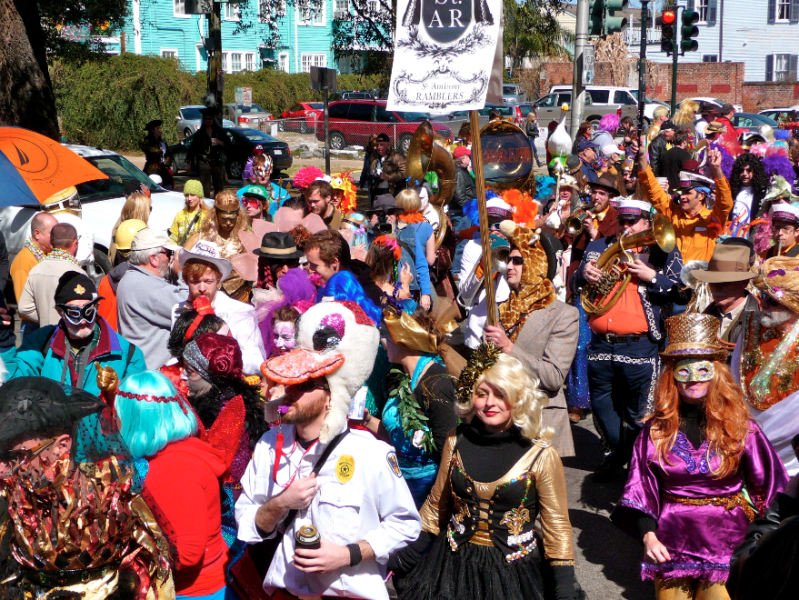 When you think of Mardi Gras, your first thought is probably of New Orleans. Every year, the majority of Fat Tuesday portrayals in the media involve parades, parties, beads, huge crowds of people and NOLA itself. This year though, you don't have to fly to Louisiana to celebrate Mardi Gras. There's plenty to do to enjoy yourself here in Los Angeles. We're here to tell you where to go and what to do this March 4th.
ALSO SEE: For a "laissez le bon temps rouler" state of mind even in the state of California, listen to this report from the frontlines of the French Quarter.
If you want to plan your meals ahead of time, we have some restaurant suggestions for you. In L.A.'s Arts District, there's a restaurant called Nola's. If you couldn't guess by the name, the restaurant specializes in traditional New Orleans cuisine. The official full name of the restaurant is Nola's: A Taste of New Orleans. This authentic Cajun restaurant will make you feel like you just stepped off a plane in NOLA. The restaurant not only features a menu of the best Southern dishes, including mac and cheese, gumbo and jambalaya, but also live jazz music.
If you're closer to Hermosa Beach, there is a restaurant called New Orleans Cajun Café. Again, you can probably guess the genre from the name. It's right on the pier, and has been noted for its great service and its exceptional food. For affordable prices, you can get some delicious rice and beans, gumbo, mac and cheese, or you can go crazy and try a little of everything. The portions are big, so go hungry!
If you're into peach cobbler and clam chowder, head to Jefferson Park to visit Harold and Belle's Restaurant. With a relaxing atmosphere, this restaurant will give you reasonably priced but outstanding genuine Cajun food, you should check it out for your Mardi Gras.
Los Angeles is also having its own Carnivale-esque events. At the Rainbow Harbor in Long Beach there will be a free Mardi Gras showcase on Saturday, March 1st.. Starting in front of the Aquarium of the Pacific, characters perform in traditional Venition costumes, and dance to live music with Gypsies and Judges. You can also pay to have your hair done, and a mask painted for you. The day will contain lots of street performances, live music, photo sessions and family activities. Don't miss it.
From March 1st – 2nd, and the on Fat Tuesday on the 4th, the Los Angeles Farmers Market will be having a celebration. There will be New Orleans and Zydeco music, parade bands, bead throwing, kids' activities, a pet parade and a costume contest. There will also be authentic New Orleans food and drink provided. And this event is completely free as well. It goes from 10 a.m. to 7 p.m., with the parade going on at 3.
Reach Staff Writer Samantha Jacobs here. Follow her on Twitter here.