Nation and World
Former U.S. Congressman Arrested For Pornography In Zimbabwe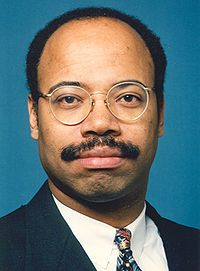 Being a former U.S. lawmaker doesn't mean you get to breach other countries' laws.
Former U.S. Representative Melvin Reynolds was arrested in Zimbabwe for suspicion of pornography possession after officials found him taking pictures and videos of Zimbabwean women in his hotel room.
The Associated Press reports that Reynolds is now in custody and could likely be held at a the Harare Central Charge Office -- which houses 12 inmates per cell and uses a hole in the center as a toilet.
This isn't the first time Reynolds has had run-ins with the law. In 1995, he resigned from Congress after being convicted of sleeping with an underage campaign worker.
Read the AP article here. Contact Executive Producer Raishad Hardnett here.