Arts+Culture
L.A. Phil Conductor Asked To Renounce Venezuelan Government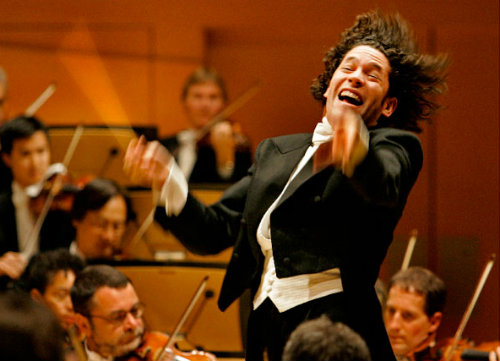 Los Angeles Philharmonic's music director Gustavo Dudamel
conducted
the Simón Bolívar Orchestra at the Walt Disney Concert Hall Monday as part of the orchestra's
TchaikovskyFest
, leading them in a performance of the Russian composer's
Symphony No.4.
The piece begins with a loud, horned A-flat--an ominous bellow that keeps with the work until the very end. As per usual, Dudamel's hair performed just as much as his hands, flipping and conducting with all the vigor the Venezuelan-born conductor is known for.
At the same time, Venezuelan protestors set up barricades in the streets of Caracas, even as opposition leaders called for more peaceful demonstrations. Fed up with President Nicolás Maduro's government, the protesters demand that their president address national issues like food shortages, dangerous inflation, and rising crime rates. So far, Maduro's response has been to blame the United States, calling the protests a right-wing attack on his socialist regime. The violence is only getting worse: Opposition leader Leopoldo Lopez was arrested last week, and this Monday, hours before Dudamel's concert, the Los Angeles Times put Venezuela's death toll at 13.
Dudamel has always been considered a praiseworthy jewel in the crown of Venezuela, benefitting both the image of its people and its government. Under his direction the Simón Bolívar Orchestra has toured the world, impressing international audiences with their talent. But even with the sterling reputation and miles of distance separating him from the actual conflict, Dudamel has not been able to avoid his nation's agitated politics.
Since January, anti-Maduro supporters in both the U.S. and Venezuela have demanded Dudamel publicly speak out against his home country's government. Many of his critics are also Venezuelan-born musicians, who have themselves openly denounced the corruption of Venezuela. Some, like former Venezuelan planning minister Ricardo Hausmann, think that Dudamel has developed strong ties with Maduro's government, which is why he won't join them in protest. "He's a musical giant but a moral midget," he told the Washington Post. Hausmann, along with others, point to last year as an example, when Dudamel skipped an L.A. Philharmonic concert to attend the funeral of Hugo Chavez, Venezuela's late president.
British music critic Ivan Hewett wrote about Dudamel recently in The Telegraph, saying, "There are rumors that in private he's a stout defender of Chavez's and Maduro's revolution, and won't hear a word said against it." Like others, Hewett believes that Dudamel's celebrity-status comes with a fundamental responsibility to speak out on behalf of his people.
Initially, the conductor chose to remain silent in spite of forceful comments from the Venezuelan art community. But on Feb. 13, pianist Gabriela Montero published an open letter criticizing Dudamel for leading a concert meant to celebrate 39 years of El Sistema, Venezuela's musical education program for impoverished youth. Describing the event as shameless government propaganda, she wrote, "They played a concert while their people were being massacred."
Dudamel defended himself against Montero's claims, arguing that the concert was not an ovation to the government, but a celebration of El Sistema's success in helping children out of poverty. "I'm a musician," he told the L.A. Times. "If I were a politician, I would act as a politician for my own interest. But I'm an artist, and an artist should act for everybody."
Still, many who oppose Maduro are not satisfied with Dudamel's wish to remain neutral in the conflict. Last Friday, demonstrators from the Venezuelan youth group Jovenes Independientes (Independent Youth) stood outside the Disney Concert Hall, holding candles in support of the protests that now stretch the length of the South American country. Many also held signs calling on Dudamel to renounce the government.
Tchaikovsky, the famed composer whom Dudamel has been celebrating for more than a week, was also politically ambiguous in his time, blending Russian nationalism with western influences in his music. It was a turbulent unity he created in his pieces, enforcing the idea that both classical music and its composer could transcend the divides of politics. As Dudamel's TchaikovskyFest finishes out its second week, it's likely that the conductor will try to convey that same message to the Venezuelan public, pulling it from the music in his sharp, ever-vigorous gestures. Whether Venezuela will be able to embrace his musical plea for peace, however, remains to be seen.
Reach Staff Writer Andre Gray here.