Arts+Culture
The Arts District And A Dream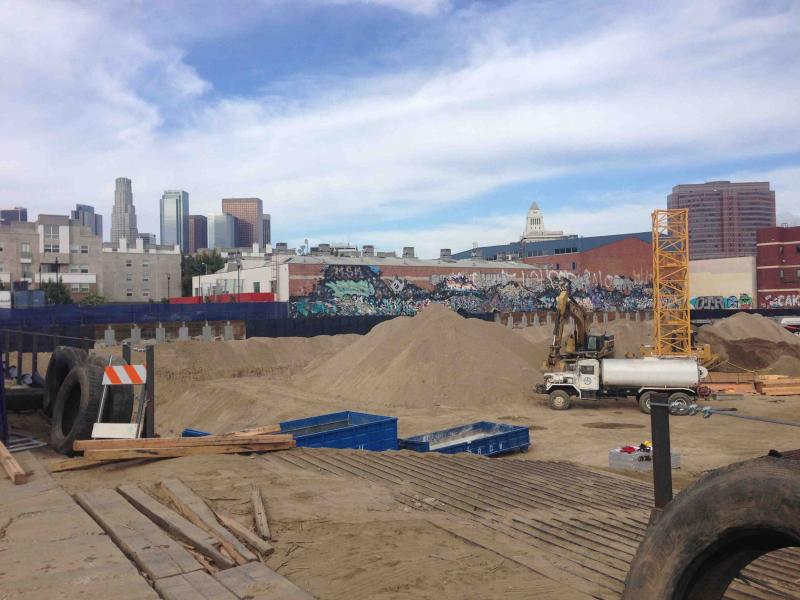 Jessica Evans, a newcomer in the Arts District, sits outside the
Pie Hole
alone, eating a piece of lonely pie. She's wearing high black boots, jeans, a purple tank top and is scribbling notes on a piece of torn paper.
"I moved out to LA about four and a half months ago to pursue my dreams," said Evans.
It sounds like the typical "small town girl comes to the City of Angels to become a star" movie plot. Only Evans has more to her story.
"I went to Boston University and got a bachelor's in business administration and management," said Evans. "I wanted to follow in my dads footsteps."
To her parent's approval, Evans went through four years of school and excelled in business. Dispite her success, she never let go of her childhood dream.
When Evans was younger she had dabbled in the arts and always imagined herself pursuing a career in them. However, her parents had no idea that her dream was still to become an actress and musician in L.A.
"It came up one day-not really on purpose," said Evans. "I think then they realized I'd never let go of my dreams."
Evans still had a semester left in college and was ready to enter the business field. Then, just two months after graduation, tragedy struck.
"I was going to be starting my new job in a few days when my dad got really sick," said Evans. "He said he realized what was important and told me to follow my dreams and so I came here."
It was a quick decision, but Evans uprooted her life to follow her dream. Since arriving in Los Angeles, she has worked tirelessly on writing songs and brushing up on her acting technique.
A total change like this would be scary for most, but for Evans it was just what she needed.
"The Arts District is wonderful," said Evans. "I needed new a surrounding and this place is just awesome."
Check out more Arts District stories here.
This story is part of a Neon Tommy special on the revitalization of downtown Los Angeles. Click #reviveDTLA for more.
Reach Reporter Alyssa Spear
here
.