Nation and World
Deadly Drinking Game Goes Viral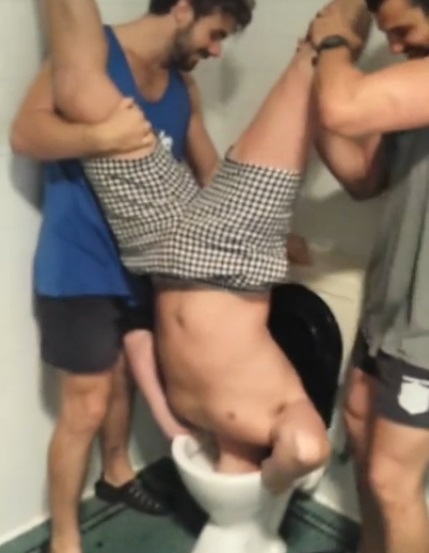 A viral drinking game known as "Neknominate" has already played a part in the death of five men under the age of 30 in Ireland and the U.K., according to CNN.
Now the the newest social media phenomenon has spread to the U.S., and many are at a loss as to how to tackle this generation's apparent need to constantly "outdo" one another.
The game involves an individual filming themselves drinking copious amounts of alcohol, often times in lethal concoctions. The videos are usually uploaded on Facebook or Twitter, where others are "neknominated" or dared to complete a more extreme version of the drinking challenge.
Videos on YouTube show one woman stripping down to her lingerie in a supermarket to complete a challenge, while another woman is seen wearing a bathing suit chugging beer in a McDonald's. Some of the challenges have gone completely past the point of extreme with a dead rat blended into one participant's cocktail.
The National Institute on Alcohol Abuse and Alcoholism says that low-risk alcohol consumption for men is a four standard drink max per day and less than 14 drinks per week.
In the case of 20-year-old Bradley Eames, his Neknomination challenged consisted of 30 shots of gin in nearly two minutes. Just four days later, Eames was found dead, leaving officials to investigate the video as probable cause for his sudden passing, according to The Huffington Post UK.
READ MORE: Cal Poly SLO Bans Kegs And Drinking Games At Greek Parties
The craze has caused many health officials to call for action against the game and warn participants of the potentially deadly consequences of intense alcohol consumption.
"In cases where large amounts are consumed over a short period, as seems to be the case with Neknomination, the alcohol concentration rises so fast that it depresses the vomit center in the brain. So a person passes out as the alcohol concentration continues to increase, but does not eliminate the alcohol, with a resultant increase to lethal concentrations," Ronald Alakana said, an Associate Dean of University of Southern California's School of Pharmacy.
But for a 20-year-old sophomore at California State University Long Beach, who remains anonymous for personal reasons, his participation in Neknominate was nothing more than another way to engage in social drinking and camaraderie with peers.
"I personally feel that [Neknominate] has no moral or social danger—the people involved within my friend group were of age or, at the least, experienced with drinking. And even though I knew some of the people involved were under age, including myself, it was never as if the idea of the game proposed any legitimate dangers," the student said, who first became familiar with Neknominate when friends of his on Facebook were sharing videos.
READ MORE: What You Need To Know About Alcohol Poisoning
Politicians in the UK have already voiced concern that social media sites like Facebook play a blatant role in condoning such "games" and thus have a responsibility to better monitor videos being uploaded and shared. The Local Government Association, which houses more than 400 governmental councils in the U.K., hopes social media giants will post health warnings on sites in protest of drinking games like Neknominate.
"Facebook needs to look very carefully at what they are allowing and make sure this stops," Diana Johnson said, Shadow Home Office minister and a Member of Parliament.
But others speculate that Neknominate has gone viral because of the public nature of Facebook and social media in general. Although Facebook might play a role in facilitating posting of Neknomination videos, Saxbe believes it is not Facebook's responsbility to curb particiaption.
"Risky behaviors tend to be fueled by social and peer pressure and the social media just facilitates one-upmanship by making it easier for young people to see what their peers are doing," Darby Saxbe said, and assistant professor of psychology at USC. "I don't think it's reasonable to ask Facebook to ban this any more than they can curtail other kinds of bad behavior that occur online."
In a statement, Facebook said, "We do not tolerate content which is directly harmful, for example bullying, but behavior which some people may find offensive or controversial is not always necessarily against our rules. ... We encourage people to report things to us which they feel breaks our rules so we can review and take action on a case-by-case basis."
Some participants in Neknominate, such as the Cal State Long Beach student, agree that Facebook is merely a forum for sharing content to a wide audience, and that it should be the individual's discretion to know the permanence and public nature of social media sites.
READ MORE: Sober Up, USC
"It has nothing to do really with the challenge itself, but the soul of the internet as a plan of viral extremity. Anything promoting competition on the Internet should expect a pretty outrageous outcome, and it's the individual's choice in the end [to participate]," the student said.
Regardless of the level of indiviudal discretion used to participate in the game, lives have been lost as a result and many are trying to disband the game for good.
A Facebook group called Neknominate has capitalized on the outwardly negative connotations of the original game to establish something positive. The group encourages people to "record a random act of kindness and then toast your efforts afterwards and nominate a friend to do the same."
Since its creation in early January, the page has obtained more than 35,000 likes.
Reach Staff Reporter McKenna Aiello here, and follow her on Twitter @McKennaAiello.