Arts+Culture
Culture In The Arts District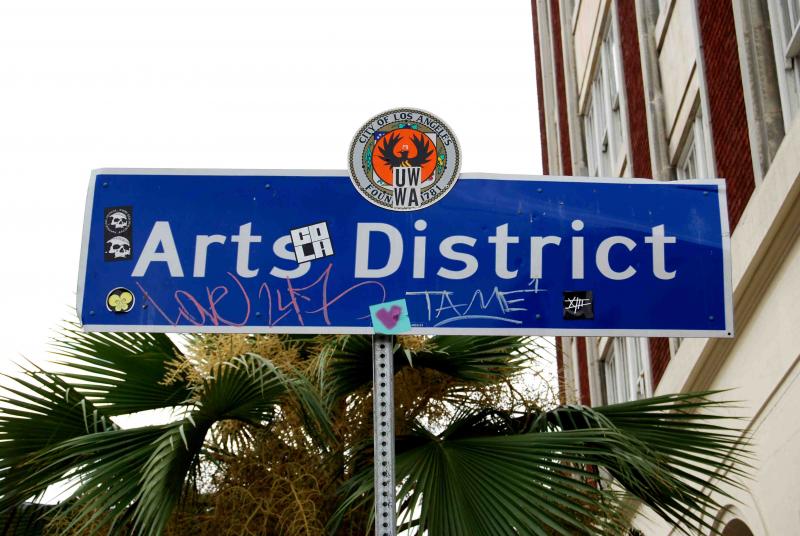 The
Arts District
is a developing community in Los Angeles filled with diversity ranging from art to culture to the people. Many small stores line the streets. Murals and art cover the walls. The smell of eateries and coffee shops fill the air.
It's a unique place located in the heart of Los Angeles.
"It's my own secret escape," said Norah Zhang. "I moved to Los Angeles about 18 months ago to continue my accounting career, but the city is just so loud all the time. I found the Arts District a year ago and I come here to get away from the noise."
For people like Zhang, the Arts District offers refuge from the stress of everyday life. "I can sit in a coffee shop and my troubles just kind of go away," concluded Zhang.
For others though, the Arts District is an extension of their individuality. "I've always been artsy. People call me a hipster though I hate that word, that's what the Arts District is," said 27-year-old artist Vaughn Phillips. "It fits right with my personality—a little alternative and kind of up and coming."
Philips identifies in particular with one part of the Arts District specifically.
"It's called Pie hole and I would have to say I love it," said Phillips. "I mean it's a place that literally just makes pies. Can you say perfect?"
Contrary to the usual hustle and bustle of Los Angeles, the Arts District embodies a slower, more relaxed lifestyle. A young man sits outside reading a newspaper. Two friends laugh as they take photos. Life appears to not follow with the rapidness and urgency of downtown Los Angeles.
Many features make the Arts District in Los Angeles a more tranquil place. The Arts District has unique speciality stores and eateries that attract a different kind of person. Among other places, the Pie hole only makes pies, the Novel Café satisfies coffee cravings and Wurstküche exclusively makes sausages.
"A lot of new restaurants are coming here, its really cool," said Philips. "Apartment A is one of the newest additions and it's supposed to be awesome."
Apartment A stays true with the theme of the Arts District by taking a traditional cocktail lab and blending it with greenery to create a homey feel.
"They're creating something real special there," Phillips concluded.
Check out more Arts District stories here.
This story is part of a Neon Tommy special on the revitalization of downtown Los Angeles. Click #reviveDTLA for more.
Reach Contributor Alyssa Spear here.