Theater and Dance
Cirque Du Soleil Takes Over Santa Monica's Third Street Promenade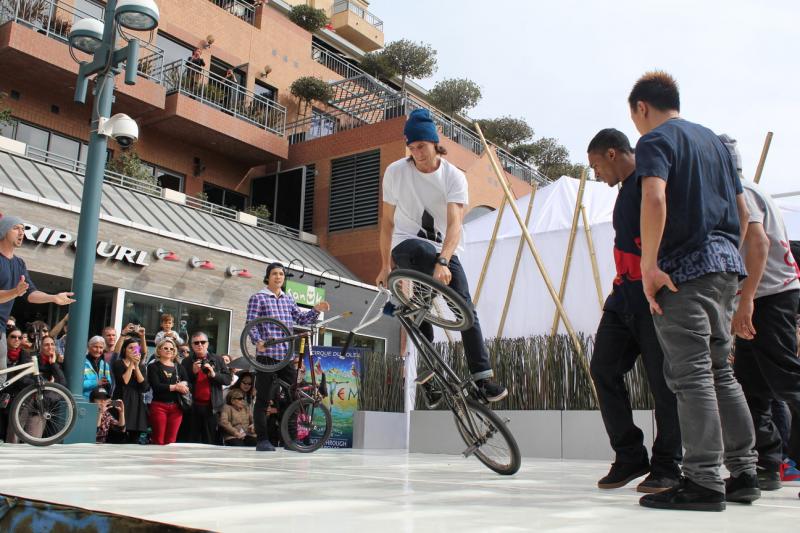 There was a heavy air of anticipation on Thursday as a crowd gathered around a makeshift stage in Santa Monica's Third Street Promenade. Perhaps they were drawn to the cameras stationed near the stage or the signs of consent to be photographed/ videotaped piqued their interest. But what definitely drew everyone's eyes were the two colorful signs posted on either side of the stage. "Cirque du Soleil," the signs boasted, "TOTEM."
On January 17th, Cirque du Soleil made its way back to the big top on the Santa Monica pier with an all-new production: "TOTEM". Through acrobatics, comedy, and visual effects, the cast of 46 acrobats, actors, musicians, and singers take audiences on a fascinating journey of mankind's journey from its amphibian roots to its desire to fly. And due to high demand, "TOTEM" will run in Santa Monica from now until March 16.
To show their gratitude for the support of the Santa Monica community, Cirque du Soleil took over Third Street Promenade on Thursday for a special preview of "TOTEM." Although the skies were cloudy and threatened to rain, the crowd grew as the clock ticked down to 12:30. And, with almost too-perfect timing for Cirque du Soleil, the clouds parted and the sun shined briefly on the stage to begin the show.
Local Red Bull-afilliated breakdancers and BMX athletes shined on the stage to celebrate Cirque du Soleil's roots in street performance almost 30 years ago. The breakdancers showed impressive capabilities in flipping in the air like actors in a kung fu movie, only made more impressive when considering that they didn't have a harness—just their own strength. Afterwards, BMX athletes rode on their bikes, showing amazing balance as they stood on their handlebars and spun effortlessly on their back wheels.
Then three drummers, dressed in elaborate tribal costume and makeup, entered the stage and acted as heralds to the Hoops Dancer. The Hoops Dancer is an act in "TOTEM" in which a fast paced Native American hoops dance is incorporated with intense percussion sound. The performer amazed the crowd as he easily manipulated five hoops in his hands to ultimately span across his arms and moved as if the hoops were wings.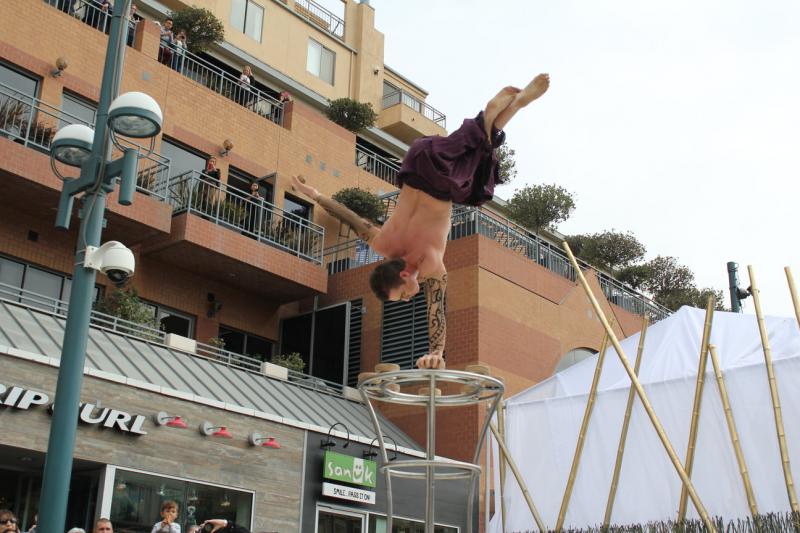 The final performance of the preview, hand balancing, did not disappoint. The performer ceremoniously placed the balancing platform, a funnel-like structure, on the stage. As tribal music played in the background, the crowd alternated between silenced awe and animated cheer as the performer moved his body into various splits that would make some gymnasts jealous—all while balancing on his hands.
The "TOTEM" preview was an amazing exhibition of street and theatrical performance, and surely like the production itself, it left the crowd shouting for more.
For more theater coverage, click here.
Reach contributing writer Heidi Carreon here.