Food
A Chocolate Free Valentine's Day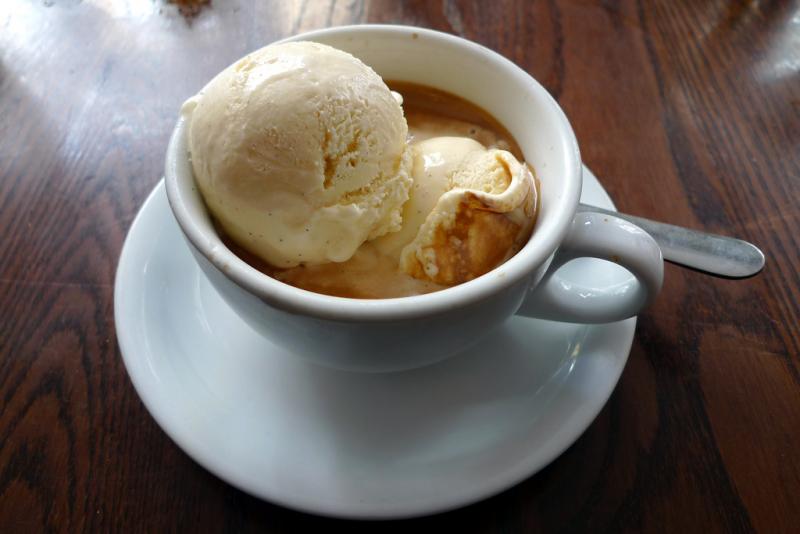 Contrary to popular belief, not everyone loves chocolate. Many traditional Valentine's Day desserts rely heavily on chocolate to deliver flavor, leaving chocolate haters without many options. Be more creative this year and forgo the traditional chocolate fare for something exciting and just as indulgent. This collection of chocolate-free recipes is sure to have something you and your lover will both enjoy!
ALSO SEE: On Valentine's Day, Indulge Your Sweet Tooth The Healthy Way
ALSO SEE: Red Velvet Valentine's Day Recipes
Show your love Italian style with this easy and heart-warming dessert. This treat is best eaten beside a roaring fireplace and when cuddling under a warm blanket.
Yield: 2 servings
Ingredients:
1 pint vanilla ice cream
1/2 cup hot brewed espresso
Directions:
Place three scoops of ice cream in each of the two bowls. Pour the espresso over the ice cream and serve immediately.
Note: To make espresso for this recipe in your electric drip coffee maker, use one third cup of ground espresso and enough water for four cups of coffee.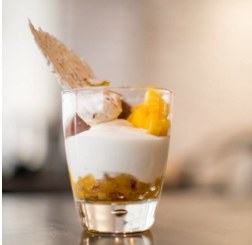 Passion Fruit Mousse
This tangy, sweet mousse will take you on a couples' trip to the tropics.
Yield: 10 servings
Ingredients:
1 tbsp. and 1 tsp. unflavored gelatin
1 pkg. (14 oz.) frozen GOYA® Passion Fruit Pulp, thawed
1 cup sugar
1 can (14 oz.) GOYA® Sweetened Condensed Milk
6 egg whites, at room temperature
Fresh mint sprigs, for garnish
Directions:
Add gelatin and one quarter cup room-temperature water to small bowl. Let the mixture sit until gelatin softens (about five minutes). Stir together passion fruit pulp, sugar and gelatin mixture in a medium saucepan over medium-high heat. Cook, stirring occasionally, until the mixture is thoroughly combined and smooth. Do not let the mixture come to a boil! Remove the mixture from heat and cool completely. Stir in the condensed milk when the mixture is cooled.
Beat egg whites until stiff in a clean mixing bowl. Stiff egg whites do not droop and will not move when the bowl is tilted.
Stir one third of the egg whites into the cooled passion fruit mixture until combined. Using spatula, gently fold in remaining egg whites until combined.
Divide mousse evenly among clear glass serving cups and cover. Refrigerate mousse until well chilled, at least two hours.
Serve chilled. Garnish with mint, if desired.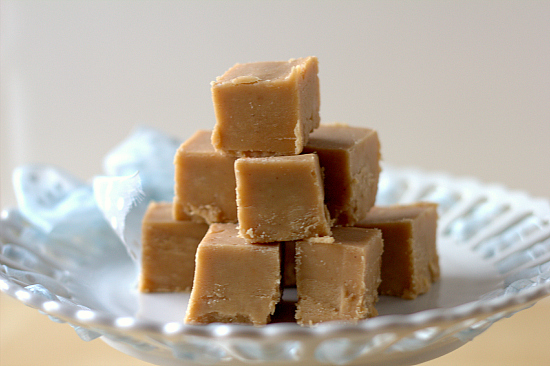 Peanut Butter Fudge
Yield: 16 pieces
Ingredients:
2 cups granulated white sugar
½ cup milk
1 cup peanut butter (smooth or chunky)
1 tsp. vanilla extract
Directions:
Grease an 8x8-inch baking pan.
In a medium saucepan, bring sugar and milk to a boil. Allow the mixture to boil for about two and a half minutes, stirring regularly, and then remove from heat. Add the peanut butter and vanilla, stirring until smooth.
Pour the mixture into the pan and allow to cool until set. Slice into one inch squares.
Cook's Note:
To make this fudge "dairy-free," use coconut milk in place of cow's milk.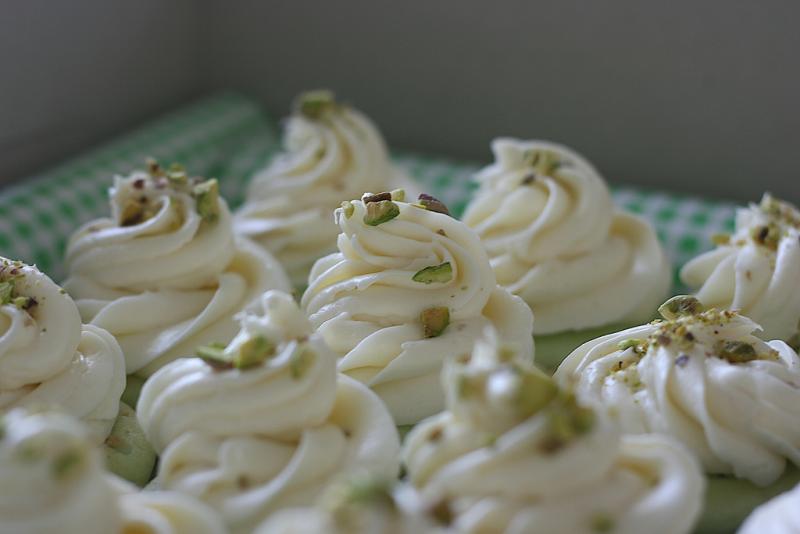 Pistachio Cupcake with Honey Vanilla Buttercream
Any nut lover will enjoy these light treats with just a hint of sweetness. Make cupcakes instead of a layer cake for more manageable munching.
Yield: 1 8" cake plus 9 cupcakes
Pistachio Cake
Ingredients:
1 cup shelled pistachios
2 1/2 cups cake flour
3/4 cup all-purpose flour
1 tbsp. baking powder
1 tsp. baking soda
3/4 tsp. salt
8 tbsp. butter, softened
1/2 cup vegetable shortening, at room temperature
1 3/4 cups sugar
1 tbsp. pure vanilla extract
1 large egg
1 1/2 cups ice water (don't prepare until the recipe calls for it. it should be very cold.)
3 large egg whites, at room temperature
1/4 tsp. cream of tartar
Directions:
Preheat the oven to 325 degrees Fahrenheit. Butter three six-inch cake pans (if you only have two, it's OK, you'll just need to bake the last layer separately). Line the bottoms with a circle of parchment paper and dust the pans with a handful of flour, discarding excess.
In the bowl of a food processor, pulse the pistachios until they are coarsely chopped. Transfer about two tablespoons of the coarsely chopped pistachios to a large bowl. Pulse the rest of the pistachios until they are nearly a powder, but stop before they become as fine as flour. Stir the pistachio powder into the coarse pistachios. Sift the flours, baking powder, baking soda, and salt over the large bowl containing the pistachio mix, stir to combine, and set aside.
In the bowl of a stand mixer (using a paddle attachment), beat the butter and shortening on medium speed until creamy, about three minutes. Add the sugar and vanilla; beat until fluffy, about three minutes. Scrape down the sides of the bowl and add the whole egg. Beat the egg in until the mixture is just combined.
Prepare one and one-half cups of ice water. With the mixer on low, add the flour mixture in three parts, alternating with the ice water, beginning and ending with the flour mixture. Temporarily increase the mixer's speed with each new addition.
In a medium bowl, whisk the egg whites and cream of tartar until soft peaks form. Do not overbeat! Fold the egg whites into the batter.
Fill each cake pan about half way with batter. Bake cake layers for 40 to 45 minutes, until a toothpick inserted in the center comes out clean. Let the layers cool for 20 minutes on wire racks, then turn the cakes out to cool completely. Remove the parchment paper.
To preserve overnight, individually cover the layers wit plastic wrap and refrigerate.
The rest of the batter can be used for full-size cupcakes. Refrigerate the remaining batter until ready to use.
Honey Vanilla Buttercream
Ingredients:
1 1/2 cups sugar
1/3 cup all-purpose flour
1 1/2 cups whole milk
1/3 cup heavy cream
3 sticks unsalted butter, soft but cool, cut into small pieces
1 tsp. pure vanilla extract
3 tbsp. local honey
Directions:
In a medium saucepan, whisk the sugar and flour together. Add the milk and cream and cook over medium heat, stirring occasionally, until mixture boils and has thickened. This will take about 10 minutes.
Transfer the mixture to the bowl of a stand mixer and beat on high speed for seven to nine minutes until mixture has completely cooled. Reduce to low heat, add the butter pieces, and mix thoroughly until well incorporated. Increase the mixer's speed to medium-high and beat until the frosting is light and fluffy. This will take about one to two minutes.
Add the vanilla and honey, mixing until just combined. Refrigerate frosting if it appears to be too soft. If the frosting is too firm, heat over a double boiler and beat with a wooden spoon until it softens.
Assembly:
Optional: 1/3 cup crushed shelled pistachios
Trip the top of each cake layer so they are flat (this is easy if you've refrigerated the layers). Use roughly three-quarter cup of frosting between each layer. After placing the last layer, crumb coat the whole cake and refrigerate for 15 minutes. Frost the entire cake and sprinkle top and sides with crushed pistachios.
Cake keeps at room temperature in a cake saver for three days, but can be refrigerated. Cool the cake to room temperature before serving.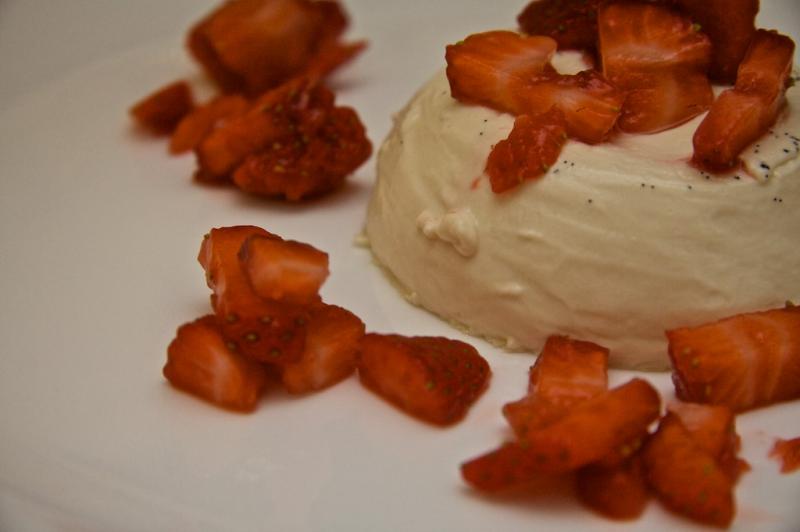 Vanilla Panna Cotta
Does your date like ice cream? If the answer is "yes," impress them with this luxurious upgrade. Think of a panna cotta as ice-cream's more suave, luxurious cousin.
Yield: 6-8 servings
Ingredients:
2 cups heavy cream
1 vanilla bean
1/2 cup sugar
1 1/2 tsp. unflavored gelatin (about 1/2 packet)
1/2 cup whole milk
1/2 cup whole-milk Greek yogurt
Sliced strawberries and fresh mint, for garnish (optional)
Directions:
Place the cream in a saucepan. Halve the vanilla bean lengthwise; scrape out the seeds with a knife, then add the seeds and pod to the saucepan. Add the sugar and bring to a simmer over medium-low heat, stirring occasionally. Discard the vanilla pod.
Sprinkle the gelatin over the milk in a bowl and let stand until the gelatin softens. This will take about five minutes. Stir the gelatin mixture into the hot cream mixture until dissolved, then stir in the yogurt. Divide among six to eight four-ounce ramekins, cover with plastic wrap, and refrigerate until set. The refrigeration process will take at least six hours or overnight.
Dip each ramekin three-quarters of the way in warm water and invert onto a plate. Garnish each panna cotta with strawberries and mint, if desired.
Reach Staff Reporter Helen Carefoot here.