Sports
Canada Wins Gold, Defeats Sweden In The Final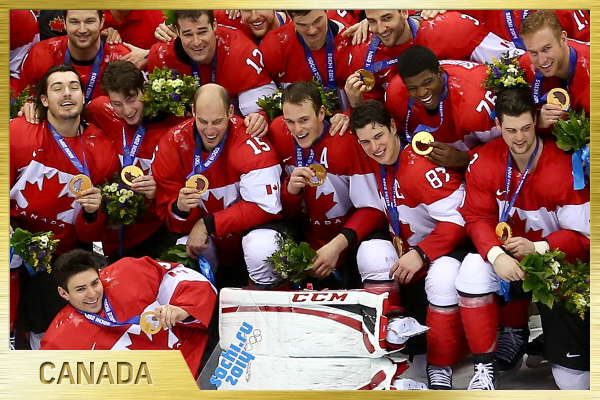 Now that all is said and done, Canada will go home with the gold medal, defeating Sweden in the final Sochi Olympic hockey game earlier this morning. Despite the skepticism about whether this year's Canadian team was playing up to the standards of its elite roster, it became the first team to win back-to-back gold in men's ice hockey since the USSR won two in a row from 1984-1988, followed by another in 1992 by the newly established unified team.
ALSO SEE: Canada Tops USA, Will Play For Gold Against Sweden
Sweden, which came into the Olympic Games without Henrik Sedin and lost Henrik Zetterberg after Game 1, also had to cope without Nicklas Backstrom after he failed a drug test before the gold medal game, believed to be due to his allergy medication, Zyrtec-D. Still, the blue and gold will head home with the silver medal, quite an accomplishment within itself.
Canada's offense came through when it mattered most, as Sidney Crosby and Jonathan Toews scored their first goals of the tournament in the gold medal game. Carey Price continued his dominating performance, stopping all 24 of Sweden's shots on goal and earning his second straight Olympic shutout. Price was named the best goaltender of the Games by the International Ice Hockey Federation.
Other players receiving recognition from the IIHF were Sweden's Erik Karlsson as Best Defenseman and Phil Kessel of Team USA as Best Forward. In a separate vote not conducted by the IIHF, 43-year-old Teemu Selanne of Finland was named the Most Valuable Player as he became the oldest player in Olympic ice hockey to score a goal and win a medal.
NHL games will be back on schedule this week, beginning Tuesday.
ALSO SEE: USA vs. Canada: Olympic Hockey Grudge Match Preview
ALSO SEE: 2014 Sochi Olympic Men's Hockey Elimination Round Preview
Reach Staff Writer Ben Ebert here.