International
Breaking Ground: The Spread Of Hip-Hop In Armenia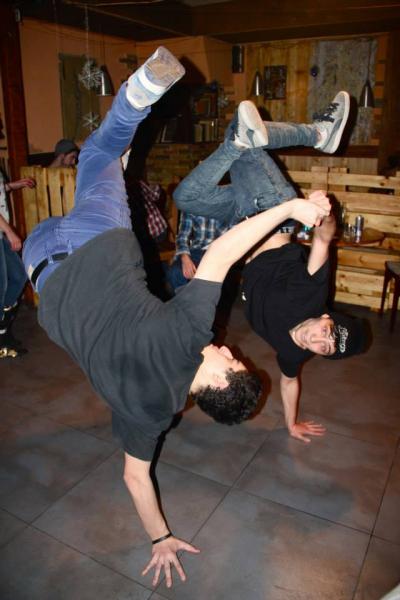 "There were no YouTube videos, online sites, or DVDs. The culture wasn't there yet. I could hardly find any video cassettes to learn the dances from," explains Sargis Andreasyan, better known as Godfather Flash among fellow break-dancers in Yerevan, Armenia.
Break-dancing, or "breaking" as the dancers call it, has had a long history in the small post-Soviet country. It began to develop in the 1980s when the youth became inspired by films such as Beat Street and Flashdance. While this first surge of breaking didn't last in Armenia, by the end of 1999, a new wave hit the country, led by Andreasyan.
It was difficult for him to spread the practice without the availability of internet, which was necessary to not only see what was happening in the world of breaking but to also disseminate it among the youth. Old videocassettes, TV shows, and movies were his only means.
A longtime Tai Kwon Doist, Andreasyan began break-dancing after his service in the military (all men must serve a mandatory two years in the country). He related the style and the moves of the dance to the sport, which provided him with a new challenge.
There are now many professional breaking schools all over Armenia. Break Dance Association of Armenia was founded in 2010, performing large-scale activities and contributing to the establishment and development of break-dance in the country. Through these academies, professional dancers have the opportunity to travel to various countries and attend international tournaments, including the world famous "Battle of the Year," which previously took place in Germany and France.
Breaking has also become one of the few developments in Armenia to expand in towns outside the capital city, creating an opportunity for village-youth to express themselves through the art form.
For Andreasyan, what is most rewarding is seeing how much the older generation of dancers have invested in expanding schools and reaching out to younger kids as mentors. He is confident that the hip-hop culture in Armenia has a bright future and will continue to progress.
Break-dancing has been received positively in Armenia, despite stark contrasts from traditional culture of the country. "Although there is a national tendency to view things that are not similar to our culture in a derogatory way, it is nothing more than a matter of being uninformed," notes Andreasyan.
Globally, break-dancing tends to be affiliated with gangs, drugs, aggression, and vandalism. But with more familiarity, there is a paradigm shift as people realize the important role of physical activity, music, and passion that goes into the dance. Youthful efforts become more appreciated.
Andreasyan believes that being part of the movement not only exposes young people to a new culture, but also gives them self-assurance and morale.
Eighteen-year-old Artash Karapetyan, who is a second year Mathematics and Informatics student at Yerevan Polytechnic Institute, began break dancing at the age of 13. "I have experience with different types of dance," he says, "but what attracted me to breaking was the musical rhythm and choreography."
Aznavur Vanyan, 20, has been dancing since he was 10 and travels around the world attending competitions as a professional breaker. He was influenced at a young age by the music his family played. "My one dream is that in the near future, Armenia will become a leader in breaking, and we can host world-class competitions at home."
In the last few years, the recent wave of breakdancing has given Armenian youth inspiration and a chance to build a new spiritual and creative stage for art.
Reach Executive Producer Syuzanna Petrosyan here. Follow her on Twitter.