Arts+Culture
Biggest Wins at the 45th Annual NAACP Image Awards
On February 22, TV One hosted the 45th Annual NAACP Image Awards. The Association has been confronting issues regarding the portrayal of African Americans in the media since the early 20th century, and continues to tackle racial representations in movies, television, music, and literature. In 1967, the NAACP Hollywood Branch created the Image Awards, which continues to recognize outstanding participation by people of color in the arts as well as in other creative efforts that promote social justice. Here are the biggest winners of this year's award show:
1) Steve McQueen
The 12 Years A Slave director took home an abundance of awards for his adaptation of the 1853 memoir by Solomon Northup. Complimenting its various 2014 Oscar nominations, the film was awarded various NAACP Image Awards in addition to McQueen's for Outstanding Director In A Motion Picture.
2) John Ridley
12 Years A Slave was victorious in yet another category, Outstanding Writing In a Motion Picture. John Ridley is also nominated for a 2014 Academy Award for Best Writing (Adapted Screenplay).
3) "12 Years A Slave"
Steve McQueen's film is based on the true story of a free black man, Solomon Northup, who is captured in the North and sold into slavery. In addition to winning Outstanding Motion Picture, various actors from the film were celebrated for their work. Lupita Nyong'o, who portrays a fellow slave and later friend of Northup's in the movie, was praised for her emotional performance and awarded Outstanding Supporting Actress in a Motion Picture.
4) "Lee Daniels' The Butler"
This historical fiction drama, directed by Lee Daniels, is loosely based on the life of Eugne Allen, an African American who witnesses various social movements and cultural events firsthand during his time as a White House butler. Forest Whitaker, who plays Cecil Gaines, the protagonist, was named Outstanding Actor In A Motion Picture. His fellow castmate, David Oyelowo, who plays Cecil's eldest son in the film, was awarded Outstanding Supporting Actor In A Motion Picture. Although she did not win, Oprah Winfrey was recognized for her role in the film through her nomination for Outstanding Supporting Actress In A Motion Picture.
5) "Black Nativity"
This musical drama is based on the play of the same name, written by poet and social activist, Langston Hughes, in 1961. The film featured a powerhouse cast, which included Forest Whitaker, Angela Basset, Jennifer Hudson, Tyrese Gibson, and Mary J. Blige. Angela Basset won the Outstanding Actress In A Motion Picture for her performance. Actress and musician, Jennifer Hudson, was also praised for her work in the 2011 film adaptation, Winnie Mandela, with a nomination in this category.
6) Scandal
The critically-acclaimed ABC drama series tells a gripping story of Olivia Pope, a press aid to the presidential administration who conceals political misconducts. In addition to gaining recognition with the title Outstanding Drama Series, Kerry Washington, who plays Pope, took the beat out SouthLAnd (TNT) and Grey's Anatomy (ABC) stars for Outstanding Actress In A Drama Series.
7) John Legend
The nine-time Grammy Award winner was victorious in two categories this year, Outstanding Male Artist, as well as Outstanding Song for his love ballad, "All of Me." The R&B artist released his fourth studio album, "Love in the Future," earlier in 2013. The album was signed by Columbia records, and features a series of guest appearances by Kimbra, Rick Ross, Stacy Barthe, and Seal. In an interview with XXL, Legend credits his fellow collaborator, Kanye West, with the part creativity behind the music.
8) Charlie Wilson
This R&B singer-songwriter-producer has been nominated for seven Grammy Awards and three NAACP Image Awards. His sixth studio album, entitled "Love, Charlie," was named Outstanding Album. The musician was signed by RCA records, and featured romantically-charged singles including "My Love Is All I Have" and "I Still Have You."
9) "Anybody's Daughter"
This captivating thriller by award-winning author, Pamela Samuels Young, was awarded Outstanding Literary Work in Fiction. The story illuminates the often-concealed issue of child sex trafficking in the United States, and has proven to be relevant accessible story to both teens and parents alike. The author utilizes realistic situations and issues and places them in a fictional context.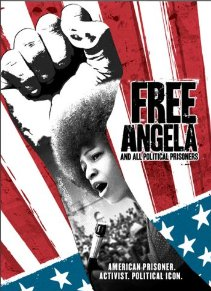 10) "Free Angela And All Political Prisoners"
This historical documentary about the pursuits of college professor and social activist, Angela Davis, was named Outstanding Documentary - Theatrical. The documentary, written and direct by Shola Lynch, provides both an intimate and expansive of Davis' revolutionary work in social reform, painting a picture of her as a controversial political icon in the 1960's.
Reach Staff Reporter Emily Mae Czachor here.