Style
Oscars 2014: Best Red Carpet Dress Trends
Get ready, fashion mavens and film junkies - the 86th Annual Academy Awards are here! After you've finalized your prediction ballots and gathered your viewing snacks, take a look at some of the best fashion trends to hit the red carpet in the past.
SEE ALSO: 9 Best Oscars Dresses Of The Past 9 Years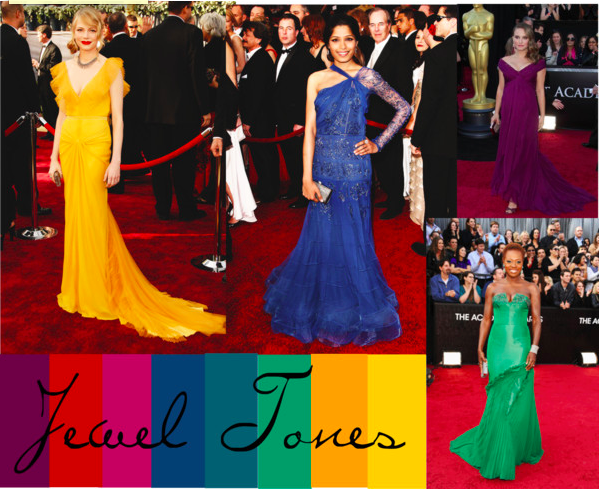 JEWEL TONES
Gowns in rich colors like saffron yellow, teal, and emerald are a staple on the red carpet, and for good reason. Jewel tones, named for their color resemblance to precious gemstones, are universally flattering because vivid colors make skin appear more radiant and accentuate facial features and make it look as if you are glowing from within. In addition to luminizing skin, vibrant colors help stars stand out amid dulling camera flashes and ubiquitous black dresses.
Some beautiful jewel tone dresses that have graced the Oscars red carpet include (clockwise, from left): Michelle Williams in Vera Wang (2006), Freida Pinto in John Galliano (2009), Natalie Portman in Rodarte (2011), and Viola Davis in Vera Wang (2012).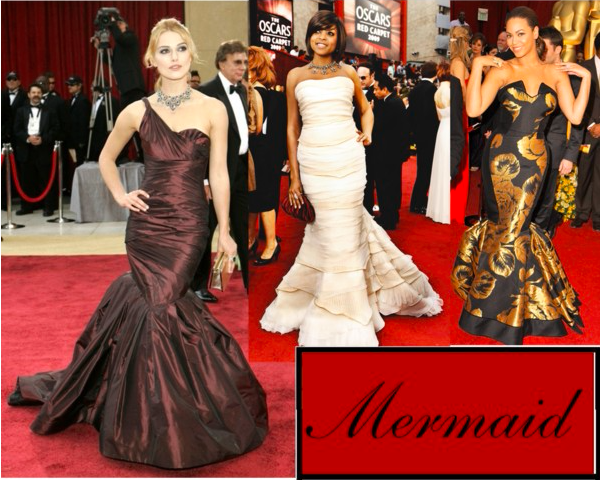 MERMAID
The mermaid dress, named for its resemblance to a mermaid's tail, has become a major player on the Oscar red carpet as of late. The mermaid silhouette hugs curves marvelously. Don't have curves? No problem. Fitted through the hips and waist with a skirt starting at the knees, mermaid dresses flawlessly highlight the waist, accentuating or creating an hour glass figure. The dramatic skirt and sleek bodice are attention-grabbers.
Variations of the mermaid silhouette include the trumpet, which features a fuller skirt that flares higher on the leg. Examples of the thoroughly modern mermaid silhouette include (from left) Keira Knightley in Vera Wang (2006), Taraji P. Henson in Roberto Cavalli (2009), and Beyoncé in House of Dereon Couture (2009).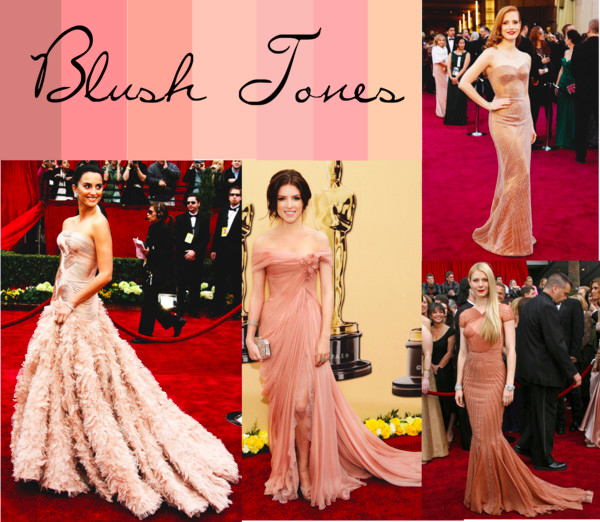 BLUSH TONES
Dresses in sweet, soft colors like dusty rose and champagne are one of the best Oscar trends. Coupled with dainty details like draping or interesting textures like feathers, blush tone dresses add some much needed romance to the red carpet.
Notable examples include Jessica Chastain in Armani Privé (2013), Gwyneth Paltrow in Zac Posen (2007), Anna Kendrick in Elie Saab Haute Couture (2009), and Penelope Cruz in Atelier Versace (2007).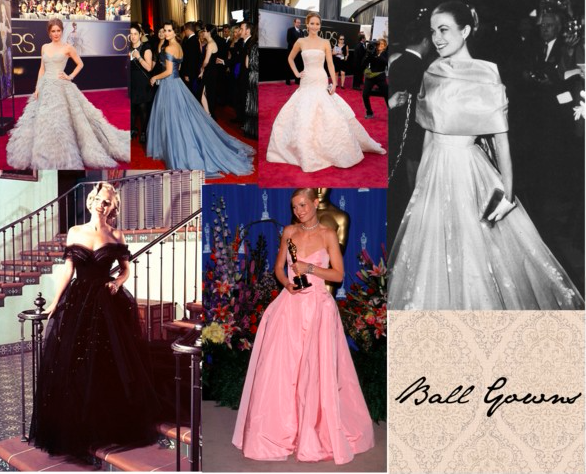 BALL GOWN
Could there be a more perfect occasion to wear a princess dress than the Oscars? Definitely not, except for perhaps a royal ball. With its full skirt and fitted bodice, the ball gown is the dress countless little girls dream of wearing. A ball gown means high drama and a grand entrance. Because of the dramatic nature of the dress, richness in color, fabric, and texture should be balanced so the dress does not look too busy. A timeless silhouette, the ball gown has graced the Oscars red carpet on screen legends like Marilyn Monroe (1951) and Grace Kelly (1956).
Still a popular choice today, ball gowns reflect just how extravegent the Oscars are. Recent notable ball gowns include Amy Adams in Oscar de la Renta (2013), Penelope Cruz in Armani Privé (2013), Jennifer Lawrence in Dior Haute Couture (2013), and Gwyneth Paltrow in Ralph Lauren (1999).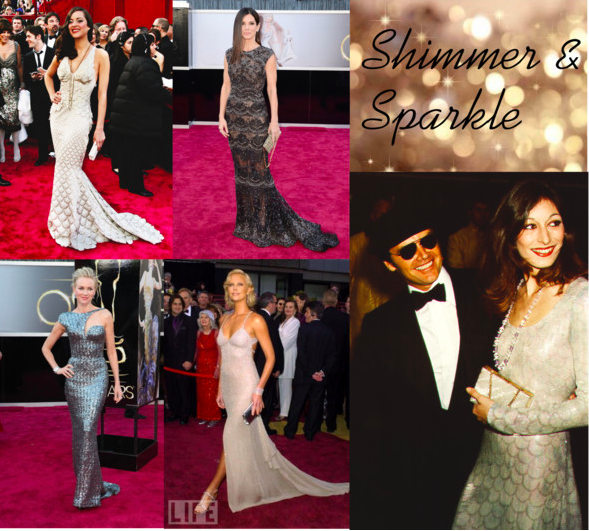 SEQUINS
Wearing a bedazzled dress is a fitting way to celebrate Hollywood's biggest night. Shiny like Oscar himself, sequined dresses help stars sparkle amidst camera flashes and spotlights. However, there is a fine line between looking glamorous and looking like a human disco ball; overly flashy sequined dresses look tacky and busy. The best sequin dresses include special details like unique cutouts and slits and rich textures and patterns that do not overwhelm or compete with the sparkles.
Some of the most stunning sparklers include Marion Cotillard in Jean Paul Gaultier (2008), Sandra Bullock in Elie Saab (2013), Anjelica Huston (1976), Charlize Theron in Gucci (2004), and Naomi Watts in Armani Privé (2013).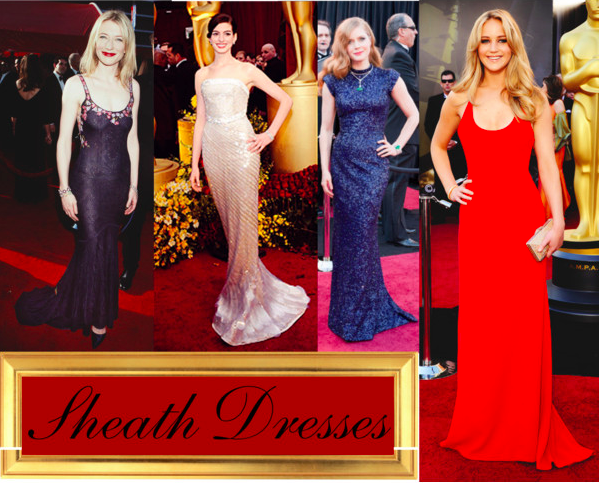 SHEATH
For the stars who have the body and confidence to pull it off, the sheath dress is amazing. Cut close all the way down the body, this silhouette screams sexy and demands attention. The tight cut elongates the body and the versatile shape lends itself to a myriad of fabrics, textures, and embellishments. The key to this design is sleekness, so the best sheath dresses are unfussy and simple with a standout element, like custom embroidery, rich color, or sequins. Ill fitting or too tight sheath dresses and busy embellishments make this otherwise winning look sloppy.
Recent sheath stars include Cate Blanchett in John Galliano (1999), Anne Hathaway in Armani Privé (2009), Amy Adams in L'Wren Scott (2011), and Jennifer Lawrence in Calvin Klein Collection (2011).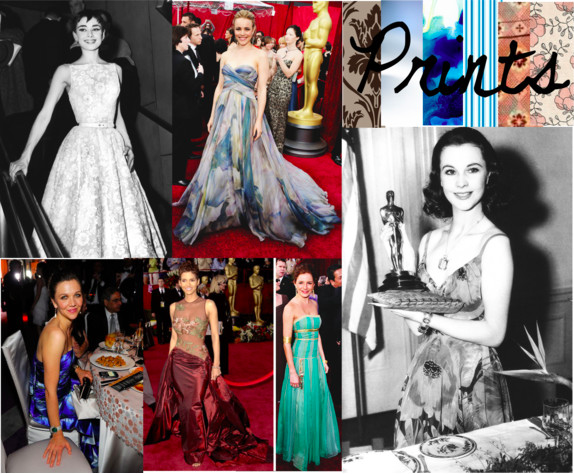 PRINTS
Because Oscar gowns are often solid colored, it's always a pleasant surprise when someone takes a risk with prints. All over prints can be overwhelming (especially on petite women), but can pack a mighty punch if done the right way. Prints should be the right size to accomodate the silhouette of the dress and should not look cartoonish or juevenile. Especially because the Oscars are held in March, dark, somber colors feel out of place and dreary while vibrant prints like floral, stripes, and custom embroidery are a cheery change of pace.
Audrey Hepburn in Givenchy (1954), Rachel McAdams in Elie Saab Haute Couture (2010), Vivien Leigh (1940), Sienna Miller in Matthew Williams(2004), Halle Berry in Elie Saab (2002), and Maggie Gyllenhaal in Dries van Noten (2010) have all rocked print dresses.
Read more Style articles here.
Read more of Neon Tommy's Oscars 2014 coverage here.
Reach Staff Reporter Helen Carefoot here.