Food
Ben And Jerry's Reveals Amazing New Flavors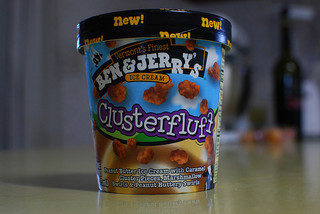 Ben and Jerry's ice cream is known for its fun and unusual flavors, and now, the famous ice cream company has released four more "
core
" flavors that are bound to revamp traditional ice cream culture - again.
The Los Angeles Times reported that these new core flavors are completely different than anything the Vermont-based company has released before. Fans of Chocolate Fudge Brownie, Half Baked and Peanut Butter Cup, get ready: these new flavors include two ice cream flavors, separated by a delicious, gooey "core" down the middle.
Continuing their streak of witty flavor titles, the new ones are titled Hazed and Confused (hazelnut and chocolate ice creams with hazelnut fudge core), Peanut Butter Fudge (chocolate and peanut butter ice creams with a peanut butter fudge core), Salted Caramel (sweet cream ice cream with blonde brownies) and That's My Jam (chocolate and raspberry ice creams with a raspberry core).
And they don't even have more calories than the previous flavors.
These ice cream pints will sell for $4.39, and they are 100% fair-trade certified with non-GMO (genetically modified organisms) sourced ingredients.
If you can't decide between two flavors, this is the perfect solution for you. And you are probably not going to run out of fudge, either.
The pints are available on the company website already, and should be hitting U.S. stores this month. Time to indulge!
Reach Executive Producer Beatrice Verhoeven here. Follow her on Twitter.