Sports
USC Hoops: Beavers Chomp Down Early, Trojans Can't Recover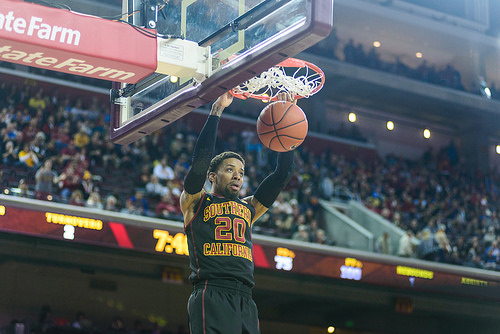 Despite a late surge, the Trojans fell to the Oregon State Beavers 76-66 at Galen Center on Thursday night.
It was shaping up to be another brutal loss in a season full of them for the Trojans, but they were able to close a 26-point gap down to 69-64 with 1:44 to play, thanks in large part to a disruptive 1-3-1 full court press.
Senior guard J.T. Terrell led the rally, scoring 18 of his game-high 21 points in the second half.
The near-comeback ignited the sparse crowd at Galen, which up to that point had only shown signs of life during the free pizza giveaway.
Then again, there wasn't much for USC fans to cheer for in the first half, with the Trojans connecting on only 29 percent (9-of-31) from the field and trailing the Beavers 43-20.
Trojans head coach Andy Enfield was unable to explain the slow start after the game.
"Yesterday was our best practice in a month, and that's why I was so shocked tonight because I felt great after yesterday's practice that we would come out and really play well in the first half," he said.
Swingman Byron Wesley returned from a two-game absence for violating team rules, but the Trojans' best player was only able to muster 9 points on 4-of-13 shooting.
"I don't think the time off affected [Wesley], I think it was more Oregon State affecting him early in the game," said Enfield.
The Beavers' defense was a problem for everyone on USC in the first half, blocking five shots in the first 8 minutes of regulation. The outside wasn't much friendlier for the Trojans, who missed their first nine attempts from three-point range.
SEE MORE: Trojans' Season Is A Tough, Not Lost Cause
Oregon State forward Eric Moreland was especially active, grabbing 14 rebounds and collecting all three of his blocks in the first half, including a shot he grabbed out of the air like a Nerf ball.
Down 23 points at halftime, backup center D.J. Haley gave the Trojans a locker room speech.
"We're a family, let's stick together and play hard," said Haley when asked to share his halftime words. "I try and tell the other players that this a process and mindset is a very important thing in basketball."
One of the lone bright spots for the Trojans was the play of freshman Roschon Prince, who contributed 8 points and 7 rebounds off the bench. The forward from Long Beach injected some energy into the Trojans, at one point rebounding his own missed free throw and laying it back in.
"There's only a couple games left in the freshman season for me, and basically this season is about learning about hard work," Prince said.
The loss dropped the Trojans to 10-18 on the season, and 1-14 in Pac-12 play. The Trojans host the Oregon Ducks in their final game at Galen Center this year on Saturday at 1 pm.
Game Notes:
Oregon State center Angus Brandt somehow had zero rebounds, but he did score 13 points and went 8-of-8 from the line. Brandt is also a shoo-in to make the Pac-12 All-Name team, because that is a great name.
Sam, the halftime free throw shooting contestant, had a disgusting shooting form, but somehow hit 5-of-7 from the line, which was better than the Trojans' 12-of-18 performance. Sam also won a trip to the Pac-12 Tournament in Las Vegas.
Reach Staff Writer Sean Burch here.