Food
Art And Appetite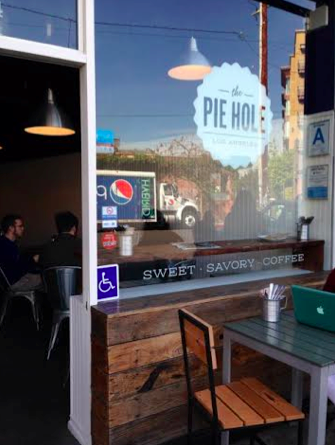 Visiting your favorite restaurant downtown may not seem that inspiring, but for one man, a trip to the Arts District led him to transform a childhood memory into a real life treat.
While walking along the main streets perusing the district, one can find people taking photographs of the widespread graffiti, shooting video next to apartments and going in and out of the small, knick-knack shops. But when not on the streets, much of the population can be found in the local cafes and restaurants.
One of the most popular eateries on the strip is The Pie Hole. Although known mainly for their desserts, this spot seems to master the art of sweet and savory. Some of their most popular food options are the chocolate crostata, the chicken and cornbread, the mac and cheese and, their best seller, the maple custard pie. Having sold out in just three hours on their first day of business in 2011, the owners quickly realized they were on to something big.
Raised in Pennsylvania, one of the owners, Matty Heffner, decided to carry out his mom's dream to sell pies. He said since pie shops were already big back east, they wanted to bring their idea out here to Los Angeles.
Searching for the primitive location to start their business, he and his business partner looked into places like Silver Lake, Eagle Rock and the San Fernando Valley. But when it came to picking the final location, he chose the Arts District because the location and the people reminded him of back home.
"We wanted someone that would understand what we were doing," Heffner said.
It seems the people around here would agree, because The Pie Hole continues to have steady business throughout the day and routine customers who enjoy the food.
"They have crazy flavors and I can tell there is a lot of heart put into it," said weekly customer Jessica Perez. "I really like that it still has a mom-and-pop feel."
Although they were on Food Network their first year and are occasionally featured in LA Weekly, they said they do little to no advertising. They believe their decision to specialize in pies and rely on word of mouth has attributed to their success.
"Pie is constant," Heffner said. "It's at every Thanksgiving table, and it's in [America's] history. I think it's going to be here forever."
The Pie Hole is just one of many restaurants located in the Arts District that has found success. Across the street is a German restaurant called Wurstkuche, which was one of Heffner's favorite restaurants and was what originally drew him to the area. Wurstkuche specializes in sausages and also has 24 traditionally Belgium and German beers.
"We have a lot of art students that come for a beer after class, and we are pretty involved in the community," said Black Naylor, manager at Wurstkuche. "The unique and creativeness of the Arts District fits well with what we're doing."
Nola's is another hotspot located in the arts district down 3rd street. They are known for playing live jazz music on Sundays and serving New Orleans styled food. Some of their more popular items include jambalaya and gumbo. With a more mature crowd, Nola's brings a slightly different and unique vibe to the district.
One of the only cafés in the area is Novel Café. This café provides a cozy and welcoming environment to local residents and customers.
According to the barista, their clientele ranges from local business people to professional artists. And, because they were one of the first restaurants in the area, it has become the place for locals to relax and a common place to schedule their daily meetings.
Claudia Hernandez, a routine customer, has been coming to the café since 2008. "I always get the double shot espresso because their coffee is the best and by far the strongest coffee," Hernandez said. "But, I now have to order by phone since they're always busy. They've picked up because the area has picked up."
For years, the Arts District has seemed to just occupy a spot on the map. But with the array of new businesses and eateries, it looks to become one of the most vibrant places downtown, where people can now fuse their love for art with their appetite for great food.
Reach Contributor Kalyn Norwood here.