National
Arizona Gov. Jan Brewer Vetoes Anti-Gay Bill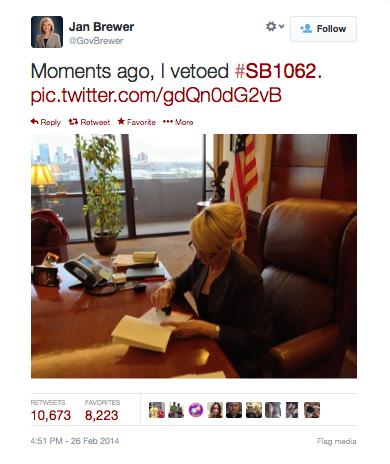 Update: Arizona Gov. Jan Brewer vetoed the controversial anti-gay bill amid tremendous pressure by large
corporations and lawmakers from across the aisle.
Senate Bill 1062 would have allowed businesses to assert their religious beliefs and deny service to gay or lesbian patrons.
"The bill is broadly worded and could result in unintended and negative consequences." Brewer said in a statement Wednesday. "It could divide Arizona in ways we cannot even imagine and no one would ever want."
But, Cathi Herrod, President of Center for Arizona Policy and a staunch supporter of SB 1062, said opponents were quick to misrepresent the bill.
"Today's veto of SB 1062 marks a sad day for Arizonans who cherish and understand religious liberty," Herrod said.
Swift praise for Gov. Brewer's decision included gay rights advocates and social media:
Contact Denise Guerra here or on Twitter here.
___
Opponents of the controversial anti-gay bill SB 1062 are calling on Arizona Gov. Jan Brewer to veto the bill while supporters says it upholds religious freedom.
"I will do the right thing for the state of Arizona," Brewer said in an interview with CNN Monday night.
ALSO READ: Arizona's Equality Fail
The bill would make it possible for business owners to deny service based on religious grounds.
Sources told NBC News that Brewer is more concerned with her image as of late, making it more likely she will veto the bill.
Business owners are worried about the effects of the bill after Arizona was named the next state to host the 2015 Super Bowl, according to USA Today.
Apple and American Airlines have already called on Brewer to oust the bill, according to SFGate.com.
Read more about SB1062 on Neon Tommy and LA Times.
Contact Heather Navarro here or follow her on Twitter.