National
Georgia Prepares For Another Winter Storm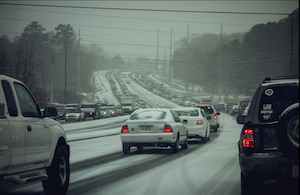 Georgia Gov. Nathan Deal declared on Tuesday morning that the state was in an emergency condition due to a severe winter storm.
The winter storm hit Georgia on Feb. 10 and continues to bring snow, ice and rain to cities, such as Atlanta. According to the governor, the emergency declaration affected 88 of 159 counties in Georgia.
President Obama also declared an emergency and has ordered federal aid to north Georgia.
The National Weather Service announced Tuesday morning that significant ice accumulations could create dangerous or impossible driving conditions.
Most schools in Atlanta have been closed. According to the Wall Street Journal, the winter storm nearly shut down the city.
Poor Atlanta is still rebounding from last week's winter storm.
Reach Executive Producer Scarlett Zhiqi Chen here.