Music
Angriest Post-Grammys Reactions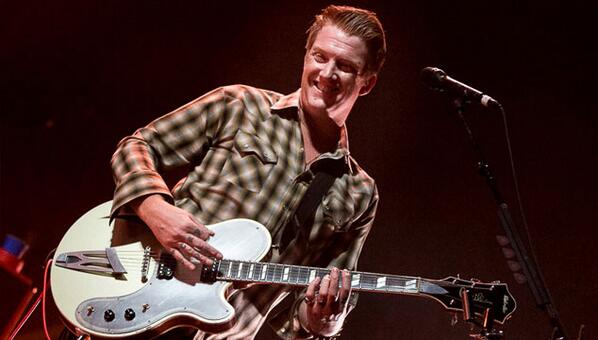 It's been a little over two weeks since the Grammys and many people - fans and artists alike - have expressed their anger with the controversial results and decisions made by the show's producers.
Two particular points of contention have been Macklemore & Ryan Lewis' rap awards sweep and the mid-performance cut of the Grammys finale featuring Nine Inch Nails, Queens of the Stone Age, Dave Grohl, and Lindsey Buckingham.
Almost immediately after finishing the performance, Nine Inch Nails frontman Trent Reznor tweeted "a heartfelt F--K YOU" to the Grammys after show producers made the questionable decision of cutting the final performance short on TV.
Fellow performer and Queens of the Stone Age vocalist Josh Homme stewed in his anger for a bit longer, waiting until last night at a concert in Houston to express his thoughts on the whole situation.
Apparently, he's also bitter about losing Best Rock Performance to Imagine Dragons because he specifically targeted the Las Vegas band in his rant.
In a very... eloquent manner, Homme lashed out, saying:
"You know, f--k everything, f--k the man, f--k Imagine Dragons, f--k the Grammys, f--k all this shit."
Joining the growing list of unsatisfied artists is Drake, who called Macklemore's apology text to Kendrick Lamar "wack as f--k."
READ MORE: Macklemore Shares Text Message Apology To Kendrick Lamar Via Instagram
In an interview with "Rolling Stone," the Canadian rapper questioned the sincerity of Macklemore's actions, especially since the text was posted for all the world to see on Instagram:
"I was like, 'You won. Why are you posting your text message? Just chill. Take the W, and if you feel you didn't deserve it, go get better - make better music.' It felt cheap. It didn't feel genuine. Why do that? Why feel guilt? You think those guys would pay homage to you if they won?"
Drake also went on to say that if Macklemore was going to send an apology text to Lamar, then he should've also sent one to everyone else he robbed at the Grammys.
Reach Executive Producer Michelle Tiu here and follow her on Twitter.