Sports
2014 Sochi Olympics Men's Ice Hockey Preview: A Quick Peek At Each Team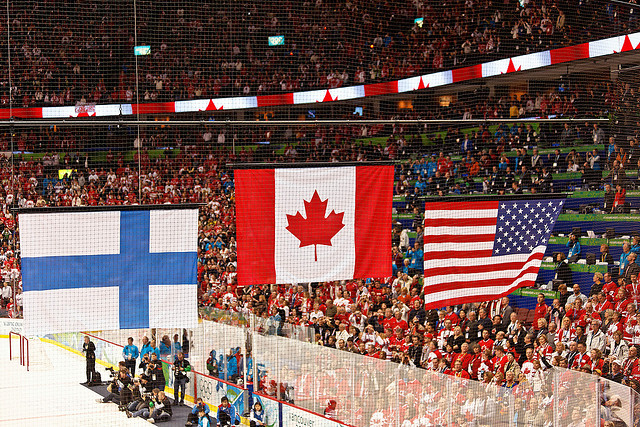 The 2014 Sochi Olympic Men's Ice Hockey Tournament should be quite a spectacle. With Canada beating out Team USA in a nail-biting overtime period four years ago, the Americans will be out for revenge. Sweden and Finland present serious competition with their respective rosters, while Russia's star-studded line up means high expectations playing on their own soil. However, there are seven other countries, one playing with its first-ever qualifying team, that will attempt to shock the world by going for gold.
Here is a look at each of the 12 teams and what key factors they will bring to the Olympic rink.
AUSTRIA
New York Islanders Thomas Vanek and Michael Grabner, and Philadelphia Flyer Michael Raffl will have their work cut out for them, being the only current NHL players on the Austrian roster. While Vanek will serve as team captain, Daniel Oberkofler and Manuel Latusa won't be out of the spotlight as each has plenty of skill and experience in Austria's hockey league.
CZECH REPUBLIC
It's not as many as Team USA or Canada, but the Czech Republic still boasts 17 players from the NHL. Although it would be 18 if NHL rookie sensation Tomas Hertl of the San Jose Sharks was not unavailable due to a right knee injury. Despite this setback, the team will be led by five-time Olympian Jaromir Jagr and Petr Nedved of the Czech league. Team captain Tomas Plekanec as well as forwards Patrik Elias and David Krejci will need to follow through in order to give the Czech Republic a fighting chance.
READ MORE: 2014 Sochi Olympics Men's Hockey Elimination Round Preview
LATVIA
Latvian stars Martins Cipulis and Kaspars Daugavins will have to use their experience to lead the lone NHL player, 20-year-old Zemgus Girgensons of the Buffalo Sabres. Girgensons, however, will be familiar with Latvia coach Ted Nolan, who is serving as interim head coach for the Sabres this season. There will be experience on defense with 41-year-old Sandis Ozolinsh, who has 875 career NHL games under his belt. The likely decision in net appears to be Edgar Masalskis, who has two previous Olympic appearances despite measuring in at only 5-foot-10.
NORWAY
Like Team Latvia, the overlooked Norwegians possess only one NHL player. However, that player is left winger Mats Zuccarello of the New York Rangers. Zuccarello, who leads the Rangers in scoring, will likely share a line with Per-Aage Skroder. Skroder has spent the last 8 years with the MODO hockey club of the Swedish Premier League and has five 20-goal seasons in his career. Norway will also have brothers Ken Andre and Mathis Olimb as two speed demons on each wing. In net, Lars Haugen will serve as the starter as he appears to be the most experienced, despite having played only two substantial season in the KHL. Team Norway will need a hot start as they will face Canada on February 13th in the first round.
SLOVAKIA
The Hossa brothers will be serving as top forwards, as Marian of the Blackhawks has two Stanley Cups since the 2010 Olympics. The defensive lines will be solid for Slovakia, led by 6-foot-9 captain Zdeno Chara. Jaroslav Halak will be ready to deliver another solid performance between the pipes as he did four years ago. The only negative for Slovakia is Marian Gaborik's injury, as he remains in the middle of a broken collarbone recovery. Being one of the country's top wingers, Gaborik's absence could be costly down the line.
SLOVENIA
After five attempts to qualify for Olympic play, dating back to 1994, this will finally be the year the Slovenian people can watch their country compete in ice hockey on the world's biggest stage. The team's standout player is the Los Angeles Kings' Anze Kopitar, the only Slovenian currently in the NHL. He will be coached in Sochi by his father, who interestingly did not select his other son, Gasper, for Slovenia's roster. Gasper Kopitar plays in the ECHL and also played in the qualifying rounds that earned Slovenia's Olympic opportunity this year. Four-year KHL goalie Robert Kristan is the expected starter. It would be quite the Cinderella story if Slovenia could go home with a medal.
SWITZERLAND
With Damien Brunner and Nino Niederreiter as the only NHL forwards, Roman Wick can expect a lot of responsibility as one of the team's top wingers. Wick is having a 19-goal season thus far in the Swiss NLA this year. The defensive core will consist of veterans that have both NHL and World League experience. The big boost for Switzerland will be its netminder, Jonas Hiller, as he has come through for his first-place Anaheim Ducks. So far this season, Hiller stands at second in the NHL in shutouts (4) and seventh in wins (24). If the Swiss have any shot of competing in Sochi, they will need Hiller to continue playing like a brick wall.
SWEDEN
Team Blue and Gold will have Daniel Sedin, Nicklas Backstrom, Daniel Alfredsson, and Henrik Zetterberg to name a just a few of the elite forwards. The D lines will be in good hands with Ekman-Larsson, Kronwall, Karlsson and a couple reigning Stanley Cup champs in the lineup. 2012 Vezina Trophy winner "King Henrik" Lundqvist is the obvious starter choice in net, with two NHL second-stringers as his backups. After looking at this roster and seeing that Sweden's first round of matchups includes the Czech Republic, Switzerland, and Latvia, there's no question as to why Sweden is a favorite to win gold this year.
FINLAND
Four years ago, Team Finland was able to come home with a medal after defeating Slovakia in the the Bronze game. This year, they will shoot for an improved performance with veterans Kimmo Timonen and Teemu Selanne; both will look to shine in what is expected to be their final Olympic appearance. Finland will have to deal with filling holes in the roster left by forwards Mikko Koivu and Valterri Filppula, both suffering from ankle injuries. However the netminders are what stand out on this roster. Likely starter Tuukka Rask currently leads the NHL in shutouts and has a Top Ten save percentage. Don't think that the Finns won't be able to rely on 2013 Vezina Trophy runner-up Antti Niemi or Kari Lehtonen if needed, as the two boast top standings in the NHL wins column this season.
CANADA
Defending champions Team Canada will return 11 gold medalists, one of whom will be team captain Sidney Crosby, who scored the game-winning goal in overtime four years ago over Team USA. Canada's roster looks to be the unparalleled best in Sochi, made up of All-Stars such as Ryan Getzlaf and Corey Perry, the Duck duo that have been keys to Anaheim's first place success this season. Rick Nash is coming in on a hot streak, having scored 11 goals in his last 15 games, and the D lines are solid throughout with Weber, Vlasic and Doughty. It also won't hurt to have Norris trophy winners P.K. Subban and Duncan Keith. The goalie situation remains in question, as Roberto Luongo has been inconsistent since 2010. If he cannot repeat his performance from the games four years ago, we may see Montreal's Carey Price win the starting job. Although centerman Steven Stamkos was ruled out, still recovering from a broken right tibia, the Canadians called on his fellow Lightning teammate Martin St. Louis. St. Louis has Olympic experience, as he represented Canada in 2006. The Canadians should not expect anything less than a medal this year in Sochi.
USA
The bitter taste from four years ago remains in the 12 returning silver medalists' mouths. It will be quite a spectacle to watch how Team USA responds to their disappointing overtime loss in 2010. Zach Parise will lead the Americans as team captain, having just returned to the NHL from a foot injury that kept him out for a month. He will be accompanied by fellow Wild teammate and solid defenseman Ryan Suter. Goalies Jonathan Quick and Ryan Miller are the top candidates for the starting position. Miller was in net for the USA in 2010 and has played his best since then despite having little support from his suffering Sabres team this year. Quick recently gave one of his worst performances, as he was pulled during a game against the Penguins, whose coach Dan Bylsma will be behind the bench for Team USA. Of course, there is always the Red Wing Jimmy Howard, who shouldn't be considered a third-stringer by any stretch. Joe Pavelski will be a key factor in any success the USA has, so long as he continues his hot streak. The San Jose Shark is on track to break his career-high 31-goal season this year, currently standing at third in the NHL in goals (29). Team USA will be out to prove themselves worthy of donning that gold medal they believed they should have won in 2010.
RUSSIA
The Russians will technically have the "home ice advantage" this year. With a roster containing 16 current NHL players, Team Russia will also have pressure to play at their best if they expect to compete with teams like Canada, USA and Sweden. Top forwards Evgeni Malkin, Pavel Datsyuk and NHL goal leader Alex Ovechkin will provide high fire power on the offensive end. With solid defensemen at their aid, Russia will have high expectations from their netminders. The Av's Semyon Varlamov and 2013 Vezina Trophy winner Sergei Bobrovsky should serve as enough depth for team Russia to make a solid push for Gold in their homeland.
The Olympic Men's Ice Hockey Tournament begins Wednesday February 12th, with the Czech Republic vs. Sweden.
View all 12 official Olympic rosters.
Reach Staff Writer Ben Ebert here.