Sports
USC Women's Basketball Midseason Update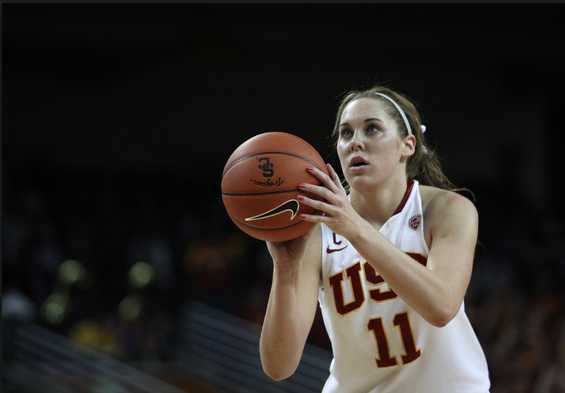 As the Women of Troy approach the last leg of what has been one of their better campaigns in recent memory, we take a closer look at their progress so far and see what's in store for the remainder of the season.
With a 7-2 record in the conference, and 14-7 overall, the Trojans sit at a nice second place in the Pac-12 standings, right under a Stanford team that handed USC a crushing loss that cut its four-game winning streak just this past Monday. The nation's No. 4 team remains undefeated with an 8-0 conference record. Rounding out the Pac-12's top five are Arizona State, Cal and Washington State in third, fourth, and fifth place, respectively.
The last time the USC Women's Basketball team was considered to be this serious of a contender for a Pac-12 conference championship was back in 2004-05, under former head coach Mark Trakh.
Much of the team's successes from this season so far can be attributed to new head coach and USC legend Cynthia Cooper-Dyke's program, which stresses lots of action in the paint and a fast-break offense that has proven itself to be one of the squad's greatest assets.
However, in order to maintain their standing, the Trojans must continue to work on building their defense as well as getting better shots up outside the three-point line. As seen in the 86-59 loss to the Stanford on Monday, USC lost its defensive handle and gave up massive chunks of points at a time as the Cardinals exploded into multiple double-digit scoring runs.
While USC has proven that it is capable of outstanding offensive teamwork, junior guard Ariya Crook and senior forward Cassie Harberts in particular are having breakout seasons, scoring in double digits nearly every game. After her performance against Stanford on Monday, Harberts is now USC's ninth all-time scorer.
With nine more games left in the regular season, three against schools also Top 5 in conference standing, USC must rally all of its strengths and work harder than ever before to close the season out with a bang and possibly their first trip to the NCAA Tournament since 2006.
The Women of Troy return to the Galen Center this weekend as they seek revenge against Washington State on Friday, then take on Washington on Sunday
Reach Staff Writer Nicole Kim here.