Los Angeles
USC Water Polo's Jon Walters, 19, Dies Of Heart Attack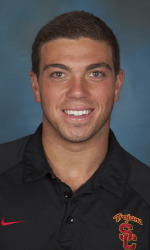 USC men's water polo player Jon Walters died on Wednesday afternoon, according to the USC Athletics website.

Walters, an undeclared freshman, was 19 years old.

According to the Orange County Register, Walters fell into a coma on January 1st and was hospitalized at the Western Medical Center in Santa Ana.

Despite signs of improvement after suffering from pneumonia and kidney failure, Walters died of a heart attack on Wednesday afternoon, according to his father, Bill Walters.

Walters was a member of USC's 2013 NCAA championship men's water polo team, scoring 17 goals. In a statement, USC men's water polo head coach Jovan Vavic recalled Walters as "an outstanding young man from a wonderful family."

"He and his family were loved by all of us on the USC water polo team," Vavic said in the statement. "I am deeply saddened, and I speak for our team in saying that this is a terrible loss of a friend and teammate."

"Our prayers go out to Jon's family in hopes that they find comfort."

The Newport Beach native attended Mater Dei High School and was the 2012 CIF Player of the Year.

Read the statement by USC Athletics.

Read more at the Orange County Register.

Reach Executive Producer Colin Hale here. Follow him on Twitter.