Technology
USC Students Create Augmented Reality App For LA Public Library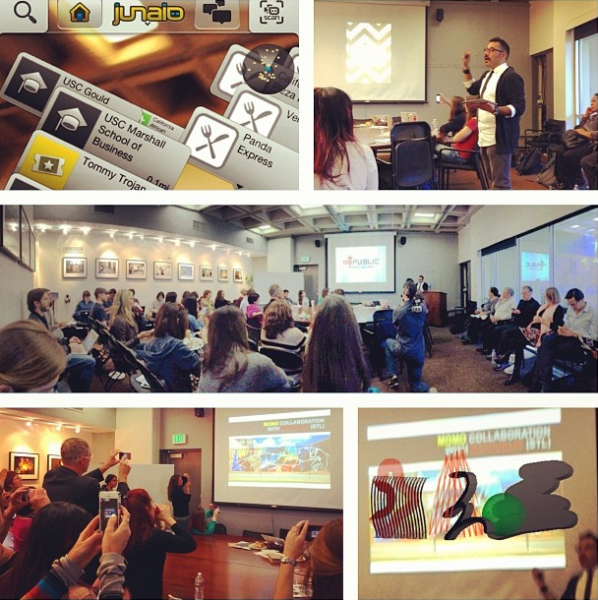 On Tuesday, USC Journalism Professor Robert Hernandez showcased his classes' augmented reality project work with the Los Angeles Public Library. The group designed and built Augmented Reality content around library displays, statues, and rare book collections.
Augmented Reality ("AR") is essentially digital content layered over natural, visual markers that can be viewed using a special app or device.
These digital additions to public works of art add a deeper level of community and cultural engagement to the work itself, expanding into the realms of art appreciation and traditional creative mediums.
USC students Kaitlyn Mullin, Heather Navarro, Daniella Segura, Sydney Tuss, Serhan Ulkumen, Phoebe Unterman and Sammi Wong created the AR app, known as "ARchive LAPL." Watch their video here.
Released on the app platform Junaio, students created photorealistic models and added an online photo gallery, which allows library patrons to read the rare book collections off of their smart phone or tablet.
Working with Re+Public, a creative collaboration between The Heavy Projects and PublicAdCampaign, BC "Heavy" Biermann guided Professor Hernandez, with support from USC Annenberg. Re+Public is an experimental mobile app that adds layers of three-dimensional digital reality to murals and buildings across the country.
The students crafted historical, non-fiction stories around the public works within the library through some noteworthy detective work. Students interviewed veteran library staff, researched the cause of a terrible fire in the 80's and learned about the "Menu Romeo," who donated a collection of Chinese menus--one for every date he had ever been on since he was 18, with the names and dates included within the sleeve, (The man is 88 now).
The teams were unable to add stickers or marker materials to any of the library's exhibits, because the library itself is a registered historical site. Getting creative, the students used actual displays, statues, and paintings as visual markers to initiate an AR experience.
Getting people to actually use the AR apps and experience the digital layering was another problem the team encountered. The students created a simple, analog solution: a sign which read, "Scan this with your phone."
The technology of augmented reality is still in its very early stages. During the forum, Hernandez discussed many of the technological difficulties and frustrating limitations they experienced when creating the public library's AR content.
"It's not a perfect experience," said Hernandez. "The technology is still very young."
Despite the platforms' severe limitations, the students created content with minimal experience in the field.
Hernandez forsees ad-driven dollars fueling much of the expansion and evolution of AR technology.
They considered using a number of platforms, inlcluding Layar Creator, aimed at creating digital layering for print and magazines; and Metaio Creator, an expensive option, but the best, and easiest choice, for the USC classes' purpose. USC Annenberg made it possible by acquiring several licenses from the developers.
Other augmented reality platforms include Google's Ingress, an Massive Multiplayer Online (MMO) AR game design platform; Infinity AR, a platform aimed at digitalizing the world through connected eyewear like Google Glass; or Qualcomm's Vuforia SDK, a platform that offers a wide set of features and capabilities.
Hernandez is also working with app developers Neon Roots to polish up and give the student-created AR content its own app, which is still in beta mode. Hernandez described it as an interactive scavenger hunt, replete with ghosts that pop out to scare users.
"Can non-devs still create an AR experience?" asked Hernandez. "Yes."
So what's the best AR platform out there? You decide.
You can join the conversation by using hashtag #ARchiveLAPL or email questions.
Reach Staff Reporter Alex Gold here, or follow him on Twitter.