USC Sports
USC QB Wittek Transfers; 5-Star QB Commits To Trojans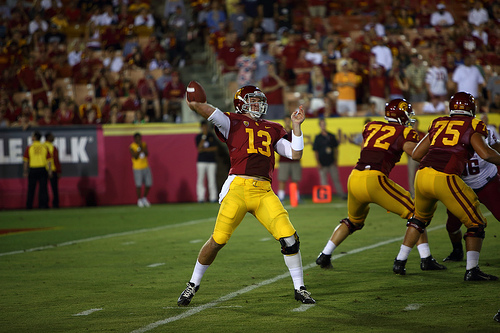 It's been a QB shuffle type of week at USC. On Wednesday night, USC redshirt junior quarterback Max Wittek
announced his intention to transfer
. He'll be graduating after the spring semester, and will have two years of NCAA eligibility while being immediately eligible to play this fall. The previous Saturday, 5-Star QB recruit Ricky Town committed to the Trojans as part of the 2015 class after decommiting from Alabama earlier in the day.
Max Wittek
Jacob: The former Mater Dei signal-caller, who was Rivals' 6th-best QB of the 2011 class, behind Cody Kessler and Brett Hundley, said shortly after the season that he planned to return. However, the emergence of Kessler as the No. 1 with his strong finish to 2013, combined with Max Browne's bulking up and improvement during the season, meant Wittek was likely heading into 2014 third on the depth chart.
His biggest stage came in 2012, when he started USC's final regular season game against Notre Dame after four-year starter Matt Barkley was injured against UCLA. Wittek had an up-and-down outing, throwing for 186 yards and a touchdown, but also a pair of interceptions. He struggled against Georgia Tech in the Sun Bowl though, going 14-of-37 for 107 yards and three interceptions in USC's 21-7 loss. That showing hurt his chances to grasp the starting job heading into 2013, and after going 8-of-18 for 90 yards and an interception with Kiffin using a two-QB system for USC's first two games this past fall, Kessler was named the permanent starter. Wittek threw a pass in just three of USC's final 10 games.
When asked in fall camp whether he'd ever consider transferring, Wittek's response was that "we'll cross that bridge when we get there." Now that he's crossed it, Wittek has a bevy of options as to where he can finish his college career. He'll be eligible immediately no matter where he goes because he has his degree from USC, and has the toolset and size (6'4", 235 lbs.) to still be an impact college quarterback. He was an elite recruit coming out of high school, and his second recruiting process will gauge where his stock is three years later. With possible QB openings at schools like Utah and Fresno State, schools USC plays in 2014, the Trojans might not have seen the last of Wittek.
Ricky Town
Jordan: At 6'4" and 205 pounds, Ricky Town is the No. 1 quarterback in the Class of 2015 according to Scout.com and 24/7 Sports. He runs a 4.6-second 40-yard dash and is both consistent and accurate throwing to all levels: deep, middle, or long. He's got poise and leadership, as well as very good pocket awareness. The 17-year-old junior from St. Bonaventure High School was a committed member of the 2015 Alabama Crimson Tide recruiting class, at least until he came to Southern California this past weekend.
After stepping onto USC's campus and meeting with Head Coach Steve Sarkisian and his staff, Town decommitted from Alabama and committed to Troy. In a text to ESPN's Blair Angulo Town, he said:
"I've seen many of the top programs and what they have to offer. However, when I had the chance to get on the USC campus last week and spend time with Coach Sarkisian and his staff, I knew after those meetings that USC is where I want to be."
On Tuesday, Town's high school coach Jon Muller showed his excitement for his quarterback, telling Neon Tommy that, "we are excited for him. It's something he's excited about and comfortable with and we support him."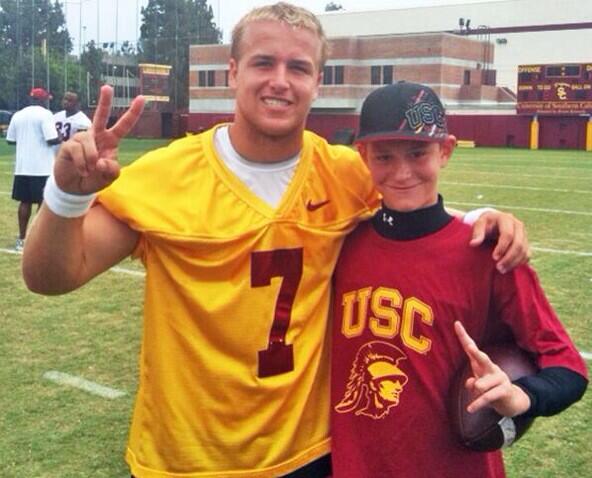 This is a big pickup for the Trojans. Town has a strong arm and one of the quickest releases in the region. He can move in the pocket to avoid the pass rush and has great downfield vision. Most importantly, he is a precise passer that can get the ball into tight spots. A quarterback with Town's attributes is crucial for the success of the spread offense that Sarkisian wants to implement at USC.
Although Town's arrival at USC is still a year away, he has already made an impact. Bryce Dixon, the top-rated tight end in the class of 2014 and former teammate of Town, announced that he is one hundred percent locked in to the Trojans, and has cancelled his visit to UCLA scheduled for January 31, allowing Sarkisian and his staff to breathe a sigh of relief.
Town's commitment signals a bright future for a Trojan football program that's trying to recover from the damage caused by the NCAA sanctions and former coach Lane Kiffin. When he was first hired, many USC students, alumni and fans disagreed with the decision. However, just two months after arriving in Los Angeles, Sarkisian enhanced the 2014 recruiting class with some talented additions, such as commitments from Dixon, Jonathan Lockett, Olajuwon Tucker, as well as securing Viane Talamaivao's commitment after he flipped from Alabama to USC (a process that began under Ed Orgeron).
Town's commitment hints promise in USC's future. First off, it shows that though Sarkisian wants to breathe new life into USC's offense by switching to a spread, he is not going to shy away from the traditional USC pocket passing quarterback. Secondly, the Trojans can be assured they will have a talented leader running the show for the next few years, whether it be Kessler, Browne or Town. Lastly, it foreshadows a continuation of USC's recruiting dominance, especially with the NCAA's scholarship reductions being lifted at the conclusion of the 2014 season.
As Alabama knows well, nothing is official until national signing day and a lot can happen in a year. Still, it's another step in the right direction for USC.
Reach Jacob here or follow him. Reach Jordan here or follow him.