USC Sports
USC Loses 5 To NFL Draft, Pullard And Shaw Stay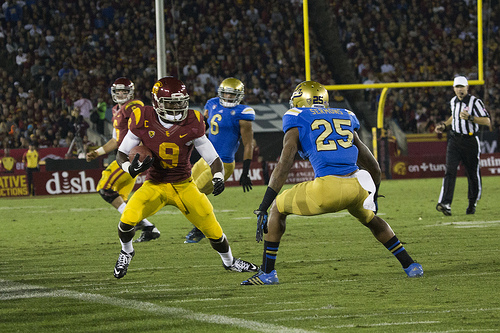 The deadline for declaring for the NFL Draft is January 15, and every eligible USC player has made their decision. Five players declared for the 2014 NFL Draft, while at least three players at least seriously considering the possibility are staying for 2014. Here's a quick recap of who's gone, and who's staying in the land of Troy for at least one more year.
1) Jr. WR Marqise Lee.
The 2012 Biletnikoff Award winner for the nation's best wide receiver, Lee fought injuries in 2013 and finished with 57 receptions for 791 yards and 4 touchdowns this past season. Pegged preseason as a first-round pick, Lee is still projected to be selected early by many mock drafts, and should be the first Trojan to hear his name called in May. His loss hurts, but it's an expected one. He declared on January 3 via his Twitter account.
2) RS Jr. S/LB Dion Bailey
A 2013 Second Team Pac-12 selection, Bailey moved back to safety in Clancy Pendergast's system this year after spending his first two years at linebacker. He's aggressive off and on the ball, and finished with 61 tackles and 4 interceptions in 2013. His ability to play multiple positions makes up for being slightly undersized, and he should be off the board in the first couple of rounds. Bailey was the first Trojan to declare, announcing in a news conference at USC's John McKay Center on December 23.
3) Jr. C/G Marcus Martin
Martin was a three-year starter on the line, moving over to center in 2013 after two years at guard. He was the emotional leader of his unit, successfully replacing Khaled Holmes in the middle and being named First Team Pac-12 this year. His departure is somewhat surprising considering that he suffered a knee injury in the regular season finale against UCLA, and he should go somewhere in middle rounds of the draft. Martin announced his return via social media on December 27.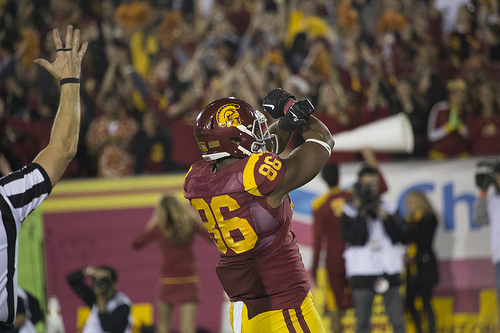 4) RS Jr. DE George Uko
Uko progressed in his second year starting, moving from defensive tackle to end. He still has work to do on polishing his game and becoming a more consistent pass rush threat, but felt he was ready for the NFL, where he'll likely be a mid-round pick. Uko announced via his Twitter on December 31.
5) Jr. TE Xavier Grimble
One of the most talented tight ends in the nation, Grimble suffered a bit of Robert Woods Syndrome in being underutilized in the pass game this season, catching 25 passes for 271 yards and 2 touchdowns. He was also hurt, like most of USC's skill position players in 2013, but considering Sarkisian's work with Austin Sefarian-Jenkins at Washington and his tight end-friendly system, it's surprising Grimble didn't return to likely post big numbers and propel his draft stock. He'll likely be selected in May, but workouts and his combine showing will play a large part in determining if he's drafted based on ability or his underwhelming college numbers. Grimble announced by telling the Los Angeles Times on January 7, despite earlier indications that he might stay.
Note: These early entrees hurt more than usual this year because under USC's NCAA sanctions, they cannot sign five more players to replace the five departures.
Returning For 2014
1) RS Jr. LB Hayes Pullard
The leader of the defense, new defensive coordinator Justin Wilcox said Pullard was his biggest recruit upon arriving at USC, and for good reason. More was asked of him with USC's 4-2 meaning there was often just two linebackers on the field, but Pullard seemed to be everywhere at times and will anchor USC once again in 2014. Pullard announced his return on via Twitter on Monday.
2) Rs. Soph. TB Buck Allen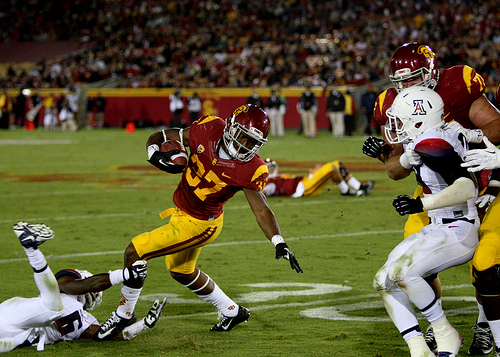 He entered 2013 with 6 carries for 32 yards, and had 106 carries for 648 yards and 13 touchdowns (one receiving) in the Trojans' final six outings. He'll have to compete with the now-healthy Justin Davis in 2014, but new USC running backs coach Johnny Nansen said he intends to use a multi-back system, meaning Allen will have ample opportunity to improve upon his strong close to 2013. Allen announced his return on Tuesday.
3) Rs. Jr. S/CB Josh Shaw
The Florida transfer has moved back and forth between safety and cornerback, and will continue to do so in 2014 as Su'a Cravens and Leon McQuay III should both play at safety. Shaw is flexible, and returning gives him a shot of moving into the higher rounds of the draft than had he declared. USC announced Shaw's return on Tuesday.
Also returning: RS Jr. TE Randall Telfer, Jr. OG/OT Aundrey Walker.
Reach Senior Sports Editor Jacob Freedman here or follow him here.