Los Angeles
Sheriff Lee Baca To Retire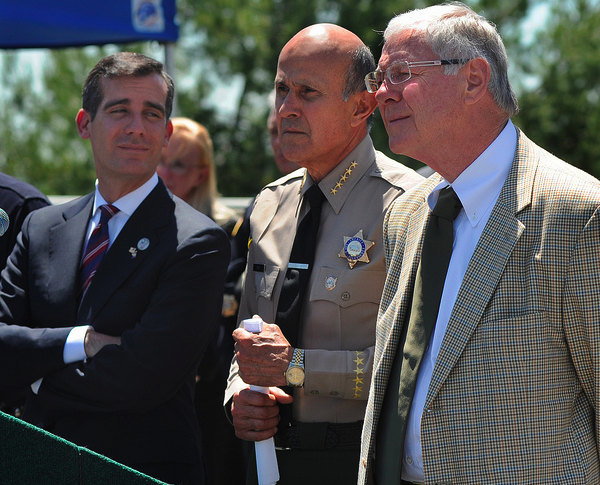 L.A. County Sheriff Lee Baca tearfully announced Tuesday that he would retire at the end of January, an unexpected announcement that comes amid a flurry of allegations of abuse and misconduct within the department.
During the news conference in Monterey Park, an emotional Baca, 71, said he would leave his position on his own terms.
"The reasons for doing so are so many. Some are most personal and private, but the prevailing one is the negative perception this upcoming campaign has brought to the exemplary service provided by the men and women of the Sheriff's Department," Baca said.
READ MORE: Sheriff Lee Baca's Response To Jail Violence 'Has Been Insufficient,' Commission Asserts
Sources familiar to the situation told The L.A. Times that Baca informed top county officials late Monday of his intent because he believed his resignation would help the department recover after years of criticism.
Last month, the FBI arrested 18 current and former sheriff's deputies on acts of misconduct, including "beating visitors, putting handcuffs on an Austrian consular official without justification, threatening an FBI agent at her home and hiding an FBI informant," reported The Press Telegram.
Baca served 15 years at the helm of the largest sheriff's department in the country, during which he faced little threat to his leadership.
But Baca's fifth election campaign would have proven to be more difficult given the FBI probes and other scandals, including jail violence and reports that the department hired dozens of officers with histories of misconduct.
SEE ALSO: L.A. Sheriff's Deputy Hopes Leniency Helps Change Police Image
Baca leaves behind two contenders for his job in June's election: his former top aide, Paul Tanaka, and retired Cmdr. Bob Olmsted.
Reach Senior News Editor Melissah Yang here. Follow her on Twitter @MelissahYang.