Arts+Culture
The Second Annual LA Art Book Fair: A Celebration Of Published Art
From Thursday, Jan. 30 to Sunday, Feb. 2, over 250 presses, booksellers, artists, and independent publishers from around the world gathered at the Museum of Contemporary Art's Geffen Contemporary to celebrate the culture of artists' books at the LA Art Book Fair. The annual fair, a free event created by Printed Matter, Inc., made its home in Los Angeles last year as a companion to the NY Art Book Fair, which is created by the same company. To summarize from Printed Matter, Inc.'s official definition, an artist's book is a publication that has been "conceived as artwork in its own right," where photographs, sketches, paintings, and prints are captured in a medium that can be easily accessed by a large audience.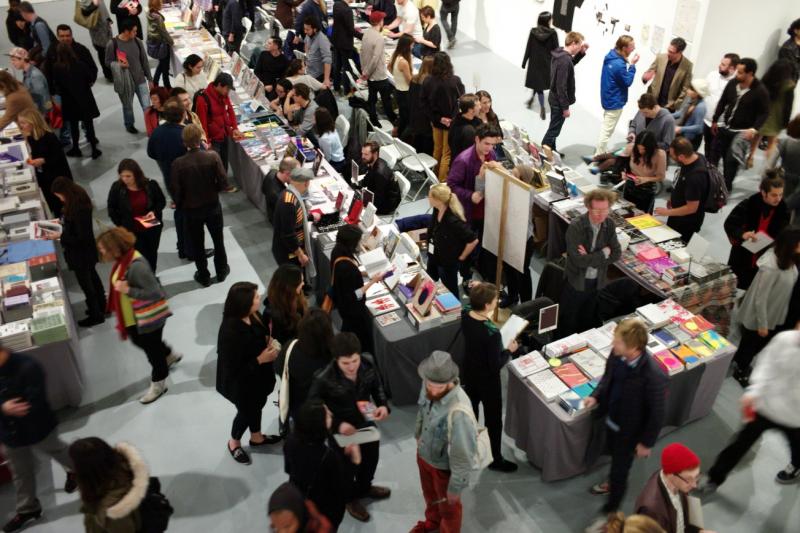 Because of the number of exhibitors and the vast size of Geffen Contemporary, there's only one way to get the most out of the LA Art Book Fair next year; ignore the free maps near the entrance and walk around. Unless you're an artsy person or a hipster, a lot of the exhibitor's names will look unfamiliar to you, but that's OK. And unless you have a fantastic sense of direction, you may find yourself wandering into a hall you literally just walked through a minute ago, but that's OK, too.
The key to enjoying the fair is to have a sense of curiosity. So walk into The Classroom, where every hour there is an artist-led program; listen to a psychologist discuss his research on the human memory, sit in on an artists' chat on the pros and cons of art school assignments, and hear a soundwork originally released on vinyl. Attend at least one of the many book signings or book launches to impress your art friends (that is, if you don't mind paying the money for it). Visit an exhibition; "Queer Zines," for instance, features a historical review of independent publications geared towards the gay community from the early 70s to modern day. The exhibit includes a display of out of print queer zines, a timeline of the formation of queer zine publications, and a world "map" of the locations of these publications. And for those who are obsessed with lighting and different kinds of lenses, "Focus: Photography" is a section of the fair dedicated to photo-based books and magazines.
But most importantly, go to every booth that catches your eye. Appreciate the cartoon/comic book art that you don't entirely understand, like those you might find from an artist like Michel C. Hsiung. Go to a booth that has books with gorgeous colors like the Center for Book Arts. Don't be bashful— talk to the publishers and artists at their booths; many of them are willing to talk about their work. Have fun with the booths; in inspiration of one of its books, Dutch publishing company Onomatopee set up a display that allowed people to create woodprints. Flip through the books on the tables, especially if they're hand-bound like those from Paper Chase Press; these are the books you won't find on display at Barnes and Noble. Find a booth that speaks to how you feel about certain issues, like Justseeds' social issues posters that feature subjects such as immigration, feminism, and racism. Make sure your backpack is on hand to carry all the free stickers, buttons, and postcards that you will inevitably accumulate, as well as any merchandise that you might allow yourself to buy, like a poster from Perish Publishing of 24 Composers drawn by a nine-year-old.
Though the maze and the crowds can be slightly overwhelming, the Second Annual LA Art Book Fair is a great chance to see the work of artists and publishers who do not only produce art for art's sake, but also use art as a means to voice their thoughts on social issues. Whether your preference is to art or to science, to print or to digital, the LA Art Book Fair is an incredible celebration of human creativity and thought.
Reach staff reporter Heidi Carreon here.